The Finance Minister Arun Jaitley recently said that online trolling is a fact of life and we all have to learn to live with it. When 'trolling' involves threats of rape and murder, sexual harassment, shaming women for their dark skin and looks, their rape-ability, their sexuality and 'character' - are we women still expected to 'live with it'?
I recently wrote an article in which I challenged the way BJP men tried to shame and humiliate women of JNU, Jadavpur University, or Left and feminist activists by branding them as "shameless" proponents of 'free sex'. I pointed out that 'free sex' is a meaningless abuse that reflects the Right-wingers' fear of 'free' women who may love breaking the boundaries of caste, religion and patriarchal control. I said that sex in which the partners are not free is nothing but rape. In response, one man tried to drag in my mother and shame her - by asking if 'my mother had free sex.'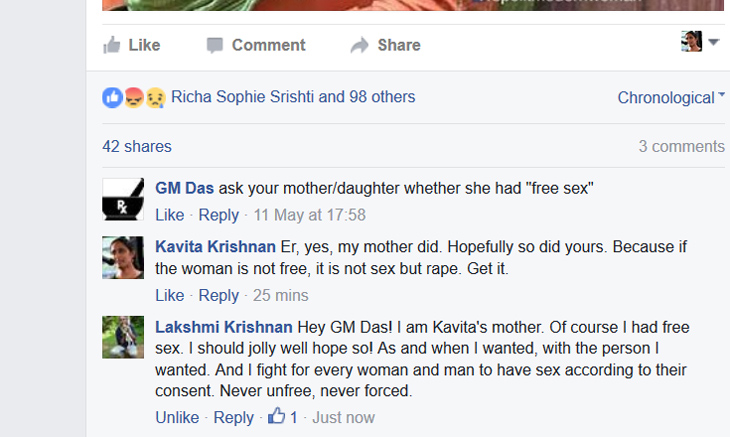 My mother's courageous response to this won her great respect and appreciation across the world - she taught the troll a little lesson, by saying that 'free sex' is nothing but consensual sex, and not only had she had such sex, she fought for the right of every man and woman to have sex that is 'never unfree, never forced.' My mother's slap, delivered with humour, resonated so much that the Right-wing trolls could not bear it. They have responded with a concerted attempt to re-establish their notion that sexual harassment and rape are what women who refuse to be shamed by abusive terms like 'free sex' deserve.
One such troll, Sumant Bhattacharya, has made a public Facebook post, 'inviting' me to have free sex with him at India Gate, saying that of course I have the right to refuse. He added, "Kavita must not assume that India's morality and decency is weak - I also know how to respond to immorality with immorality. Here, get a taste of it."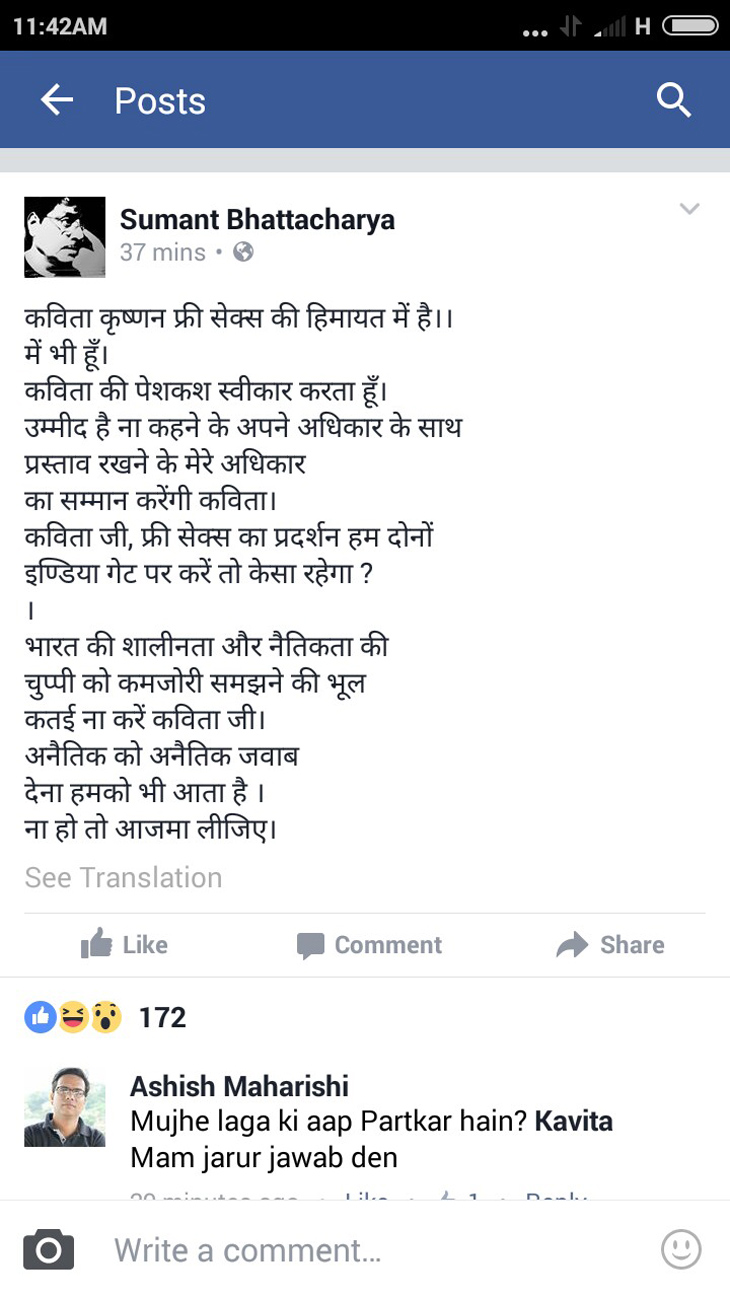 Subsequently his friends on Facebook, commenting aggressively, tried to claim that all this was merely a 'debate' on 'free sex' that I initiated - and that my mother and I are proponents of 'free sex', which goes against Indian culture.
Another person with a fake 'James Bond' profile (ironically with a profile picture of man and woman kissing!), commented on a YouTube video that I am a 'Maoist who has free sex', wishing that I should be "f***** by a bunch of rapists from Delhi" and also called on Army men to rape my mother and sister.
Let's make some things very clear - the issue was and is trolling and sexual shaming of women offline and online - not 'free sex'. 'Free sex' is not a term my mother or I chose to use - it is an abuse thrown at us that we chose to redefine as 'consensual sex' and wear as a badge of honour. And as 'punishment' for hitting back boldly and refusing to be shamed, the self-proclaimed custodians of 'Indian culture' are openly indulging in sexual harassment and rape threats.
Also read - Women pin the creeps. Map areas, post pictures of clothes worn when harassed
I'm not very hassled by Sumant Bhattacharya's sexual harassment - it exposes the misogyny and violence of his own ideology better than I could do in a hundred articles. But I'm concerned about the danger that he and his friends pose to women around them. If they are in the habit of 'asking for sex' from women whom they consider are too 'free', they are a danger to women. They need a lesson in Section 354A of the IPC ( https://www.kaanoon.com/indian-law/ipc-354a/. )
According to the law, any man making "advances involving unwelcome and explicit sexual overtures;...a demand or request for sexual favours; ...making sexually coloured remarks, shall be guilty of the offence of sexual harassment."
Spot the difference
A man saying 'come have sex with me at India Gate' on Facebook is no different from a man in a car on a Delhi street, saying with a lewd gesture to a woman on the street, 'Come into my car and let's have sex.'
Also read - '40% women in Delhi faced sexual harassment last year'
The 16 December 2012 rape-and-murder convict Mukesh Singh, said that women who go out at night against Indian culture deserve to be raped; if she didn't want to be raped, she should not have gone out at night.
BJP President Dilip Ghosh said Jadavpur women who complained of sexual harassment by ABVP men are "shameless" and "shameless women cannot be sexually harassed"; if women don't want to be sexually harassed, why do they go to university, he asked.
Sumant Bhattacharya and other trolls on Facebook say "Kavita and her mother told trolls they have done free sex - so that means they are freely available for sex and we are free to sexually harass and rape them."
BJP leaders and self-proclaimed 'Sanatani' defenders of 'Indian morality and decency' are no different from the rapist of Jyoti Singh. They all disguise rape culture as 'Indian culture' - and they all gang up to inflict violence on women.
The Sanghi trolls descend on every woman (be it Shruti Seth or Barkha Dutt or Sagarika Ghose or I) who dares to critically utter the words 'Modi' or 'RSS' and they shower the women with filthy, lewd abuses and threats; operating much like a rapist gang or a mob of sexual harassers on the street. They don't even care to hide the fact - they openly speak the rapists' tongue, saying we women are 'too ugly to be raped'; 'they believe in free sex because face it, who would pay to sleep with them', and so on. As a goon gang, they do well. As advertisements for the 'Indian culture' as defined by the RSS and BJP - not so well. Because they give us a glimpse into what India will be like if it turns into a Hindu rashtra.
Have women from the BJP not faced sexualised comments and trolling too? Sure, they have. When a magazine 'joked' that Smriti Irani had no right to protest against a secret camera in a FabIndia changing room because she is an actress who must be used to the camera, I was vociferous in my condemnation and outrage. When a Congress supporter on twitter indulged in sleazy rape-speech against a woman BJP supporter, I condemned him and blocked him.
But let's face facts. I am someone who regularly writes critically of the Congress, of AAP, and also the BJP. The trolling by Congress or AAP supporters is at worst annoying, almost never sexualised; whereas the BJP and RSS supporters on social media are organised and vicious, attacking in gangs and seeking to flood the comments section on every tweet/post with abuse and bullying.
I would like to tell Ms Maneka Gandhi, that we don't need a new law to address the online abuse of women. What we do need is for her party and every party, to punish rather than reward and encourage online trolls and their offline heroes.
When the PM's personal Twitter handle follows handles of abusive trolls, when Subramanian Swamy who on a public TV show called me a 'Naxal who has free sex' is never chastised by his party and is in fact made a Rajya Sabha MP; when Dilip Ghosh remains BJP state president and is now a West Bengal MLA, it is nothing but encouragement to the culture of misogyny and sexual harassment of women in public life - be they students, journalists or activists.
The views expressed here are personal and do not necessarily reflect those of the organisation.
More in Catch - TERI asks Pachauri to leave a year after sexual harassment accusations
Online campaign #shareyourstory against sexual harassment goes viral; here's why
IIMC again: student accuses lecturer of sexual harassment