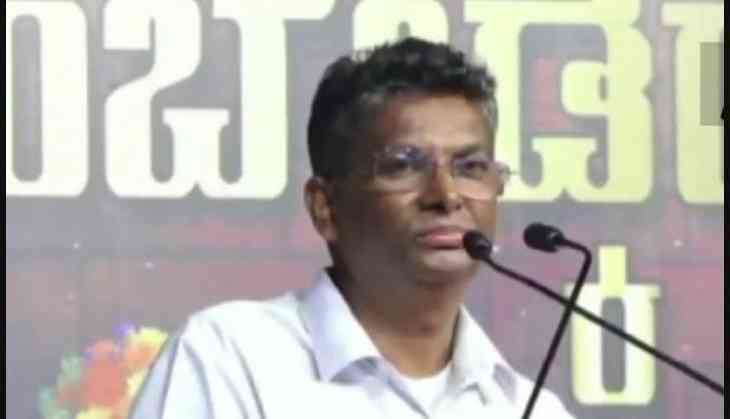 Satish Laxmanrao Jarkiholi
'Meaning of Hindu' is trending on google thanks to the mischievous and Hindu bashing politics of top Karnataka Congress leader Satish Laxmanrao Jarkiholi.
Based on WhatsApp messages that he receives - this itself is an indication of the kind of information he regularly consumes - he insulted Hindus, questioning the origin of the word Hindu in a very offensive manner.
We have full details of what he said. But those statements are not worth repeating as it amounts to inflicting another injury to the wounds of Hindus.
Publicity-hungry politicians like Jarkiholi frequently make derogatory remarks against Hindus. But the same politicians don't wish to go into the History and facts of other religions. The Hindu bashing for them is the easiest way to polarise society for political gains.
Leaders like Satish Laxmanrao Jarkiholi don't represent the ideology of any particular party, but a senior leader like him making an unprovoked statement in public should invite serious action from the Congress party. Satish Laxmanrao Jarkiholi's behaviour is like a hooligan who decides to abuse people walking on the road.
Satish Laxmanrao Jarkiholi is the working President of the Karnataka Pradesh Congress Committee. He had served as forest minister in the previous Congress government. So, his comments can't be set aside as an aberration by a small-time politician.
Congress Karnataka leader went on to say that meaning of the word "Hindu" is vulgar. If a senior politician makes such a statement in public, it offends the fundaments of democracy. What is he trying to achieve here? Hindu bashing may be a survival strategy, but this exposes his political mindset and intentions.
In the video, Satish Laxmanrao Jarkiholi says: "All the information is available on WhatsApp and Wikipedia".
The politics based on WhatsApp messages breeds hatred. Promoting and sharing derogatory messages is an offence that disturbs the peace and hurts the sentiments of others.