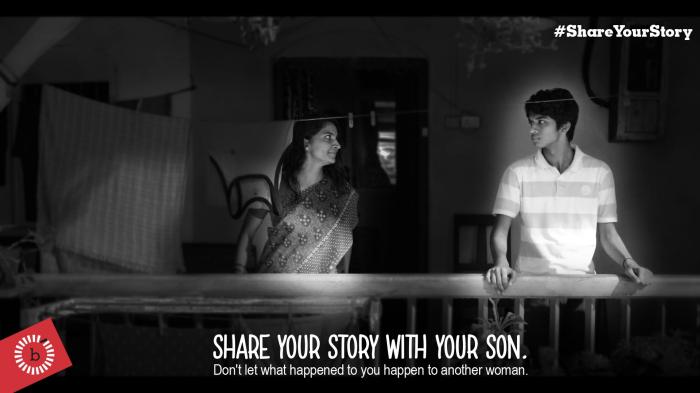 An online campaign, which encourages mothers to tell their sons about the harassment they face has now gone viral.
The video #shareyourstory with your son by Delhi-based NGO Breakthrough was released late last month and has 487,201 views on YouTube.
All about the video campaign:
It depicts a woman who catches unaware her teenage son in the act of throwing flowers at the neighbour's young daughter from the balcony of their house.
She then proceeds to narrate an anecdote of her experience of being harassed by men while on her way to work. The film ends with a message "You can't drive sense into everyone."
The video invites people to start a conversation about sexual harassment and is currently trending on social networking sites.
Watch video:
"The response to the short film with which we launched the campaign has been phenomenal and has already had over seven million views and over 15,0000 shares on Facebook and other social networking sites and we have been able to spark conversations around the subject within families, Sonali Khan, Country Director & Vice President, Breakthrough said.
BreakthroughTV released a second video on YouTube saying, "In the second film of our ongoing #shareyourstory campaign, see how this mother gets her son to think about sexual harassment in a way he wouldn't have thought before."
Watch video:
The agenda
Reaching out to the masses especially young boys and men, building inter-generational dialogues on issues of sexual harassment, creating empathy amongst male youth about the way women feel when they are harassed is the main agenda of the campaign.
"The online campaign aims to build dialogue and encourage open discussion on the issue of sexual harassment within families. If a mother shares how she as a woman was affected by the incidence of sexual harassment with her son, I am sure it may create empathy in the outlook of young men towards women," Khan said.
Primarily focused on the online community the campaign has has encouraged discussions by parents and is taking forward the message of #Askingforit campaign to the next phase.
The 'Asking for it campaign' demanded creation of safer public spaces for women by initiating dialogue on safety and security of women and girls in public spaces.
"More than 90 per cent of women have been harassed in public spaces, 40 per cent men believe that teasing is harmless fun and doesn't constitute sexual harassment, 82235 women have reported assault with intent to outrage their modesty. 122877 women have reported cruelty by husband or their relatives in the latest NCRB data. We need to address gender based discrimination," Khan said.