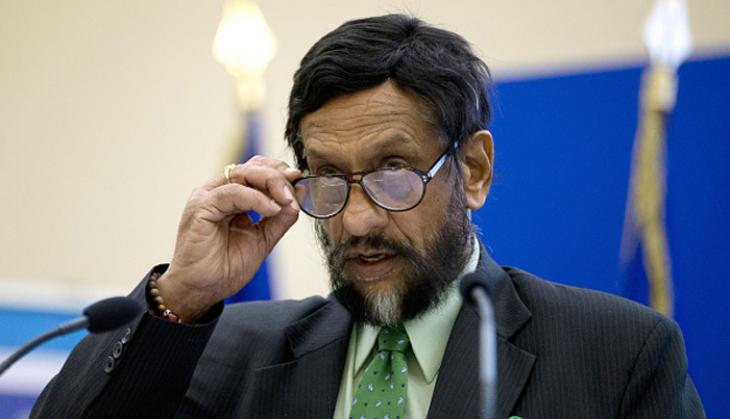 RK Pachauri's three-decade-long career in The Energy and Resources Institute (TERI) appears to have finally come to an end, more than a year after he was accused of sexually harassing a young colleague.
His membership at the environmental NGO's governing body was terminated on 31 March, a year before it expired, according to a report in The Hindu.
The move comes after a prolonged demand from several quarters to remove the 76-year old Pachauri from TERI.
Pachauri served as TERI's director general for almost three decades. He was removed from the post following the allegations, but was soon appointed by the TERI governing body as the executive vice chairman.
Pachauri went on indefinite leave in February following an uproar over what was seen as his promotion amidst the sexual harassment controversy.
The governing body, which includes industry stalwarts such as Naina Lal Kidwai and Deepak Parekh, received criticism for not taking action against Pachauri.
The complainant had quit the organisation, saying it did not take adequate action against him.
TERI's internal complaints' committee had found Pachauri guilty of sexual harassment, although the verdict has since been stayed by an industrial tribunal.
The Delhi Police, which also investigated the allegations, has filed a chargesheet accusing him of outraging the modesty of a woman, stalking and criminal intimidation.
The case is set to come up before the Saket district court on Saturday, 23 April. He is on anticipatory bail from the Delhi High Court.
Here's a brief timeline of the case:
Feb 13, 2015: Police file First Information Report of the allegations from Pachauri's colleague
Feb 19: Delhi High Court grants anticipatory bail to Pachauri
Feb 24: Pachauri resigns from the Intergovernmental Panel on Climate Change, the UN body on behalf of which he accepted the 2007 Nobel Peace Prize
Feb 28: Pachauri resigns from Prime Minister's Council on Climate Change
June-July: Police questions Pachauri, later tells court he was not cooperating
July 17: Pachauri allowed to enter TERI premises except headquarters and a unit in Gurgaon
Nov 21: Allowed to enter all TERI offices after complainant quits the organisation accusing it of not taking action against Pachauri
Feb 8, 2016: Pachauri appointed executive vice chairman of TERI, almost a year after the FIR was filed
Feb 11: Goes on indefinite leave from both TERI and TERI University after alumni refuse to accept degrees from him at the upcoming convocation
Mar 1: Delhi Police files chargesheet against Pachauri accusing him of outraging modesty of a woman, criminal intimidation, stalking and sexual harassment.
Mar 31: Pachauri's term in TERI ends.
It is not immediately clear if Pachauri has also been removed from his position as Chancellor of TERI University, a position also under the control of TERI's governing council. The website continues to show him as Chancellor on leave.
Pachauri had gone on indefinite leave from this position on 12 February, after graduating students of the University refused to accept degrees from him at their upcoming convocation.