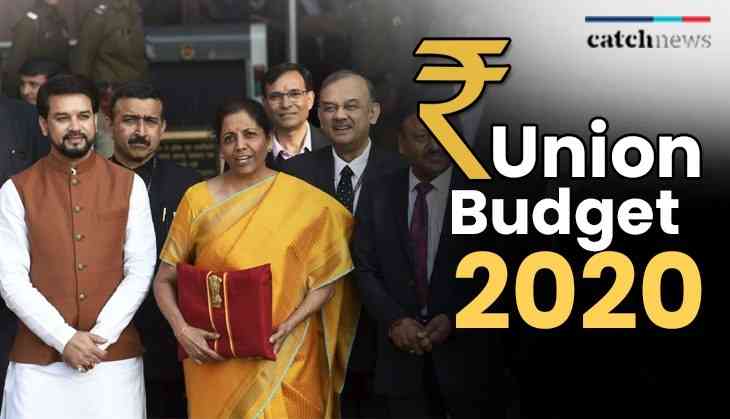 Latest Updates:
*Delhi-Mumbai Expressway to be completed by 2023, Chennai-Bengaluru Expressway to be launched
Rs 27,300 crore provided for development and promotion of industry and commerce
FM proposes National Technical Textile mission with an outlay of Rs 1,480 crore over 4 years to cut down imports
Milk processing capacity to be doubled by 2025, say FM Nirmala Sitharaman
India needs to boost domestic manufacturing and attract investment in electronic manufacturing: FM
2.83 lakh crore rupees allocated for agriculture and allied activities, irrigation and rural development
Viability gap funding for setting up hospitals in those districts with no empanelled hospitals under Ayushman Bharat: Finance Minister
Govt proposes to expand coverage of artificial insemination to 70 pc from 30 pc to increase livestock productivity.
Fish production to be raised to 200 lakh tonnes by 2022, says Finance Minister
India is now the fifth largest economy in the world and the Central government debt has reduced to 48.7 per cent of GDP from 52.2 per cent in March 2014, Finance Minister Nirmala Sitharaman said on Saturday.

Presenting the Union Budget for 2020-21, she said growth of 7.4 per cent was surpassed in 2014-19 with average inflation of 4.5 per cent.

Sitharaman also listed out various welfare schemes like affordable housing, direct benefit transfer (DBT) and Ayushman Bharat.
Finance Minister Nirmala Sitharaman on Saturday said that the government's debt has reduced to 48.9 per cent from 52.2 per cent, while presenting the Union Budget in the Lok Sabha.
"The government debt came down to 48.9 per cent from 52.2 per cent," she said.
She said: "Our people should be gainfully employed, our businesses should be healthy, for all minorities, women and people from SCs and STs. This Budget aims to fulfil their aspirations."
"With renewed vigour, under PM's leadership, we commit ourselves to present the people of India with all humility and dedication. People have reposed faith in our economic policy," she added.
Govt proposes plans to help farmers use proper manure and little water, encourage balanced use of fertilizers.
20 lakh farmers to be provided funds for setting up standalone solar pumps.
Union Finance Minister Nirmala Sitharaman has started presenting the second Union Budget of the Narendra Modi 2.0 government on Saturday. It is expected that the govt will announce some income tax relief for the salaried class in this Budget.
Also Read: Budget 2020: Key things to watch out for in Nirmala Sitharaman's second budget
Watch Live Here:
#Budget2020 📺LIVE Now from #Parliament

Presentation of #UnionBudget 2020-21 by Union Minister @nsitharaman#JanJanKaBudget #BudgetSession

YouTube: https://t.co/TN71mvbfGt
Facebook: https://t.co/p9g0J6q6qvhttps://t.co/zXnOI5nsw5

— PIB India (@PIB_India) February 1, 2020