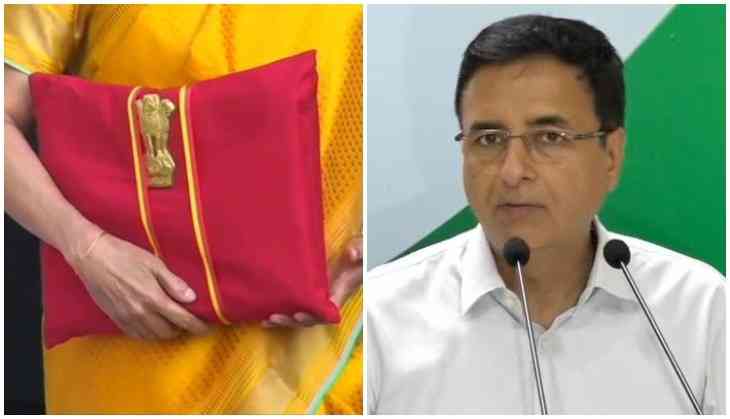 Ahead of the Union Budget-2020 presentation, the Congress has expressed hope that the Union Budget would provide relief to the salaried class through tax cuts and invest in rural India besides providing a healing touch to the common man and industry-facing 'hardship' since demonetization.
Party's chief spokesperson Randeep Surjewala said the last budget led to crashing consumption levels, soaring unemployment, and falling GDP. "Budget 2019= Consumption crashed, Unemployment soared, Farm distress surged, Incomes declined, Investments slumped, Public spending fell, GDP nose dived!," Surjewala tweeted.
"Yet, Modiji gave Corporate Tax Cuts of Rs 1,45,000 crore. Let Budget 2020 give tax cuts to Salaried Class and invest in Rural India," he said Rajasthan Chief Minister Ashok Gehlot hoped the budget fulfills expectations of the common people. "Budget 2020 is the time for the NDA government to provide a healing touch to common people and industries facing hardships since note ban. I hope the budget fulfills expectations of common people and provides relief across sections," Gehlot said.
Meanwhile, Union Finance Minister Nirmala Sitharaman will present her second budget in the Parliament at 11 am today, has reached the Finance Ministry in the North Block. The duration of the budget speech usually ranges from 90 to 120 minutes.
Dressed in a yellow silk saree, Sitharaman continued with the tradition she set last year carrying the bahi-khata, which she used ditching the briefcase. She was seen holding a red bahi khata.
On the first day of the budget session of the Parliament, Sitharaman on Friday tabled the pre-budget Economic Survey for 2019-20, which projected the state of the economy and outlined its challenges. The survey was released by Chief Economic Adviser Krishnamurthy Subramanian.
(With Agencies Inputs)
Also Read: Budget 2020: Nirmala Sitharaman to present her 2nd budget at 11 AM; middle class hopes for income tax