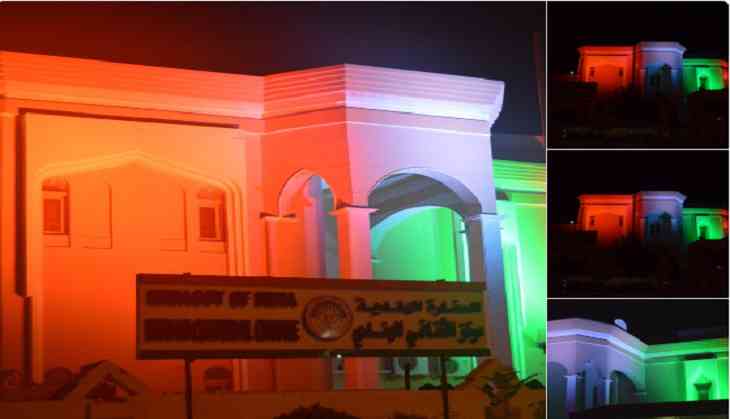 India is celebrating it's 71st Independence Day today. People in the country and around the world are rejoicing in full patriotic spirits. India woke up to freedom at the dawn of 15th August,1947. Independence Day fills each one of us with a feeling of pride to be born in a country like India.
Not only India but other countries like USA, Vietnam, Belgium etc. are celebrating this day. The Indian Embassies inmany countries have been decorated with the colours of our National Flag in order to mark the 71st Independence Day. The Indian Embassies all over the world are celebrating the day when India gained freedom from the British rule.
Let's check out the delightful pictures that are there on the social media.
#IndependenceDayIndia- Where the mind is without fear and the head is held high - Jai Hind! 🇮🇳#SankalpSeSiddhi #NewIndiaManthan pic.twitter.com/vXae3Dghii

— India in USA (@IndianEmbassyUS) August 15, 2017
PM @narendramodi - 'This is a special year- 75th anniversary of Quit India, 100th anniversary of Champaran Satyagraha' pic.twitter.com/lidjiJ0j9U

— India in USA (@IndianEmbassyUS) August 15, 2017
#IndependenceDayIndia @eoiberlin building lights up in national colours on the eve of Independence Day pic.twitter.com/G60f9u8e0n

— India in Germany (@eoiberlin) August 14, 2017
India Celebrates 70 Years of Independence. ..
EMBASSY OF INDIA Ankara Turkey pic.twitter.com/c16d1Dhrz3

— India DefAtt Ankara (@InddefAnk) August 14, 2017
Indian Cultural Centre building illuminated in Tri colour on eve of Independence Day 2017 pic.twitter.com/VtWzFTyYAW

— India in Qatar (@IndEmbDoha) August 14, 2017
Indian Embassy in Hanoi, Vietnam beautifully lit in tricolour - India@70 @MEAIndia, @IndianDiplomacy, @SushmaSwaraj pic.twitter.com/qKDcATo6Bg

— India in Vietnam (@AmbHanoi) August 15, 2017
Tricolour all the way to #IndiaHouse on the bank of the Thames; 70 years of successful democratic growth #IndiaIndependenceDay  #IndiaAt70 pic.twitter.com/l76o2aQ9rc

— India in the UK (@HCI_London) August 15, 2017
МИД России Congratulations by the President of #Russia H.E. Vladimir Putin on the Independence Day of #India https://t.co/WJNKdbjs0R

— India in Russia (@IndEmbMoscow) August 13, 2017
Embassy celebrates #IndependenceDayIndia. Amb Puri reads out President's message to the Indian community & friends of India.#India@70 pic.twitter.com/5OSiLqayJl

— IndiaInNepal (@IndiaInNepal) August 15, 2017
Embassy Team will be happy to receive all Indian nationals in KSA from 08:00 AM onwards for the Flag Hoisting Ceremony on 15.8.2017 pic.twitter.com/LZpmhq3YLC

— India in SaudiArabia (@IndianEmbRiyadh) August 14, 2017
#IndependenceDay celebrations in Cambodia. Tricolor shining in the Embassy premises with large gathering. @IndianDiplomacy @DDNewsLive pic.twitter.com/GYecIpKMH8

— India in Cambodia (@indembcam) August 15, 2017
It's such a proud feeling for all Indians!