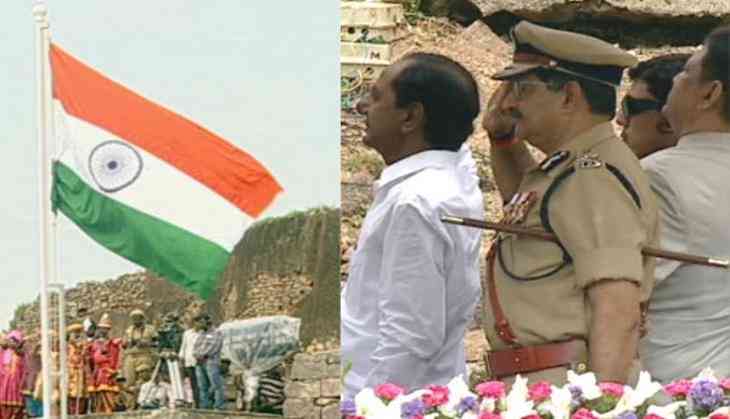 Telangana Chief Minister K. Chandrasekhar Rao (KCR) on 15 August said that unlike other newly formed states Telangana has swiftly dealt with challenges which came its way.
KCR while greeting the people of the state on the occasion of 71st Independence Day said that with 21.7 percent economic growth in 2016-2017, Telangana stood number one in the country.
"I am happy that the State is progressing on the path that we have selected as the aim. At this historical Golconda Fort, three years ago we hoisted national flag and paved way for the State's progress. We are marching ahead with the help of the programmes that we envisaged," said KCR.
"Normally, the states, which are formed new, do not settle down in a short time. But, our state has overcome all the obstacles quite effectively. With 21.7 percent economic growth in 2016-2017, the State stood number one in the country," he added.
KCR further said that the growth of the state has been possible due to transparent measures and fiscal discipline adopted by his government.
"The state government has heralded new programmes for the welfare and development of people and state respectively. The programmes we are implementing have won appreciation all over the country. They have become role models for other states. This development is possible due to overwhelming support from people, commitment and dedication of the administration with perfect coordination," he said.
The Chief Minister also said that his government is spending a Lion's share in the Budget for the welfare sector to offer security of life to the people.
"To give a minimum social security to the poor, the government is offering ASARA pensions to lakhs of people. The pension is given to old age people, physically challenged, Beedi workers, widows, handloom weavers and toddy tappers as well as to single women who are also included in recent past. The cash incentive given under Shaadi Mubarak/Kalyan Laxmi schemes has been increased Rs 75,000. Since the government is bearing costs of the marriage of the girl, parents are heaving a sigh of relief," he said.
Similarly in Tamil Nadu Chief Minister Edapadi Palanisami hosted the flag.
Palanisami while remembering late Tamil Nadu chief minister J Jayalalitha a.ka. Amma said that since 2011 the state has earned the profit of 1,20,019 core.
Kerala Chief Minister Pinarayi Vijayan hoisted the national flag at Central Stadium in Thiruvananthapuram. The ceremony was joined by ministers and other dignitaries.
-ANI