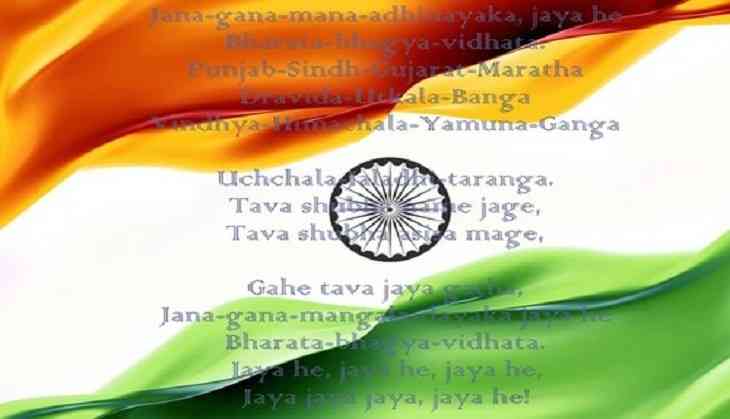 We all love the National Anthem of our country. Whenever it plays, be it in school, college or movie theatre, our hearts get filled with a rush of emotions mixed with a sense of pride for our country and it's history.
We all are aware that our National Anthem was composed by Bengali poet, Rabindranath Tagore and is the Hindi version of the song Bhārat Bhāgya Vidhātā but do we have an idea what exactly the poetic words in the anthem means?
Our National Anthem is just the first stanza of the song Bhārat Bhāgya Vidhātā and it goes like this,
जनगणमन अधिनायक जय हे, भारतभाग्यविधाता।
पंजाब सिंध गुजरात मराठा, द्राविड़ उत्कल बंग।
विंध्य हिमाचल यमुना गंगा, उच्छल जलधि तरंग।
तव शुभ नामे जागे, तव शुभ आशिष मागे।
गाहे तव जयगाथा।
जनगणमंगलदायक जय हे, भारतभाग्यविधाता।
जय हे, जय हे, जय हे, जय जय जय जय हे॥
If we translate it into English, we will get to know how deep this stanza really is. Check out:
Oh! the ruler of the minds of people, victory be to you,
You, the dispenser of the destiny of India.
Punjab, Sindh, Gujarat, Maharashtra,
Dravid (South India), Orissa, and Bengal,
The Vindhya, the Himalayas, the Yamuna, the Ganges,
And the oceans with foaming waves all around...
We all wake up listening to your auspicious name,
and we ask for your auspicious blessings,
And sing to your glorious victory.
You who impart well being to the people,
Victory be to you, dispenser of the destiny of India!
Victory, victory, victory to you!