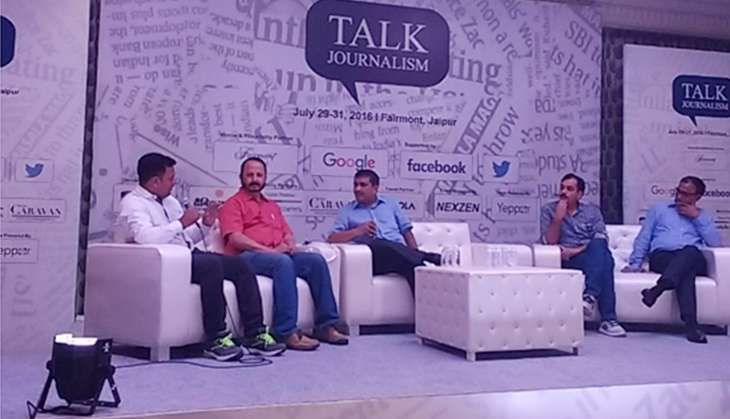 Covering a three-day festival with back-to-back sessions can be exhausting. And, as journalists, this is a perfect setting for us to complain.
We complain about poor accommodation, overpriced but underwhelming food, inadequate allowances, tepid coffee, faulty plug points, power cuts, odd hours, a lack of internet connectivity, head aches, and the list goes on and on. But we complain because we have some basic expectations that come with the work we put in, expectations that come with belonging to an organisation that's meant to be looking out for us.
Also read - Is investigative journalism dying? Nick Davies & Josy Joseph tell us
Journalists complain because they have the luxury to complain. Stringers don't. And that was a pertinent subject of discussion at Talk Journalism 2016 in Jaipur on Sunday.
While most other sessions at the event, although engaging and educative, pulled in famous faces, this one stood out for having a panel of people who've uncovered some of the biggest stories in India, but remain largely faceless.
With Shripal Shaktawat, Salman Mansoori, Ravi Kant, Prakash Chandra Hota, and moderator Rahul Srivastava, this session on stringers and their stories was an eye opener.
Who gets us the stories?
Stringers are made to sign a document that essentially states they are not journalists. They don't whip out business cards at fancy summits. And they most certainly don't get allowances for food, travel or accommodation for any story they chase.
And yet, as Shaktawat pointed out, "Over 90% stories that we read in newspapers come from stringers."
"We often find ourselves whizzing past trucks and buses on busy roads, putting our lives at risk, just to get to the location," he added, stressing that they have no benefactors.
Also read -Ravish Kumar doesn't want to be a star anymore. Or so he says
Senior NDTV journalist, Rahul Shrivastava, appreciates the stories stringers bring him. "Who do you think gets you the stories from remote flooded parts of Assam?" he asked. "No one sends their reporters there. It is this bunch of young people who send stories. And they do it for a pittance."
The problems stringers face
One breaking news story from a stringer could cost as low as Rs 10. So when Srivastava says 'pittance', he really means it.
Money is one of the biggest problems. "Right from beginning to end, we fund everything for our stories," Ravi Kant shared. It's a thankless job, and that's a realisation that hit Ravi Kant one day while he waited in the heat with his tripod.
"I'm educated. 'Why am I doing this?' I asked myself that day. But I quickly realised it's not for the money. It can't be," Kant said.
Stringers often juggle jobs, and in some cases, according to Hota, that can be a bit tricky. "There are stringers. And there are 'setting-ers'," Hota said, adding, "And the ones that chase stories are denied recognition."
'Setting-ers', of course, are privileged. They have 'connections' and since stringing allows for multiple jobs, the nature of their other jobs can be dubious. A 'setting-er' is also a major threat to stringers as they deny them the chance to get ahead.
There's always a threat to stringers' safety. They live and work in the space they report about. "A stringer was once arrested after covering a story of Maoist attack. The cops assumed he knew them, because how else would they let him cover?" Hota shared.
"What made it worse for him was that he couldn't reveal the names, as while that would mean release from jail, he'd have to go back home where him or his family could face an attack. So he stayed silent."
Also read -Crunching numbers: Data journalism needn't shout to be heard
Problem four is that stringers' stories often go unread. "It is very difficult to pitch a story as a stringer," Ravi Kant revealed. "All pieces without slants are outright rejected."
"No matter how much legwork we we put in, nobody wants to listen," he added. "News channels want the paki-pakayi product."
"We lose stories. Stringers' stories are lost because their faces and names don't matter," said Salman Mansoori quietly.
Shrivastava backed this by asking the audience if they recognised any of these men's faces. He got the answer he was looking for.
Stringer vs Journalist
While no two journalists have the same career graph, there's no denying the privileges that come with being identified as one. This realisation, for me, was solidified through the course of this session."Some think getting a press card makes them a journalist. That's not true. It comes from within," Hota said. While stringers are denied the recognition of being journalists, their journalism cannot be rejected.
There's an inherent caste system, Ravi Kant suggested. "A stringer is seen as less than a journalist. It doesn't matter what his or her standard of journalism is."
And that's a huge concern. Because if certified journalists alone can bring stories to mainstream media's attention due to this strange hierarchy, we'd never read most of the concerns that plague India.
Also read - Gerard Ryle on the past, present and future of Panama Papers
According to Shrivastava, that's precisely what's happening. "There are so many issues in this country, so many rights being denied, so much persecution that doesn't reach us."
And yet, we'd rather ignore stories to maintain status quo than let stringers get ahead of us journalists. While there's no denying a journalist their mettle, stringers are go-getters, and for that alone they deserve some credit.
As Shrivastava concluded, "Journalists quit jobs due to difficult editors and unsatisfying salaries, but stringers stick around."