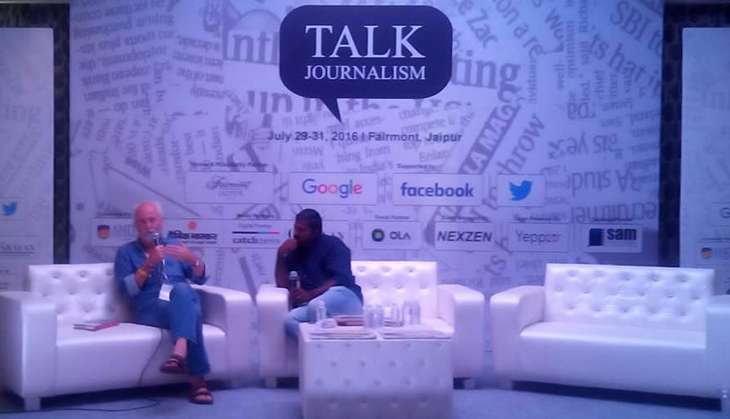 Investigative journalism is inarguably the most challenging form of journalism. Investigative often starts with a hunch, a clue, a hypothesis and ends up with some form of 'trouble'. Because what's investigation without ruffling a few feathers? And that challenge was the subject of discussion between The Guardian's Nick Davies and senior journalist Josy Joseph on day two at Talk Journalism 2016.
As Davies said, "Investigation is to cause trouble." Pointing to the current international political climate of conservatism, he added that it is getting a lot more difficult and therefore interesting now.
"Google, Facebook and Twitter are the enemies of journalism," Davies warned, highlighting how we're all increasingly getting pulled into the machinery, into the commercialised spaces that uses our content as theirs and then make us compete for their attention. Adding that we shouldn't write stories to suit their agenda.
Is investigative dying?
"We're abandoning journalism for 'churnalism'",Davies said, strongly objecting to the 'number culture' that drives journalism

today

. This, he feels, is what is killing the investigative form.

What possibly infuriates him most is that he sees the potential the electronic media has. "So much can be stored in electronic media. And so much can be leaked," he said, while talking about WikiLeaks and Panama Papers.

Josy Joseph sees the threat investigative journalism faces in India. "Indian journalism is moving towards 'hidden cameras'," he said. Sting has become the norm, and that's not a situation he's in favour of.

This, according to Joseph, has happened due to the popularity of TV journalism in India. And we all know what sort of TV journalism we're subject to every day.

"TV journalism is a threat to media in this country," Joseph said, adding, "All of us are being fooled."
Tricks to investigation
Josy Joseph, in the session, as well as in his book A Feast of Vultures: The Hidden Business of Democracy in India, confessed to having bribed a scribe to get a story out. And while he doesn't endorse that, it points to one obvious thing about investigative journalism. - That it's either no holds barred, or there's no story at all.
Davies explained this last resort of breaking laws with an anecdote. "I once had a woman giving birth to a baby in the passenger seat. I had to jump red lights." Sometimes, he suggested, the situation calls for the law to be broken and it cannot be questioned under those circumstances. And the same applies to investigation.
Davies, who uncovered the Rupert Murdoch fiasco, believes in "pressing emotional buttons" of his sources. Doesn't matter if the source is a journalist themselves. The way to gain their trust, he said, is to be more than a journalist and "be a psychologist."
The third trick is to channel one's energies right. Davies calls this "constructive paranoia" or "the art of dealing with something in advance." He throws stress and doubts out of the bag, relaxes in the comfort of his home, and writes.
On being asked why he practises the self-imposed house arrest, Davies made a borderline sexist remark. It keeps him away from distractions, he said, while feeling the need to add what sort of distractions - short skirts being one.