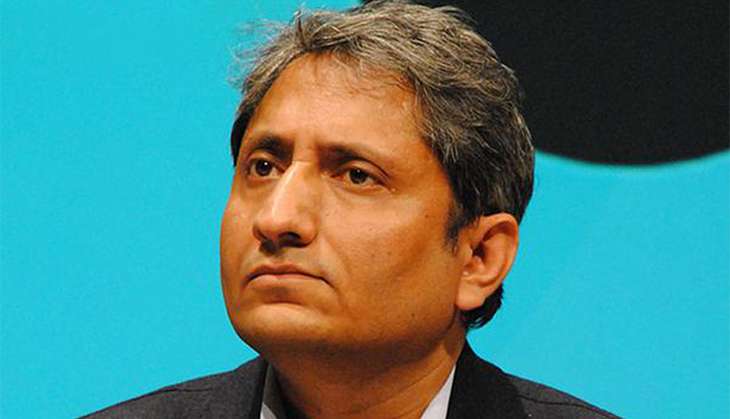 "Journalism dies when a star is born." - Ravish Kumar, Senior Editor NDTV India
Ravish Kumar is a performer. His journalism - honest, unabashed, irreverent and often cause for a burn - has been widely accepted as where the profession should head, both by professionals and his viewers alike. But despite the at times brutal honesty, the man is a performer.
And his sign off on Saturday at Talk Journalism 2016 in Jaipur proved just that. Having uttered the aforementioned line, Ravish set the stage for poetic brilliance whilst attacking his fellow scribes. To his credit, it was enormously engaging.
Talking about the problem with celebrity journalists hogging all the limelight, Ravish lamented about being one himself. "Take this name away from me," he told the audience. "After all, you have given it to me."
"The name, the fame is limiting me and my work. I can't do what I want. I need to do what is expected [of me]," he continued in Hindi to an evidently moved audience.
The problem with celebrity journalism
A celebrity journalist is, unfortunately for the likes of me, an oxymoron. For, if a journalist were to gain fame enough to become the subject of news, there's something fundamentally wrong with the situation.
Because celebrities cannot report without being seen, stalled, and selfied into submission. And that's precisely the culture Ravish Kumar questioned.
While talking about how our TV sets have captured our imagination, Ravish reminded all that we're listening to the same old person every day. "When you listen to that one voice on TV instead of getting the ten perspectives you could've gotten had it not been so top down, it makes you a weak consumer," he said, pointing fingers at the darshak.
The ten other perspectives are important, he said, but because the audience is satisfied with staged fights under the guise of 'debate TV', it is the audience that regresses. They increasingly know lesser about the subject they're consuming and the news, therefore, ends up a vicious cycle of mediocrity.
Think, stressed Ravish. "There are five people sitting on top of TV journalism. They have been sitting idle for so long that they are bored with what they do," he said, not mincing words.
Urging the audience to reject such television news, he said, "TV is driving you crazy. Debate TV is destroying democracy."
What makes 'debate TV' tick
If such a large population prefers 'debate TV' to all other forms of news, there must be something the professional debaters are doing right, right? Unfortunately, what they're succeeding at isn't news, it's entertainment.
By turning primetime news into a spectacle, one where otherwise important people get their panties in a twist, screech, cry and complain like insufferable 4th graders in front of their class teacher, TV has hit a convenient formula. And yes, we are fools to consume it. A word Ravish stopped short of using to describe the average TV viewer.
Objecting to the obsession with 'nationalism' on TV these days, Ravish said, "Why do news anchors repeat the same subjects and fuel hate? I don't think our country has faced any such crisis for us to discuss nationalism on TV day after day," he said in a direct snub to Arnab Goswami.
He reminded us that while rejecting TV may be the best option we have left to preserve our sanity, we shouldn't forget that it's the most "successful media" in India. "TV has been your voice," he said, before adding, "but it's under a grave threat now."
The irony that is Ravish
An intimidatingly successful television journalist, Ravish holds the distinction of being the only TV scribe to have done a full show without any visual footage to discuss the harm that the medium has caused.
And that's nothing short of incredible.
But it is also true that Ravish alone can pull a stunt like this and have people pay attention to what he says. Because whether he likes it or not, he is the celebrity journalist he warned the audience against.
Ravish's presence at the well-meaning but undeniably commercial event at Talk Journalism 2016 highlights the irony in what he preached at the session. That he accepted the lecture, an evident celebration of all that is Ravish Kumar, is also at odds with his need for isolation.
This inconsistency is reflected not just in his direct interaction with the media, but also his social media presence. Ravish left Twitter in August 2015. "I didn't want to be influenced by social media when it came to decision-making about news," he explained.
मैं नवाज़ का बंदानवाज़ हो गया हूँ । सोमवार को छुट्टी लेकर माँझी देख आइये । कभी कभी सिनेमा देखने के साथ उसे सम्मान भी देना चाहिए ।

— ravish kumar (@ravishndtv) August 22, 2015
His objection to social media comes out of the mob mentality it operates on. "Social media in India outrages over everything but for what is relevant, especially at the grassroots," he said.
But while his account lies in limbo, untouched, but also un-deleted, Ravish has been regularly updating the Twitter account for his blog Nayi Sadak.
इरोम शर्मिला का संघर्षhttps://t.co/UPGJcGoHhu pic.twitter.com/zV8DLdkfv9

— नई सड़क (@nayisadak) July 29, 2016
This isn't a question mark on the legitimacy of what he said though. But it is also true that Ravish is caught in his personal chakravyuh, and he cannot, despite his best attempts, get out. Nor should he, for the reach of his message, an important one in times of today's deeply problematic media, would also diminish.
A far smarter approach than lamenting his celebrity, would be to accept it and wield it responsibly to change the system. His lamentations only serve to make him seem like a martyr, something audiences lap up. Something he claims not to want.
After he finished speaking, the journalist was carried away from the venue by a frenzied mob of selfie-loving, Ravish-worshipping human bodies, the sort that would easily suffocate anyone with mild claustrophobia. Clearly, while people love listening to him, they don't seem to be listening to his message.