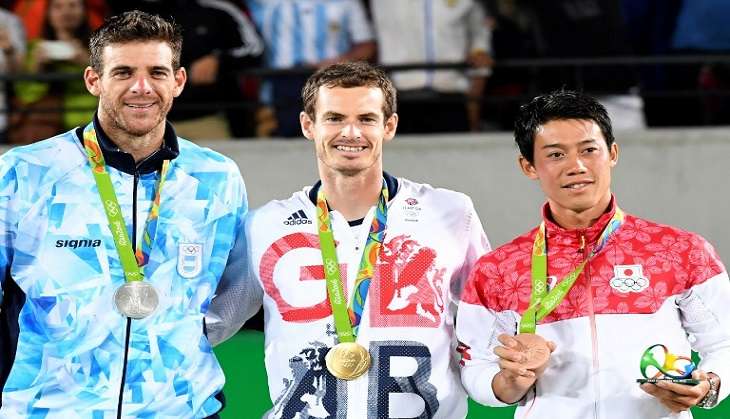 Great Britain's Andy Murray outlasted big-hitting Argentine Juan Martin del Potro in a four-set classic at the Rio Olympics on Sunday, 14 August. Murray won 7-5, 4-6, 6-2, 7-5. Murray successfully defended the Olympic title he won four he ago at the London Olympics in 2012. In doing so, he became the first player ever to claim two Olympic singles titles. The match lasted over four hours.
After blowing a 4-1 lead, he converted his second set point to take the first set 7-5. Del Potro was the stronger started in the second set. Del Potro immediately broke Murray's serve and then held to go 2-0 up. He went on to win the set 6-4 with ease.
The third set was one-sided as Del Potro looked tired at 2-2, with his movements become more laboured. His legs dragged as Murray roared along with support from the crowd to win four straight games and take the set 6-2.
It was the fourth set that was a seesaw battle with service games being broken left, right and centre. At this point, fatigue had set in and unforced errors were coming in thick and fast. Del Potro broke Murray to open the set but the British player came back to even things at 1-1. A few service breaks later and Del Potro was serving to send the fourth set into a tie-break at 6-5 but Murray converted on his second set point to clinch the match and the gold medal.
Del Potro may have beaten the likes of Novak Djokovic, Roberto Bautista Agut and Rafael Nadal, but on Sunday, 14 August, Murray proved to be just a little too much.
Del Potro did win the bronze medal at the London Olympics. At Rio he won a silver. Can he win the gold at the next Summer Olympic Games in 2020 in Tokyo?
Kei Nishikori ends Japanese wait
In the other match of the day, Japanese Kei Nishikori took on Spaniard and much-fancied opponent, Rafael Nadal. Nishikori defeated Nadal in three sets 6-2, 6-7(1), 6-3 to win the bronze medal at the Rio Olympics. This was Japan's first medal, since Antwerp in 1920, when the country won men's silver and men's doubles silver.
Nadal fought back from 2-5 down in the second to force a decider. Nishikori may have lost nine of his previous meetings against the Spaniard but this time he proved too strong eventually closing out the match 6-3.