Rio Olympics hero Sakshi Malik: 'Hope my success can help women follow their dreams'
It's been a few days since Sakshi Malik arrived home to a hero's welcome after her bronze medal-winning exploits in women's wrestling at the Rio Olympics. But ever since she came back to India, she hasn't had a moment to rest, relax and enjoy her success.
Sakshi has been swamped by congratulations - whether verbal, in cash or in kind. The media has suddenly found itself a new star, and cannot get enough of her. Neither can government agencies and the private sector, who want to bask in Sakshi's glory.
Then, on 29 August, National Sports Day, President Pranab Mukherjee awarded her the top sporting honour in the country, the Rajiv Gandhi Khel Ratna. In the meantime, she was named brand ambassador for the 'Beti Bachao, Beti Padhao' campaign by Haryana Chief Minister Manohar Lal Khattar.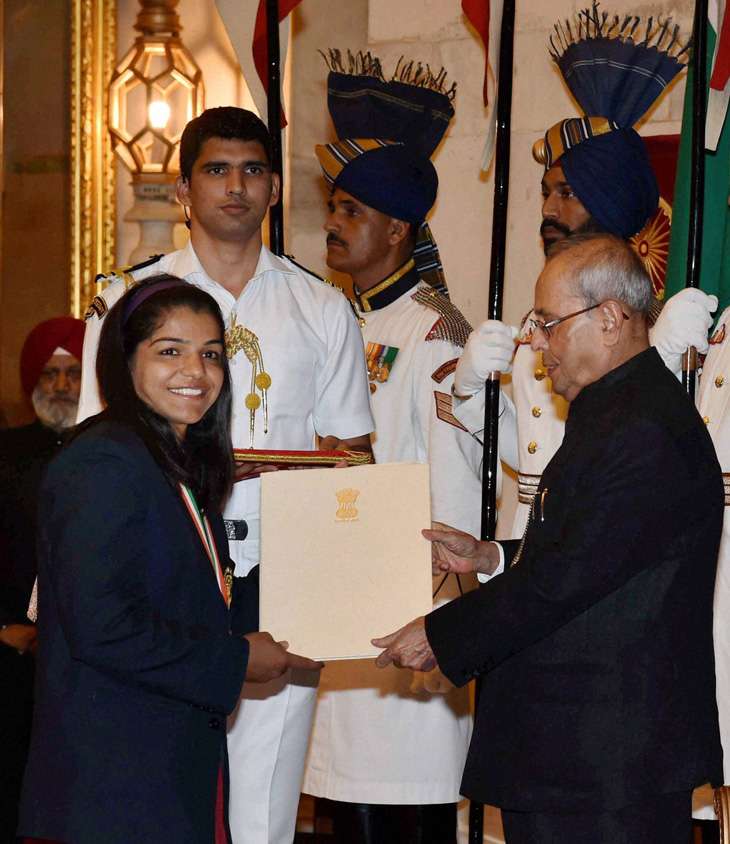 Sakshi Malik receives the Rajiv Gandhi Khel Ratna award from President Pranab Mukherjee. (PTI photo)
So, what has life been like for Sakshi since she opened India's account at the Rio Olympics with that precious bronze on 18 August?
A festive atmosphere at home
To hear about it from the horse's mouth, Catch travelled to Sakshi's home in Rohtak, Haryana. On the way, giant posters dotted the roads, screaming 'Nation's pride, Sakshi Malik' and 'Congratulations to Rohtak's own Olympic medallist'.
Her home itself bore testimony to the giant celebrations that had taken place the previous day. The exterior of the house was rather calm and quiet, though the decorations it bore were seemed nothing short of a lavish celebrity wedding.
Inside, however, there was a different story. The house was abuzz with chatter, and Sakshi's relatives and neighbours were clumped together in different parts of the house.
Tea was being brewed constantly, and being supplied to the sea of mediapersons and visitors at five-minute intervals.
A huge table was cluttered with neglected bouquets and a tower of unopened boxes of sweets. Balloons in the colours of the Indian tricolour, some of them deflated, hung from every inch of the house.
But behind all this glitz lay the real story of Sakshi Malik, wrestling prodigy, encapsulated in photographs from national-level wrestling tournaments that she had won from a young age. A story of sweat, a story of hard work, and a story of winning against all odds.
Uncomfortable with the hullabulloo
She sat nervously in the living room, surrounded by her parents, her coach and journalists who grew impatient by the minute. Two things struck the eye when it came to Sakshi's face - the innocence in her eyes and a seeming discomfort with this hullabulloo around her.
Between getting selfies clicked with visitors, answering questions and being whisked away by relatives to meet more relatives and friends, she seemed exhausted - and almost flustered. Could you blame her?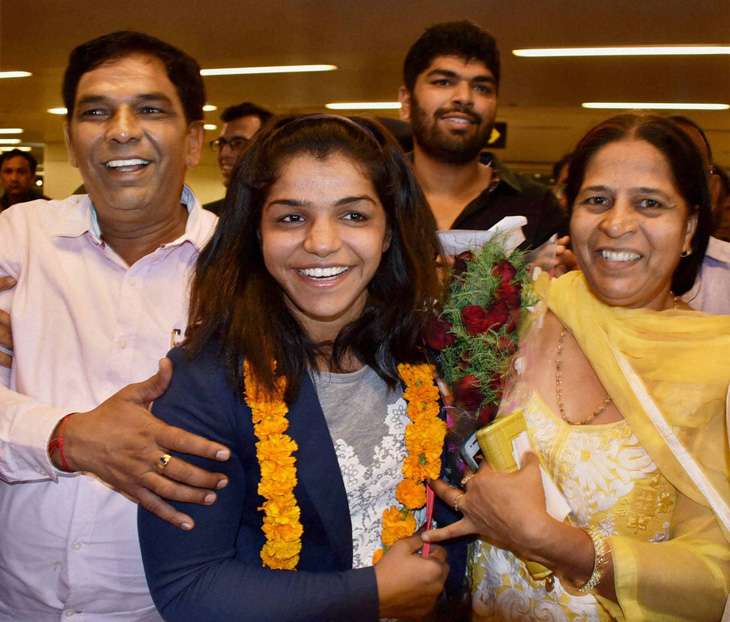 Sakshi has been constantly on the move since returning to India from Rio. (PTI photo)
After having been interviewed by several male journalists, she seemed a tad more at ease as she settled next to this reporter on the couch.
"Ever since I've come back to India, I've only been giving interviews," she said candidly. "I hope your interview won't take long... My sponsors are waiting to meet me."
Chink in her armour
For all the badassery that comes with being an accomplished woman wrestler, it is obvious that Sakshi is not comfortable in front of the camera. "Where should I look?" she asked, her eyes darting between the camera and this reporter.
"I am a really shy person," she said, almost as an apology for not being more poised in front of the camera.
But once the conversation turns towards the bout that won her the bronze medal, against Aisuluu Tynybekova of Kyrgyzstan, Sakshi can't help but get excited again.
"You can't imagine the pressure I was under, when I was trailing by five points. I knew that India hadn't won a medal till then. I wanted to win the bronze medal for myself, but I wanted to win it for India even more. When I was losing initially, I told myself 'no matter what, you have to win this medal'. And I did."
This reporter confessed to having had goosebumps when she won the medal. "So did I," she admitted.
Name and fame comes with a price, and Sakshi is no different. But she said she's learning to manage her new-found popularity. "It's really hard. But I'm learning," she said, smiling innocently.
On Shobhaa De's comment
Sakshi did not have much of a Twitter following until the day she won the bronze. In less than two weeks, she has gained over 73,000 followers.
And though she must have been busy with her preparations at Rio, she didn't miss writer Shobhaa De's comment that Indian athletes had just gone to Rio to click selfies, not to win anything.
Goal of Team India at the Olympics: Rio jao. Selfies lo. Khaali haat wapas aao. What a waste of money and opportunity.

— Shobhaa De (@DeShobhaa) August 8, 2016
Sakshi's response to the writer was curt: "I think my medal is the best response I could have given to Shobhaa De. Her comment was totally out of line."
On women's issues and Beti Bachao
At just 23 years of age, Sakshi has become a role model not just for young athletes and Olympic aspirants in India, but also for the women of Haryana, who have long suffered injustice at the hands of a patriarchal society.
For Sakshi to be the brand ambassador of 'Beti Bachao, Beti Padhao' in her home state, which has seen woeful numbers when it comes to the sex ratio, female foeticide and infanticide and many other social ills, there is obviously a feeling of pressure.
"Yes, it is a lot of pressure being named the brand ambassador of the campaign. But it is a great opportunity for me to help girls without privileges, and I definitely will try to do some good."
Her views on women's issues are extremely progressive for her tender age and cultural background.
"You can call it my good fortune that my parents never discriminated on the basis of gender. I was always interested in sports since childhood, and I was given the choice to pursue wrestling. Yes, people did talk. They questioned my parents for allowing me to pursue wrestling. They said 'it is not a women's sport', many discouraged it. But my parents and brothers didn't care. I was lucky," she said.
"I have seen many women in my own community who are not allowed to pursue their dreams. I have heard of many such incidents where women's empowerment is discouraged. I hope that because of my success, more women are encouraged to pursue sports. The same people who discouraged my family are now coming and congratulating me. With name and fame, people's attitude towards me has also changed."
On what she can contribute to wrestling
Sakshi is already trying to do some good for the sport of wrestling in India. Through her personal success, Sakshi hopes to improve the condition of the sport.
"I have received a lot of cash prizes and gifts due to my success, and I really appreciate it. But I do wish that some of that money could have gone to improving the infrastructure for wrestling in the country. Wrestling, unfortunately, doesn't get the importance it deserves, despite winning many medals for India in the past."
It's an old cliché that real superheroes don't wear capes. And neither does Sakshi Malik, her iconic photograph with the tricolour draped around her shoulders notwithstanding.
She's human - she's flawed. But she's an achiever, who has battled all odds and won an Olympic bronze medal. Kudos, champion!
Edited by Shreyas Sharma
More in Catch
Sakshi Malik: Wrestling the odds since childhood, our Olympian's victory wasn't easy
Sakshi Malik returns from Rio. Haryana throws a grand welcome for their Olympic star
Guts to glory: Snapshots of wrestler Sakshi Malik's way to Olympics bronze