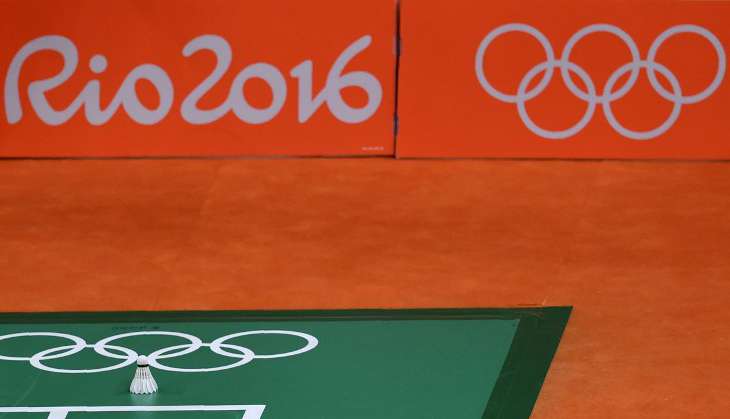 PV Sindhu's silver and Sakshi Malik's bronze in wrestling at Rio 2016 will serve as a boost for women in sport in India. These medals will no doubt (in a larger sense) change embedded notions about women.
But these two medals are just a small band-aid of consolation for a nation that is forced to come to terms with its physical weakness once every four years.
Lack of purpose
Our agony is compounded by the fact that we were unable to defend the six medals that we won at London, despite spending the most amount of money we ever have on Olympic preparation.
We now even have private initiatives like Olympic Gold Quest run by former Olympians, which helps talented athletes. But the way our sports federations are mismanaged brings all our effort to naught.
At Rio, India finished fourth in four sports. But with better coaches and a fiery desire to win, we could have converted these four into medals. However, our athletes' minds are not geared towards gold, nor are they taught to believe in themselves.
Our quadrennial outing to the Olympics has served only to puncture our notion of ourselves as an emerging big nation.
Can't fight the First World
If it is any consolation, we are among the huge majority of mediocre nations. In a way, there is no reason to moan as much. The reason is that the Olympics is an event designed for and by the First World, for the First World.
In fact, medals are directly proportional to the economic might of the country. The pattern is inevitable. As a nation grows in economic power, its sporting power grows too, thanks to better infrastructure, better planning, better coaching and tonnes of funds.
By the end of the Olympics, no backward country, no African nation and no underdeveloped Asian economy figured prominently in the top 10 of the medal tally.
1. US - 46 gold, 37 silver, 37 bronze (121 total)
2. Great Britain - 27, 23, 17 (67)
3. China - 26, 18, 26 (70)
4. Russia - 19, 18, 19 (56)
5. Germany - 17, 10, 14 (41)
6. Japan - 12, 8, 21, (41)
7. France - 10, 18, 14 (42)
8. South Korea - 9, 3, 9 (21)
9. Italy - 8, 12, 8 (28)
10. Australia - 8, 11, 10 (29)
The ranking of economic powers is also similar to the above tally, with some minor variations. This has been the same since the 1960 Olympics.
In the 1968 Olympics, the Soviet Union had 50 gold, the US 33, East Germany 20, West Germany 13 and Japan 13 - rounding out the top five.
By 2000, in Sydney, the US had 37 gold and was followed by Russia (32) and China (28). Australia came fourth, since it was the host nation, with 16 gold, while Great Britain was 10th with 11..
Throughout post-colonial Olympics, starting from 1960, the top 10 have been more or less the same, with just a shift of position here and there.
The China effect
To look at China's rise as a sporting nation is also to look at China's rise as an economic power. In fact, in the 1960 Olympics, China performed much like India and finished with only one silver. In 1968, it was a similar story. But by 2000, China had touched 28 gold medals, and in Beijing, with the obvious advantages of being the host nation, China got 51 gold medals and pushed the US into second place for the first time in 40 years.
By the turn of the century, China had become an economic superpower. China's GDP in 2006 was only $2.6 trillion (India is at $2 trillion now), but by last year, it had touched $9.4 trillion - an unimaginable growth. Its growth as a sporting nation has been a similar story.
Winning isn't cheap
It might also surprise us that two of the most powerful sporting nations we know and admire, hosts Brazil and Argentina, are Olympic laggards as well. There is no sport in which Argentina does not excel. In Rio, it had super teams in football, volleyball, basketball, tennis, beach volleyball, and most have reached the semi-finals. The Brazilian case is similar.
Unlike India, both are sporting nations that have produced legends whom we all admire and follow. But Argentina stood at No.27 on the medal tally.
Brazil despite being the host nation, finished at No.13 with seven gold - three more than it got in London.
But the reason for this showing despite being athletic nations is because both developing countries excel in team sports, and are laggards in individual athletic and swimming events. They also cannot match the sports technology and infrastructure that the top nations possess.
Which is why, apart from developed nations and former colonial powers and China, the Olympics are not really meant for any of the other 150-odd nations. Yes, they participate and march and wave their flags - but for most, it's nothing more than reminding the world of their existence.
But that means there is more cause for optimism. None have managed more than a gold or two. Many nations, including India, are like jackals at a feast of wild animals - managing to snatch a medal or two.
The island of Fiji has one gold. Small, but rich countries like Qatar buy out athletes from other countries in that elusive search for Olympic medals.
South Africa, another sporting nation which has hosted the Football World Cup, is ranked 30th with two gold and a total of 10 medals - falling almost into the Indian level of mediocrity in sport. Even South Korea, with its economic might, finished at No.8, but with only nine gold medals - a far cry from the top five.
Then there are the genetic pool anomaly nations, prominently Kenya (middle and long distance running, six gold) and Jamaica (sprinting, six gold). The rump of the former Soivet Union and East European countries manage around 10 medals total each.
Then there are nations with individual genius produced by self determination. While they can win three or four medals each, such talents don't give a nation much reason to cheer, since these are historically isolated nations.
Beyond economics
Apart from economic superiority, there are other details as well. To go a bit deeper into this phenomenon, let's look at the existing scientific theories,most of which are practiced in some way by the top countries.
1. Global expert on excellence, Anders Ericsson, theorised that 10,000 hours of practice are required to be at the top in any field, be it sport or music. He had propounded this theory in a 1993 paper after studying music students in the West Berlin Academy of music.
Malcolm Gladwell picked this up and made it famous in his 2008 book Outliers.
But Ericsson, in his latest book Peak, says that 10,000 is not a set rule, and that Maxwell took it literally.
2. Ericsson also says that it requires 'deliberate practice' to be a champion, which is practice with a mission and pattern. Indians and a majority of nations lose out not just in the hours of practice, but also what and how they practice.
"Deliberate practice is devised specifically to improve particular aspects of performance," Ericsson says. Most countries do not have the benefit of such high level coaches, all of whom come out of developed countries. Most Indian athletes practice like a routine, without the help of intricate technology and planning.
3. India and many other countries do not have the type of 'Rift Valley' genetic strain. We don't have the gift of strength either,, though we are adapt at skill games. All of the Kenyan middle and long distance runners come from the Rift Valley and belong to the Kalenjin tribe, an indication of a genetic fit for this type of running. Rift Valley runners dominate the marathon, the 10,000m, the 5,000, and the 1,500m. Other countries have little chance here. Blame the gods.
4. Opposed to the Rift Valley is the Jamaican sprint factory, driven by two sprint clubs. This Caribbean island first served notice at the 1952 Helsinki Olympics, winning a one-two in the 400 metres.
Its sprint success is the dream and work of the famous coach Dennis Johnson, who wanted to prove that world-class athletes could be produced in Jamaica itself. These two clubs are the MVP (Maximum Velocity and Power) Club, which Johnson formed, and the Racers Club, where Usain Bolt trains and where his coach Glen Mills is one of the prime drivers.
Inside these two centres, coaches dream up races (100m, 200m and 400m), which challenge the notions of time and speed. Here, there is a overpowering sense of nationalism, where a parallel purpose is to prevent youngsters from going to US universities with athletic scholarships. Such impulses are non-existent in India.
5. Like Pullela Gopichand's badminton academy in Hyderabad academy, these clubs are all centres of absolute excellence from where top athletes emerge. India and smaller countries have too few such centres.
In fact many of India's grand stadia are left empty throughout the year. In fact, all sporting achievements are driven by a few coaches and some institutions. Developed countries have huge numbers of them.
Ultimately a country needs to have a sporting culture, which many nations lack. India is cursed in many ways from the sporting viewpoint: no genetic superiority, no sporting culture, no willingness to risk a child future in sport and overall apathy to physical labour and culture.
The views expressed here are personal and do not necessarily reflect those of the organisation.
Edited by Shreyas Sharma
More in Catch
Rio 2016: Brazil dances at closing ceremony as Olympic flag handed over to Tokyo
7 ways India can ensure a better showing at Tokyo 2020 Olympics
Rio debacle: Shooting chief Raninder says India must learn lessons fast