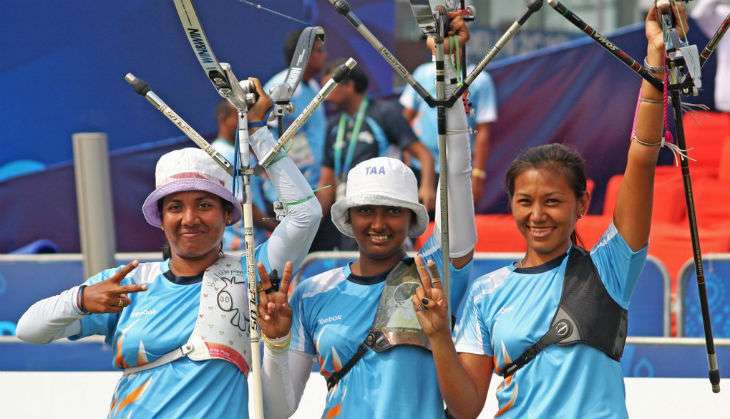 Following the ouster of shooter Heena Sidhu, India's campaign at the Rio Olympics got a major boost after the Indian women's archery team thrashed Colombia 5-3 in the Round of 16 to qualify for the quarterfinals on 7 August.
The Indian team - comprised of Bombayla Devi, Laxmirani Majhi and Deepika Kumari - scored 204 points against the Colombian trio of Ana Maria Rendon, Natalia Sanchez and Carolina Aguirre who could only manage to score 196.
India began well with a score of 52 points to win the first set. Experienced campaigner Deepika scored a 9 and 7, but it was Bombayla (8,10) and Laxmirani (9,9) who looked more comfortable.
The second set saw Colombia making a comeback in the match with 50 points against India's 49. While Bombayla (9,9) and Laxmirani (9,8) carried their fine form, the second set was marred with a poor show by Deepika who managed to score just 14 points (7,7).
In the third set, both India and Colombia scored 51 points apiece as the match was tied 3-3 on points. With all eyes on the final set, Deepika pulled up her socks to score two 9s and helped India to score 52 points against Colombia's 44.
The Indian team will now lock horns with Russia in the highly-awaited quarterfinals at 11:45 pm (IST) on 7 August.