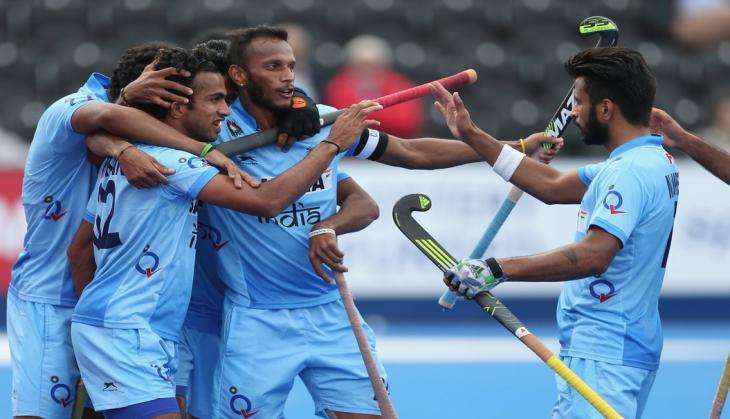 After a span of twelve-long years, the Indian men's hockey team finally managed to win an Olympic match following a 3-2 triumph over debutants Ireland in the Group B clash in Rio on 6 August.
The Irish team, known for its resilient defence, did manage to keep the Indian forwards at bay but a penalty corner in the 15th minute got the Indians going. It was VR Raghunath who opened the scoring for India in the dying seconds of the first quarter.
Trailing 0-1, the Irishmen came back strong in the second quarter with long passes and scoops troubling the Indian defence. But, despite losing pace in the game, India doubled its lead with Rupinder Pal Singh adding his name to the scoresheet through a penalty corner in the 30th minute.
Ireland continued to probe the Indian defence but couldn't find the elusive goal until the last 12 seconds of the third quarter. John Jermyn made full use of the crucial penalty corner and smashed it past the Indian goalkeeper PR Sreejesh to pull one back for his side.
The fourth quarter saw India increasing their lead with Rupinder scoring the third goal for his side in the 48th minute. The Indian team continued to create chances but failed to find the back due to poor finishing.
On the other hand, Ireland's continuous pressure on the Indian defence earned them a vital penalty corner in 56th minute. The Irishmen conned the opposition with a drag-dummy which was eventually picked by Conor Harte who pushed it into the net.
With a sense of desperation and just two minutes left on the clock, Ireland withdrew their goalkeeper David Harte to have 11 attackers on the pitch. But, the Indian team defended deep and snuffed out a crucial 3-2 win to claim two points from their first game.
The win against Ireland will surely help India's cause in the competitive Group B, especially after Netherlands clinched a 3-3 draw against Argentina to share a point.
India will now lock horns with Germany in their second Group B clash on 7 August.