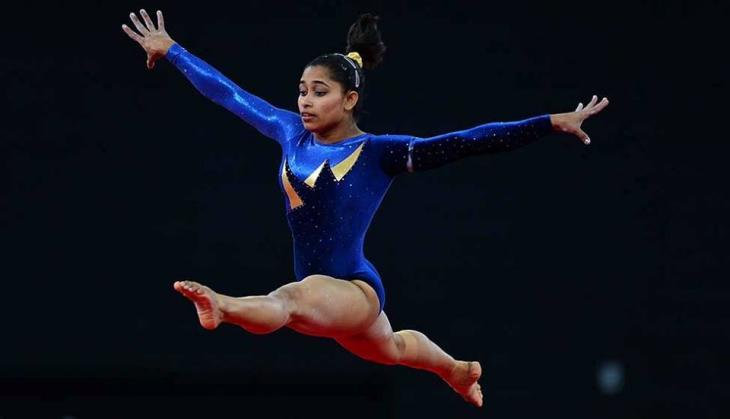 Faced with the gigantic expectations of an excited nation, India's trail-blazing gymnast Dipa Karmakar has been put under "house arrest" at the Olympic Games Village by her coach Bishweshwar Nandi as she gears up to script history in the vault finals on August 14.
More than 35,000 kilometers away from her hometown Agartala in Tripura, Dipa is set to turn 23 on Tuesday but is unlikely to receive birthday greetings except for the ones from her parents.
Her only companions are roommate Saikhom Mirabai Chanu -- the only Indian woman weightlifter -- and of course Nandi who's been with her for the last 16 years.
"I've removed the SIM card from her mobile. Only parents are allowed to talk to her. I don't want her to lose focus," Nandi told PTI from the Games Village, a day after Dipa became the toast of the nation by making the final of artistic gymnastics' vault finals.
"Her birthday celebration can wait for the moment. It's only her parents who are allowed to talk to her at the moment during the small breaks I give her."
"But she does not miss it. She likes to stay aloof from friends, her friends circle is very small, thanks to her tough regimen in gymnastics," Nandi said of Dipa who trains in SAI New Delhi.
Dipa had become the first Indian woman gymnast to qualify for Olympics.
She has also caught attention for performing the risky Produnova vault -- a double-front somersault which has the highest degree of difficultly for a women's vault.
"Every event in gymnastics is a risk, accident may happen anytime but Dipa has mastered the Produnova and we're very hopeful," Nandi said.
Dipa and her coach follow a strict regimen with training sessions of four hours each in the morning and evening sessions.
Nandi is grateful to the Government of India and Sports Authority of India for their help.
"We got three months time but I'm grateful to SAI director (Injeti Srinivas) and project officer (Inderjeet Singh Pabla) who went all out to help us."
Daughter of a weightlifting coach in Agartala, Dipa, youngest of two sisters, started gymnastics at the age of three under Nandi's wife Suma, a SAI coach.
"She brought Dipa to me and we have never looked back since then," Nandi said recollecting her formative years at the Netaji Subhas Regional Coaching Centre in Agartala.
Nandi said Dipa won't disappoint in the final slated to be held at 2.47pm local time on August 14.
"By the time she will finish, it will be August 15 in India -- a time difference of 8 hours and 30 minutes -- and a medal in gymnastics can be the greatest Independence Day gift to the nation. We can have her birthday celebration then," Nandi concluded.