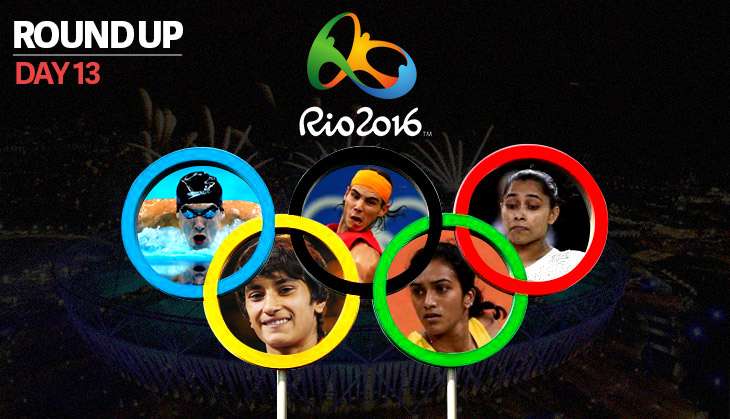 PV Sindhu has ensured medal No.2 for India at the Rio Olympics. We are not sure yet whether it\'ll be silver or gold, but Sindhu has embodied hope for the contingent at these Olympics, and all the hopes will be on the yellow metal.
On Day 13 of the Games, Narsingh Yadav, the wrestler who has been in the news for mostly the wrong reasons, got handed a four-year ban from the sport and subsequently thrown out of the Olympics before his opening fight.
Aditi Ashok, the teenage golf sensation, is quietly making waves away from the media glare, while Usain Bolt just cannot seem to lose.
That and much more in our daily roundup :
01
Pusarla Venkata Sindhu (badminton)
The 21-year-old shuttler from Hyderabad has steadily upped her game ever since returning from injury, and it showed in her semi-final match against Japan's Nozomi Okuhara. Especially in that second game, with the scores delicately poised at 10-10.
What happened next was an 11-point streak from the Indian and the match. A medal was won.
She's assured of at least silver but she's going for the gold. She'll be taking on a formidable opponent in Carolina Marin (against whom she has a 2-4 head-to-head record) in the final, but the gold medal is definitely within her reach.
Also read: Shuttler PV Sindhu in final. That will be medal No. 2 for India
Say her name like it's meant to be: Pusarla Venkata Sindhu #SindhuForGold pic.twitter.com/z3ZFtotQkO

— Tyrantasorus (@tyrantasorus) August 19, 2016
02
Babita Kumari (wrestling)
This one was over before you knew it. Babita Kumari lost her opening women's 53 kg category wrestling bout 1-5 against Greece's Maria Prevolaraki. She was subsequently eliminated. There was hope that Kumari, a medallist at the Commonwealth Games and World Championships, would at least win a bout or two, but it wasn't to be. Her Greek rival put up a stout defence and Kumari failed to find her feet. It was a quick exit for the 26-year-old grappler.
03
Narsingh Yadav (wrestling)
Reports out of Rio and Yadav's lawyer seemed to suggest that the wrestler was cleared to compete by the Court of Arbitration for Sport, and would commence his wrestling campaign on 19 August. That news quickly turned on its head as CAS made its decision public. CAS overturned the clean chit given to the grappler by India's National Anti-Doping Agency (NADA).
The World Anti-Doping Agency (WADA) had appealed against the NADA all-clear three days ahead of his scheduled opening bout at the Olympics.
"...Narsingh Yadav was sanctioned with a four-year ineligibility period starting today and that any period of provisional suspension or ineligibility effectively served by the athlete before the entry into force of this award shall be credited against the total period of ineligibility to be served," CAS said in a statement after the hearing, which lasted four hours last night.
Golf is not really the most exciting spectator sport, especially at the Olympics, where it has returned after a century. But 1.3 billion Indians really should.
An 18-year-old Indian golfer is making waves on the golf course. She's the youngest competitor in the field and has only competed in one women's Major in her career. Her name is Aditi Ashok and she's from Bengaluru.
Aditi carded a second successive three-under 68 to be tied eighth after the second round of the women's golf event. She's four strokes behind leader Inbee Park from South Korea.
Even if Aditi doesn't get a medal at the end of this, her efforts are not to be forgotten. She looks to have many Olympics in her future.
Sums it up for billions of people back here in #IND. @aditigolf is playing for India.#Rio2016 #Golf #Olympics pic.twitter.com/teYRd6qJD0

— Olympic Golf TeamIND (@OlympicGolf_IND) August 18, 2016
Here's what else happened at the Rio Olympics:
Yes. It's Usain Bolt once again and he's gone in a flash. The sprinter from Jamaica may not have set a world record time, but he did win another historic gold. He's now completed the triple double. Three successive gold medals in the 100m and 200m, dating back to the Beijing Olympics in 2008.
He's looking to bring home the 'triple-triple', which would add a third 4x100m Olympic relay title to his other crowns.
Bolt's time of 19.78, exactly the same as his semi-final was enough to brush aside the competition. This was Bolt's last individual race of his career, as he has announced his retirement post the Games.
"What else can I do to prove I am the greatest? I'm trying to be one of the greatest, to be among Ali and Pele," Bolt said after his race.
Haters will say it's fake. #Bolt pic.twitter.com/IZ42rkLY20

— Cycle (@bycycle) August 19, 2016
06
Brownlee brothers' triathlon one-two
Great Britain's Alistair Brownlee defended his London 2012 title in the men's triathlon and shared the podium at Rio 2016 with his younger brother, Jonathan, who won silver. It was a goal they wanted to achieve four years ago, but they were willing to wait.
When you & your brother finish first & second at the @Olympics... Congrats @AliBrownleetri @jonny_brownlee! pic.twitter.com/TRfLF7qwpd

— World Triathlon (@worldtriathlon) August 18, 2016
Argentina won their first ever hockey gold medal as they defeated Belgium 4-2 in a gripping men's hockey final.
Argentina's fans aren't used to this. They are more used to the success of their women's team - winning four successive gold medals - so this comes as a pleasant surprise.
Belgium scored first and seemed like the better team until Argentina unleashed their attacking prowess and took the match away.
Amazing GOLD for #ARG @Rio2016 @Olympics Congratulations!! @ARGFieldHockey #Hockey #Rio2016
#SambaSticks pic.twitter.com/0RFgNM41oz

— FIH (@FIH_Hockey) August 18, 2016
Handaball, a sport that is rarely watched between Olympics, witnessed a thrilling semi-final. France took on the Netherlands, whose last shot hit the post to hand France a 24-23 victory. France are now assured of their first ever medal in the sport at an Olympics.
The last shot for #NED hits the post and goes out. #FRA win 24:23 and reach the final! Félicitations! 👏🎊🎉#Rio2016 pic.twitter.com/TzIPO8NiY9

— IHF (@ihf_info) August 18, 2016
09
Volleyball - Serb and out
The Serbians have done it! They've gone and defeated the USA, the world's No.1 team, in a thrilling five-set contest 20-25, 25-17, 25-21, 16-25, 15-13. Serbia will be winning their first medal in the sport come the final.
#SRB coach Zoran Terzic: "We have defeated what is the best team in the world." #Rio2016 https://t.co/b0wyvlHZE0 pic.twitter.com/avkBKK9BiS

— FIVB (@FIVBVolleyball) August 18, 2016
10
Ashton Eaton (decathlon)
The 28-year-old American has just equalled the Olympic record in the decathlon. He equalled Czech Roman Sebrle's record from Athens 2004, scoring 8,993 points. Eaton has become only the second man - after Great Britain's Daley Thompson - to retain his Olympic decathlon title.
"To win two Olympic golds in a row like Daley is very special," said Eaton. "One day, I'm going to have to meet Daley, shake his hand and thank him for giving me something to chase after."
What a performance by @AshtonJEaton!

Congratulations on #GOLD! pic.twitter.com/RVN5Msn80Y

— U.S. Olympic Team (@TeamUSA) August 19, 2016
11
Women's badminton doubles thriller
Japan stormed back to take gold from the hands of the Denmark in Thursday's final. The Japanese launched an astonishing comeback to deny the surprise finalists and win the country's first Olympic badminton gold medal.
Misaki Matsutomo and Ayaka Takahashi of Japan defeated Danish pair Christinna Pedersen and Kamilla Rytter Juhl in a high-octane final. The scorecard at the Riocentro read 18-21, 21-19, 21-19 in favour of the Japanese.
The Japanese duo was trailing 16-19, but launched an all-out attack, winning the next five points to snatch the win.
First Ever Gold BADMINTON Medal, They Highly Deserve the Tittle. Tears Of Joy describe All. Congrats Japan 🇯🇵 pic.twitter.com/8BV19XMkpj

— Serve Fault (@serviserror) August 18, 2016
There were two botched relay runs, but one team still came out happy. In the first of the two heats, the Netherlands had a messy handover at the first changeover, which prevented them from qualifying for th 4x100m women's relay final. Dafne Schippers took personal responsibility for the mishap.
Oh dear! Sad to see Dafne Schippers messing it up in the 4*100 m relay Heat 1 & #ned are out. She's too good, sad end #Athletics #Rio2016

— Vimarsh Munsif (@VimarshMunsif) August 18, 2016
It wasn't just the Dutch who messed up. The USA entered Heat 2 as the overwhelming favourites to make the final. A dropped baton at the second exchange could have cost the USA. There was a bump from a Brazilian runner, and even though the USA finished the race, they had a time that wasn't good enough.
Seemingly miffed with this, USA Track and Field lodged a protest that was accepted, and near the end of the day, the USA were made to run again, by themselves, to see if they could qualify. They did just that with the fastest time out of all the teams.
A preview of a post apocalyptic Olympics pic.twitter.com/nWBcKNwhgr

— House of Run (@HouseofRun) August 18, 2016
13
First medal for an Iranian woman
Kimia Alizadeh won the first ever Olympic medal by an Iranian woman after winning bronze in the taekwondo event in the Rio Olympics. The 18-year-old fights wearing a head-covering under her protective head-guard.
She beat Nikita Glasnovic of Sweden 5-1 in the under-57kg division. "I am so happy for Iranian girls because it is the first medal and I hope at the next Olympics we will get a gold," said Alizadeh. "I am very excited and I want to thank my parents and my coach. They really stand behind me and I am so happy."
First Iranian woman to win an Olympics medal, 18 year old Kimia Alizadeh, just won a bronze in Taekwondo. #Rio2016 pic.twitter.com/5uFedkcQzG

— Negar نگار (@NegarMortazavi) August 19, 2016
USA have won their first gold medal in this event. Delilah Muhammad took home gold with a timing of 53.13 seconds. Denmark's Sara Slott Petersen took home silver, while Ashley Spencer of USA bagged the bronze.
Delilah Muhammad an African American women without Jijab just won 400m Hurdles gold medal for #USA

— Marzooq (Mare') (@AhmedMarzooq) August 19, 2016
15
US swimmers called 'liars' and 'fakes'
The US Olympic Committee (USOC) has labelled the actions of four swimmers "unacceptable". This comes after Brazilian authorities accused them of vandalising a petrol station bathroom and allegedly making false claims that they were robbed at gunpoint.
Teammates Ryan Lochte, Gunnar Bentz, Jack Conger and James Feigen had told local police on Sunday that they were held up at gunpoint after leaving a party. Footage later emerged of the swimmers damaging a bathroom at a petrol station, where an armed guard had to intervene.
#LochteGate started trending immediately.
"We can confirm that there was no robbery as they described, and they were not victims as they presented themselves," Fernando Veloso, head of Rio de Janeiro's civil police, told a packed news conference, alleging the athletes had given "a fantastical version of events". The athletes paid about $50 to resolve the matter. None of the swimmers have been indicted so far.
#RioOlympics2016 @RyanLochte @TeamUSA pic.twitter.com/hav4Pxyfgn

— Optimum Sports Media (@optimum_sports) August 19, 2016