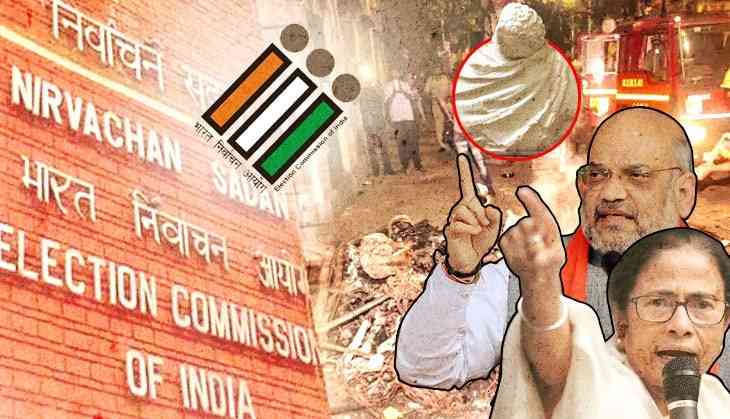 Election Commission's decision to curtail campaigning by 20 hours in West Bengal—which ends at 10 pm on Thursday now—has apparently made TMC leader and West Bengal chief minister Mamata Banerjee angry.
Mamata Banerjee on Wednesday alleged that EC had become a BJP "mouthpiece and spokesperson". On the same day, a few hours before the EC's decision, BJP president Amit Shah had accused the Election Commission of being a "mute spectator" in West Bengal.
BJP and TMC find it convenient to target EC for every decision that doesn't serve their interest. But if the parties care to introspect their conduct during the campaigning and polling in West Bengal, many fingers point towards them as the atmosphere has been vitiated by "unparliamentary choice of words" and "potentially volatile" statements made by the leaders of BJP and TMC.
Law and order State Subject
There were specific inputs that Amit Shah's Tuesday roadshow in Kolkata could be disrupted. However, as per the reports, no real efforts were made to handle such a situation. The pitched fights between TMC student wing members and BJP workers, burning of vehicles, and vandalisation of a bust of cultural icon Ishwar Chandra Vidyasagar raised a real question about the law and order situation in the State. Now, this is a clear lapse on the part of State machinery and EC can't ignore it. If a national party can't be allowed to have election rally during campaigning then it calls for serious action in such a scenario.
Blaming EC only highlights failures of the State which could not provide proper security during the roadshow. If this is repeated in other parts of the country then there is no possibility of holding fair and peaceful elections.
New lows in political discourse
Mamata Banerjee talks about "democratic slaps" to PM Narendra Modi, whereas Amit Shah vows to chant "Jai Shri Ram" at any cost and challenges Mamata to arrest him. Such a challenge at a time when there is already intense tension in the State only adds fuel to already emotionally charged campaigning.
My way or the highway
When Mamata Banerjee dislodged left from West Bengal, the transition was not smooth and the nation witnessed bloodshed. Mamata Banerjee had raised her voice against "oppressive regime" of the left that time, but now Mamata seems to have embraced the same approach—there is no room for dissent—and dissenting voices are increasingly being muzzled. A BJP leader, Priyanka Sharma, was recently arrested for sharing a meme on Mamata Banerjee. Priyanka has alleged "torture" in Jail and this doesn't reflect well on the TMC government in West Bengal.
Politics is a game of perception and same is the case with the functioning of constitutional bodies like Election Commission. If political parties continuously target the Election Commission for all the wrong reasons, then it ends up hurting our democracy. Politics should take a back seat, at least when questioning the intent of constitutional bodies.