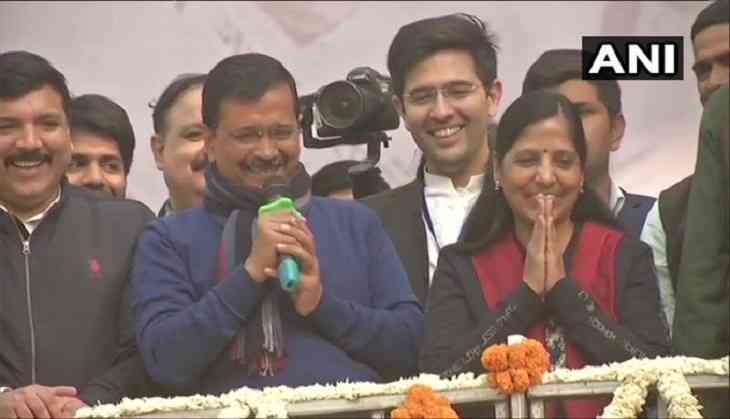 When the counting for Delhi assembly elections began on February 11, it appeared that the Exit Polls had gone wrong and BJP was set to give AAP a tough fight. After all, BJP Delhi chief Manoj Tiwari had put his reputation on stake and no one could shake his confidence of an impressive BJP win. But soon the results started to mirror exit polls and BJP started to look meek again. No doubt, BJP vote share has improved considerably and this surge doesn't reflect in the seats won by BJP, but the fact remains--BJP has itself to blame for the weak performance.
BJP getting away from development, education, growth agenda
While Delhi Chief Minister Arvind Kejriwal ensured that AAP stuck to its development agenda, BJP centred its campaign--at least in the final stages of the campaign--around nationalism and Citizenship Amendment Act (CAA). Although these issues raised by BJP were relevant, but these issues could not be a substitute for development and growth story that AAP has been drilling in the mind of voters for nearly six months now.
Not naming the captain against Arvind Kejriwal
People vote for personalities, and this becomes important when you fight a leader like Arvind Kejriwal whose name espouses many emotions especially among Delhiites. Prime Minister Narendra Modi, and Home Minister Amit Shah can't be expected to deliver a victory for BJP here, and the party needed a face to justify that saffron party had a local leader to address local issues of Delhi. AAP took advantage of this and many times questioned BJP for not naming the CM candidate.
Parvesh Verma, Anurag Thakur--motormouth of BJP
During elections rallies, BJP leaders Parvesh Verma and Anurag Thakur might have got good response for their 'derogatory remarks' while talking about Shaheen Bagh and the protests against Citizenship Amendment Act (CAA). This language appeared to have irritated and put off even BJP supporters who found it undesirable and below dignity. Ministers and leaders of a national party, which is ruling at the Centre, can't be expected to talk so low about its citizens.
"Arvind Kejriwal is a terrorist" jibe by BJP leaders
You can't call an elected chief minister a terrorist, no matter if that person is known for making similar sweeping and derogatory remarks. This time around Arvind Kejriwal was extremely careful of his language and ensured he never crossed decency lines while talking about Prime Minister Narendra Modi on senior BJP leaders. Kejriwal tactfully targetted BJP for making this disparaging remark against "the son of Delhi".
Dumping Shaheen Bagh on AAP
BJP leadership repeatedly accused AAP and its leader Arvind Kejriwal of supporting Shaheen Bagh protesters. But, BJP leaders failed to explain the action taken by Prime Minister Narendra Modi government to diffuse the tension. Many saw inaction on BJP part as a strategy to polarise the voters of Delhi.
There are many reasons for electoral defeats, but these loose deliveries in a crucial match proved fatal for BJP.
Also Read: Delhi Election Results: BJP's sixth state election defeat in 2 years