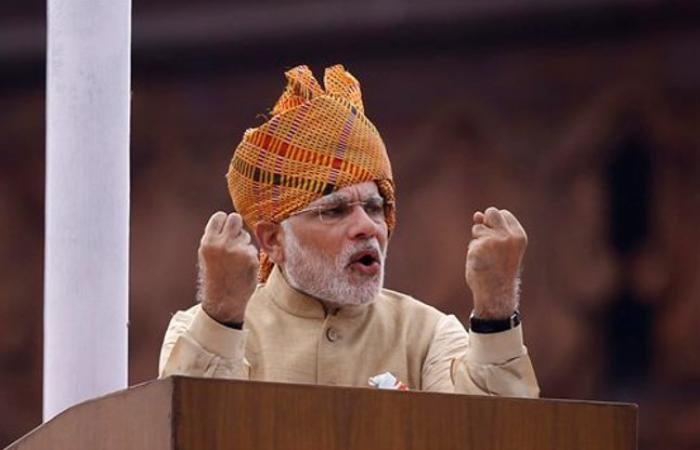 Wading into the beef controversy, Prime Minister Narendra Modi on Thursday, 8 October, attacked RJD supremo Lalu Prasad over his 'Hindus also eat beef' remark, saying he has insulted people of Bihar and particularly his community "Yaduvanshis" who had brought him to power.
Addressing a poll rally here, Modi, who has been silent on the lynching of a man in Dadri over rumours of eating beef despite widespread outrage and the debate over beef ban, latched on to Lalu's remarks on beef and said a "shaitan (devil) has entered a human body".
"What all did he eat? It (the remarks) insulted the Yaduvanshis... Laluji these Yaduvanshis helped you to come to power. What all Yadavs eat...is it not an insult of Yadavs and Bihar?" he said.
Modi, who is under attack from the grand alliance for allegedly insulting people of Bihar through his DNA barb against Nitish Kumar, repeatedly sought to project Lalu's beef remarks as an insult not only to the entire Yadav community whose primary occupation has been rearing cows, but to the entire state.
Insisting that Lalu cannot absolve himself of his beef remarks by claiming that it was the "devil" (shaitan) on his tongue which made him say it, he said, "I want to know how the shaitan got the address (of Lalu)...he recognises that it was the shaitan in a similar manner as people recognise their relatives."
Ridiculing Lalu's remarks that it was the "devil under whose influence" he made the beef remarks, Modi said "so far we were fighting (political rivals) human beings. Now a shaitan has entered a human body which is after us.
Repeatedly referring to Lalu's remarks, the Prime Minister asked the gathering "do we have place for such people in Bihar?"
Amid a realisation that an intact Muslim-Yadav combination could lead to problems for it, BJP-led NDA is banking heavily on a division in Yadav votes and has prominently put Yadav leaders like Ram Kripal Yadav and Nand Kishore Yadav to counter the RJD chief's appeal in the community.
Modi also used the death anniversary of Jayaprakash Narayan today to attack Bihar Chief Minister Nitish Kumar and Lalu saying those who once sang paeans of the socialist leader have now joined hands with Congress which had sent JP behind bars during Emergency and dubbed the grand secular alliance as a "mahaswarth bandhan" (alliance of big opportunism).
Alleging that Congress is trying to make a "backdoor" entry into Bihar politics by aligning with JD (U) and RJD after having lost its own relevance, Modi questioned both Lalu and Nitish over their commitment to 'JP' who fought against Congress his entire life.
"Congress imposed Emergency and put JP behind bars where he fell ill and as a result passed away early... .Standing by the same Congress, they are now abusing BJP," he said.
-- PTI