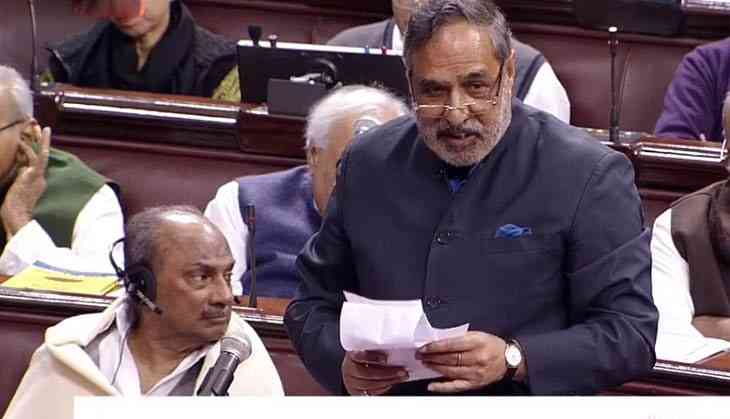 Congress MP Anand Sharma, who opened the Opposition's argument on the Citizenship Amendment Bill in the Rajya Sabha said, in our religion, we believe in rebirth and that we meet our elders. So if Sardar Patel meets PM Modi then he will be very angry with him.
"Gandhi Ji will, of course, be sad, but Patel will be indeed very angry," Sharma added.
"What was the urgency to get this Bill? I am afraid this Bill is an assault on the Constitution. It is an attack on the soul of India. It is against the very Preamble of the Constitution of India. I stand to oppose this Citizenship Bill," Sharma said in the Rajya Sabha.

"Home Minister Amit Shah is insulting freedom fighters by blaming Congress for Partition and causing a religious divide. The two-nation theory was an idea of Veer Savarkar. Congress never propagated this theory. History cannot be changed according to the tastes of this government," Sharma slammed the Home Minister.

This apart, the Congress MP demanded that the Citizenship Bill be sent to Parliamentary committee for reviews.

Similarly, TMC MP Derek O Brien took a dig at Prime Minister Narendra Modi and said, "I read that PM said this will be written in golden letters. I will tell you where it will be written, it will be written on the grave of the father of the nation, but which father of the nation? In Karachi, on Jinnah's grave."
"Our Govt through this Citizenship Amendment Bill and NRC is trying to fulfill the dream of Jinnah. Remember, in 1949 Sardar Patel had said 'we are laying the foundation of a truly secular democracy in India'," said, Samajwadi Party MP aved Ali Khan in the Rajya Sabha.

After successful passage of the CAB in the Lok Sabha on Monday, the Union Home Minister Amit Shah On Wednesday tabled the Citizenship Amendment Bill in Rajya Sabha for its final passage to grant citizenship to non-Muslim immigrants from Pakistan, Afghanistan, and Bangladesh who faced persecution in their countries.
While the BJP is confident of getting the Bill passed in Rajya Sabha as well, the numbers game could prove to be tough.
The effective strength of the Rajya Sabha is 238. The NDA's current strength is 105 in the House, including 83 members of the BJP, six of Janata Dal (U), three of Shiromani Akali Dal (SAD), one each from LJP and RPI(A) and 11 nominated MPs.
The Bill was passed in the Lok Sabha with 311 members favouring it and 80 votings against it.
Also Read: Citizenship Bill will be written in golden letters: PM Modi
Rahul Gandhi attacks PM Modi-Amit Shah over Citizenship Bill: It's a criminal attack on Northeast