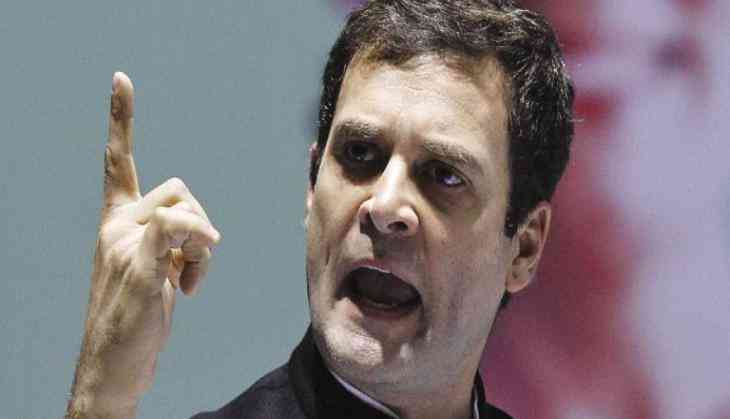 Wayanad MP and former Congress president Rahul Gandhi on Wednesday launched a fresh attack on Prime Minister Narendra Modi and Home Minister Amit Shah over the Citizenship Amendment Bill (CAB) and termed it as a criminal attack on the Northeast.
Taking to Twitter the Congress MP wrote: "The CAB is an attempt by Modi-Shah Govt to ethnically cleanse the North East. It is a criminal attack on the North East, their way of life and the idea of India. I stand in solidarity with the people of the North East and am at their service."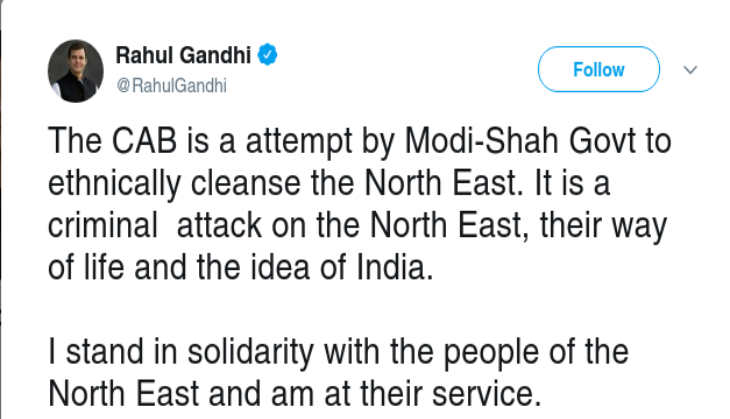 Screenshot of Rahul Gandhi's Tweet
On Monday Rahul Gandhi said the CAB is an attack on the Indian Constitution. "The #CAB is an attack on the Indian constitution. Anyone who supports it is attacking and attempting to destroy the foundation of our nation, " the Congress leader wrote on Twitter.
On the other hand, PM Modi has said the Citizenship Bill will be written in golden letters for people who are persecuted on basis of religion at a BJP Parliamentary party meeting in the Parliament library.
He also attacked the opposition parties and said, "Opposition is speaking the language of Pakistan on the Citizenship Bill."
The Citizenship Bill is being tabled in the Rajya Sabha.
The bill, which was passed the Lok Sabha on Monday passed the CAB, seeks to provide Indian citizenship to non-Muslim refugees coming from Pakistan, Bangladesh, and Afghanistan after facing religious persecution.
While the BJP is confident of getting the Bill passed in Rajya Sabha, the numbers game could prove to be tough.
The effective strength of the Rajya Sabha is 238. The NDA's current strength is 105 in the House, including 83 members of the BJP, six of Janata Dal (U), three of Shiromani Akali Dal (SAD), one each from LJP and RPI(A) and 11 nominated MPs.
The Bill was passed in the Lok Sabha with 311 members favouring it and 80 votings against it, will now be tabled in the Rajya Sabha for its nod.
Also Read: Citizenship Bill will be written in golden letters: PM Modi