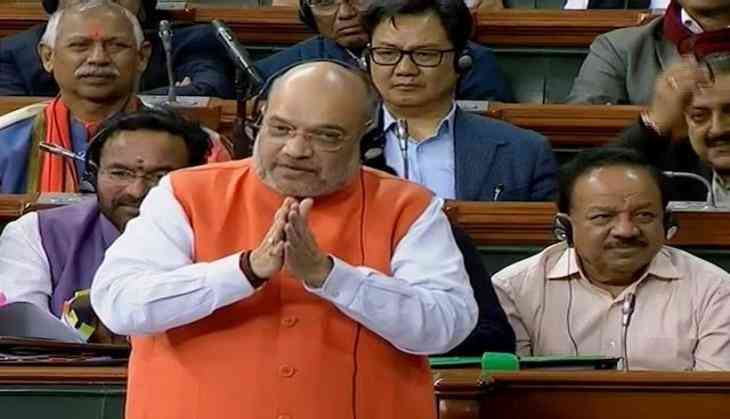 Union Home Minister Amit Shah will be introducing the contentious Citizenship Amendment Bill in Rajya Sabha in the afternoon today.
The bill piloted by the Home Minister was comfortably passed in the Lok Sabha on late Monday night as the ruling BJP enjoys a clear majority in the house.
While the BJP is confident of getting the Bill passed in Rajya Sabha as well, the numbers game could prove to be tough.
As per the calculations of the BJP's floor managers, the effective strength of the Rajya Sabha is 238. The NDA's current strength is 105 in the House, including 83 members of the BJP, six of Janata Dal (U), three of Shiromani Akali Dal (SAD), one each from LJP and RPI(A) and 11 nominated MPs.
The BJP is in talks with AIADMK which has 11 members, the BJD with seven members, YSRCP with two members and TDP with two members. The saffron party is confident of their support as all these parties had backed the bill in Lok Sabha.
With the support of these 22 members, the BJP-led NDA will have the support of 127 members in the House which is above the majority mark of 120.
During the last Parliament session, which took place before the Lok Sabha elections, the government ended up not bringing the Bill in the Upper House even though it had been passed by the Lok Sabha.
In the 245-member Rajya Sabha, the halfway mark is currently 121 as five seats are vacant bringing down the strength of the House to 240. The opposition parties, including Congress, TMC, BSP, Samajwadi Party, DMK, RJD, the Left, NCP and the TRS have a total of 97 MPs in the upper house.

Lok Sabha on Monday passed the Citizenship (Amendment) Bill, which seeks to provide Indian citizenship to non-Muslim refugees coming from Pakistan, Bangladesh and Afghanistan after facing religious persecution there, a little past midnight on Monday after a heated debate that lasted over seven hours.
The Bill, which was passed in the Lok Sabha with 311 members favouring it and 80 voting against it, will now be tabled in the Rajya Sabha for its nod.
Several amendments brought by opposition members, including one by a Shiv Sena MP, were defeated either by voice vote or division.
According to the proposed legislation, members of Hindu, Sikh, Buddhist, Jain, Parsi and Christian communities, who have come from Pakistan, Bangladesh, and Afghanistan, till December 31, 2014 facing religious persecution there, will not be treated as illegal immigrants but given Indian citizenship.
Also Read: Lok Sabha passes Citizenship Amendment Bill with 311 votes in favour, 80 against