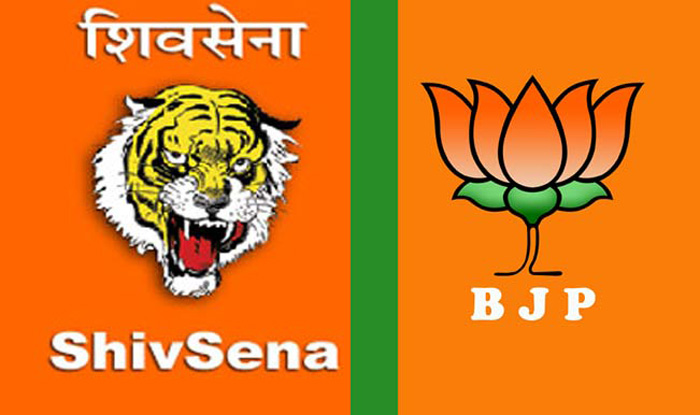 Shiv Sena, one of the oldest ally of Bhartiya Janata Party (BJP) in Maharashtra, has lately started taking an anti-BJP stand by opposing the party policies and criticising its leader Narendra Modi.
On 12 October, the Sena members attacked Sudheendra Kulkarni, a former BJP member and noted socio-political activist, as he refused to cancel Pakistan's former Foreign Minister Khurshid Mahmud Kasuri's book launch in Mumbai.
However, Maharashta CM Devedra Fafnavis took a firm stand against Shiv Sena's threat and supported Kulkali in his endeavor.
There has been a simmering strife between both the parties ever since BJP emerged strong in the Central and State elections. A day after the Kulkarni controversy, Shiv Sena has decided to contest the Kalyan-Dombivli Municipal Corporation election without BJP support.
Here are some past instances:
Meat ban controversy
While the ruling BJP was already facing strict opposition from various political and social groups over the implementation of a four-day meat ban in Mumbai and the neighbouring Mira-Bhayandar municipality during the Jain festival of Parshuyana, Shiv Sena chief Uddhav Thackrey made clear his stand and said that his party would oppose BJP's decision.
The Sena members went a step ahead and launched rigorous protests on the streets of Mumbai, putting BJP in an uncomfortable situation.
Opposition of land acquisition bill
In March this year, Sena Chief Uddhav Thackrey said in a press conference that his party will oppose certain provisions in the land bill introduced by BJP as they found them to be 'detrimental to the interest of farmers.' His party had been stiffly opposing the land bill and the stand was reiterated by Thackrey.
BJP was already facing a lot of flak as Congress Vice President Rahul Gandhi had also picked up the issue and launched an attack on the party, accusing it of being anti-farmer.
Demand of probe against BJP ministers
After the allegations of corruption were levelled against Women and Children Welfare Minister Pankaja Munde and Education Minister Vinod Tawde of BJP, the Shiv Sena demanded an independent investigation into the matter.
"A probe must be immediately conducted to ascertain the genuineness of the allegations levelled against the ministers and if they are proved true they must be investigated," said Uddhav Thackeray while talking the media.
Disagreement over night markets proposal
Earlier this year in August, Sena corporator Avkash Jadhav sent a letter to the town vending committee in Mumbai opposing the proposal to set up night markets in the city. The concept was originally pitched by BJP and Sena's disagreement over it only highlighted the growing rift inside the saffron alliance.