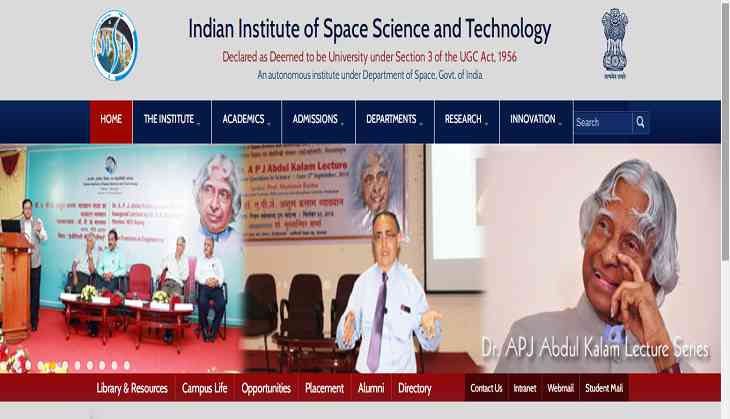 IIST Recruitment 2022: Looking for jobs in the Indian Space Research Organisation (ISRO)then Indian Institute of Space Science & Technology (IIST), an Autonomous Institution under the Department of Space, Govt. of India has a job offer for you. IIST has invited online application forms for the post of Director on its official website.
The vacancy has been invited by IIST in Level-16 on an immediate absorption basis.
Interested candidates can apply for the vacancies via email on or before August 5, 2022.
Candidates who will be selected for the post will be appointed for a term of 5 years or till 65 years of their age.
IIST Recruitment 2022: Vacancy Details
Through this recruitment drive, IIST aims to fill only one vacant seat.
Interested candidates must check the eligibility criteria required for IIST Vacancy 2022.
IIST recruitment 2022: Eligibility criteria
Educational Qualifications:
To apply for the post of IIST Director Recruitment 2022, candidates must hold a Doctorate in Engineering or Science.
Experience:
A candidate must have a minimum of 15 years' research experience in high technology or an R&D laboratory or have 15 years of an academic experience or must be a Scientist of international stature along with a minimum of 15 years of experience in Research in high technology.
Age Limit:
The upper age limit for the post of Director is 62 years as of the last date prescribed for receipt of application.
IIST recruitment 2022: Salary
Candidates who will be qualified for the post of Director will get paid as per the Pay Level-16
IIST recruitment 2022: Selection process
Candidates will be selected based on their qualification. The shortlisted candidates will be called for the interview round along with their original documents.
IIST recruitment 2022: How to apply
Candidates need to send their handwritten/typed application in the prescribed format to the "Under Secretary ( Coordination/ABs), Department of Space, Government of India, Antariksh Bhavan, New BEL Road, Bangalore-560 094. Ph. No. 080 22172290, Email: [email protected]."