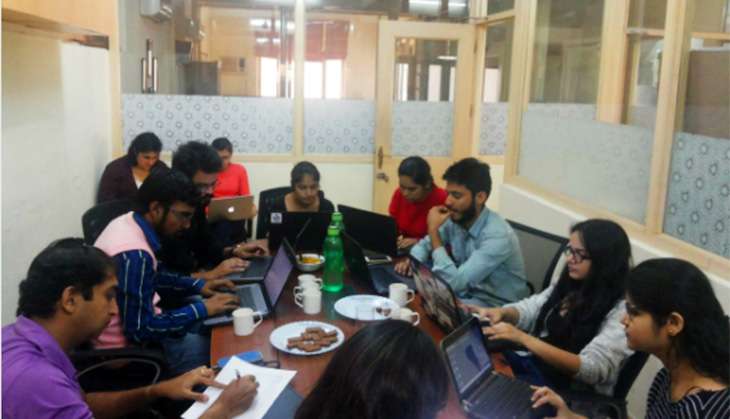 As a feminist in journalism, a lot of writing often ends up being about course correction. A politician says something horribly offensive, we point out how damaging it is. A book written by a man as a woman is published, force oneself to read it, and painfully dissect the ignorant bits. A man gets away with rape despite international media following his case, or a documented misogynist is elected president; now take a deep breath, and write.
While course correction will never go away, as it shouldn't, there's very little positive reinforcement. Basically, we write in reaction to all that's wrong and how we're misrepresented, but another way to make the world see this is to be the primary source. If women, and people from other disenfranchised, marginalised and often forgotten social groups were made visible for who they are and what they have achieved, that would be the first step to actual emancipation.
And the best place for visibility (beyond social media) is Wikipedia. An open content encyclopedia created by the people and for the people, Wikipedia, though not always the most trusted, is often the first stop for information for the average internet user.
This makes a Wikipedia entry rather significant. To then learn that the web's biggest encyclopedia lacks diversity is disheartening.
According to a 2011 study, a shocking 90% of Wikipedia editors have been men. Women and transpersons do 9% and 1% of edits respectively. While the numbers have slightly improved over the years, in India women account for a paltry 3% of edits.
It is important to note that anyone who makes a Wikipedia edit, even one word, counts as an editor. This was confirmed to Catch by Tanveer Hasan of the Centre for Internet and Society (CIS). Despite that, the number of women editors is still shockingly low.
This skewed gender ratio has, unsurprisingly, also affected the representation of women in Wikipedia's content. According to the BBC, only 17% of notable pages are about women. One can then only imagine how invisible Indian women must be on the website.
The solution: an Edit-a-thon
On 8 December, BBC and the Wikipedia community came together to bridge this massive gap. Under the BBC 100 Women banner, a 12-hour edit-a-thon (an edit marathon, of course) was organised globally to bring in some female voices on Wiki.
The edits made ensured that women who "deserved to be recognised" according to BBC, were added. According to Wikimedia UK, the event broke records for "the highest number of entries about women added to Wikipedia in a single event". Not that that would be a hard record to break.
Closer home, Breakthrough India along with the Centre for Internet and Society are collaborating with Feminism in India for a similar effort. Breakthrough's edit-a-thon, though, has been held over the past two years, with an increased momentum in 2016.
They have averaged one edit-a-thon a month this year, with 10 December marking the 12th and last of the year. Every edit-a-thon has had a different theme - such as LGBT issues in partnership with Nazariya, courtesan culture with Darwesh - and tomorrow's would focus on human rights and women marking International Human Rights Day.
Breakthrough India's Shobha SV who organises these edit-a-thons, in a chat with Catch, said, "We partner with different groups to leverage the fact that they have more knowledge about the subject matter [than we would].
"In the edit-a-thon on Dalit women activists, for instance, we ensured that the references and sources used, the people involved, were from the Dalit community."
Speaking about the abysmally lopsided ratio, Shobha said, "Because of this lopsided ratio there's a paucity of information about women and other gender related issues. Information about castes, groups, tribes, etc are not there."
And to better that, Shobha insists that these edit-a-thons be productive, something she ensures by having everyone present write at least one article, a feat that sounds easier than it is.
"Wikipedia sounds very glamorous but it's not," Shobha, adding, "You need a certain aptitude in gender, research and writing to come and finish this edit-a-thon."
How it works
Apart from the workshops, Breakthrough has also devised other ingenious ways to populate Wikipedia.
"We worked with the media studies department at TISS and gave Wiki edits as assignment to students. The [theme] chosen was women and social movements," said Shobha.
When asked what their biggest challenge was, Shobha complained about Wikipedia's guidelines that often don't recognise personal blogs as a legitimate resource.
"We [once] got Rajni Tilak, a prolific writer who heads a Dalit rights organisation," Shobha shared, adding, "She's updated [her work] on her personal blogs and Wikipedia doesn't expect Wordpress blogs."
However, her co-worker at CIS, (or Access to Knowledge, the project directly associated with the edit-a-thon) Tanveer Hasan observed, "With Wikipedia, the most favourable resource is a book, then a paper, a peer reviewed journal, or a scholarly paper. Blogs, because they're usually material used for campaign and not written with a neutral tone, or have a very one sided view... that's the reason why Wikipedia would not give credence to a blog.
"These things get a little complicated when it comes to Indian languages," said Hasan, adding, "Because in Indian languages you don't have these many options, of looking at books, blogs, journals [digitally]. Hence, at that point of time if you can establish that the blog is okay, not extremely bigoted or lopsided piece of writing, you can still argue and keep it."
Wikipedia's verification is a two-fold process, "References and veracity," said Hasan.
While the former, he said, results in a "a constant conversation [with Wikipedia], the latter, he explained, worked because of Wikipedia administrators.
"In [Wikipedia's] history page you can track every entry that has been made. And there are people who are called administrators - who are slightly more experienced editors themselves - who keep a track on these articles.
"It does not go alphabetically, but thematically, according to their interest. If I'm a sports geek, for example, I can add it to my watchlist. So every time [these articles] are being edited, I'll get a notification. So I'll go back and review [it]. If the references are not right, or factually incorrect, then I can delete the information."
Tomorrow's edit-a-thon
How many articles have these 12 edit-a-thon amassed over 2016? "About 70-80," said Shobha. And tomorrow's workshop would only add to this number.
With a focus on women and human rights, the 12th edit-a-thons will make a conscious effort to profile social movements, beyond personalities.
While the workshop encourages new entry ideas, they often start with a set list of entries that, at the least, must be covered. This edition would feature Karuna Nundy, Vrinda Grover, lawyer's collective JagLAG, Bastar activist Bela Bhatia, Bebaak collective founder Hasina Khan, Zakia Soman of Bharatiya Muslim Mahila Andolan, Sudha Bharadwaj, journalist Malini Subramaniam, and Anita Ghai.
While it's amazing that these women and initiatives don't have proper representation on Wikipedia, perhaps you could help by joining in. Just write to them here.