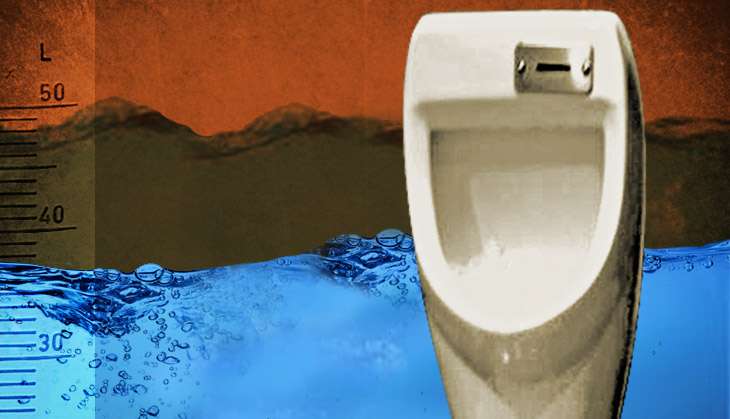 How many times have you flushed the toilet today? Did you know that each flush uses about 6-10 litres of water? Using clean water to dispose off human body waste is ecologically unsafe as it is dumped into clean freshwater bodies.
"We're polluting our river bodies and other clean water resources. In our current sewage system we end up using a lot of water to flush, which is unnecessary. The impure water is then dumped into clean freshwater bodies such as rivers and ponds, contributing towards pollution and water-born diseases (such as Hepatitis A, dysentery, typhoid)," says Dr VM Chariar, professor at the Indian Institute of Technology, Delhi.
As if the thought of dying marine life and the horrifying spread of water-borne diseases wasn't enough to scare you, then remember that using that much water with every visit to the toilet also results in exorbitant water bills.
But we need water to dispose off our bodily wastes, right? Wrong. Over the last three years, Ekam Eco, a startup incubated at IIT Delhi, has been quietly working to revolutionise the way we use toilets.
Meet the Zerodor, a waterless and odorless green toilet that has captured the attention of governments worldwide with its potential to save gallons of the precious natural resource.
How do Green Toilets work?
How do Zerodors work (Screengrab: Ekam Eco Solutions website)
The modern toilet was discovered in the 19th century. Intricate sewage pipelines were laid down to carry human waste away from homes to be dumped into clean water bodies. However, even as India works to declare itself an 'open-defecation free' country, experts claim that only soil has the properties to effectively treat human waste.
"Only soil or mother Earth, has the properties to treat human waste effectively. While open defecation is definitely not recommended, the human waste can only be treated efficiently by soil," says Chariar - who co-founded the waterless, odorless technology along with PhD holder S Ramesh Sakthivel.
Also Read: 7 interesting facts about Pratham, the satellite built by IIT Bombay students
It is this particular property of soil that IIT Delhi's innovative waterless urinal technology aims to harness.
"Ecological sanitation has two components - pee and poop (urine & fecal matter). Through our technology, we are breaking the pathogen cycle and closing the nutrient cycle. Fecal matter is full of pathogen such as bacteria, germs etc, which needs to decompose or be destroyed. But urine is free of pathogen and is sterile," Chariar explains.
The Zerodor involves fitting a device in the drain plug of the urinal pan. The device only allows liquids (urine and water) to pass into the drain pipe and blocks odour from entering the restroom.
Not only does this technology remove the need to use water to flush down urine, but it also claims to reduce CO2 from the atmosphere. Each Zerodor saves close to 200 litres of freshwater per toilet per day.
Dr Chariar and S Ramesh Sakthivel - both from IIT Delhi - cofounded the waterless odorless technology. Initally, the technology was incubated in the campus. Soon, they realised its massive potential. This is when Uttam Banerjee came into the picture.
Chariar and Banerjee came together to begin a commerical startup. Since institutes can't be involved in commercial projects, it was licensed out. In 2013, Ekam Eco Solutions was founded with the aim to promote natural abundance of water. Its gone large scale now and is an economically viable venture.
"Today, Ekam Eco has 19 employees and we are constantly exploring new markets and developing new products," says Banerjee.
"Currently, a single waterless urinal costs about anywhere between Rs 4000 to 6000, which is quite cheaper than traditional urinals. One can also choose to make retrofits (making changes to existing toilets and urinals). The pricing in that case depends on customisation," he adds.
A total of 700 Zerodors have been fitted around the IIT-Delhi campus alone. "With the waterless toilets, we have been able to save a lot of water," says Dr V Ramgopal Rao, director of IIT Delhi.
Also Read: India's next supercomputer unveiled at IIT Guwahati
Flushing away the water our future generations need!
According to WHO, an average human being uses around 160 litres of water per day. Where exactly is all this fresh water coming from?
Here is a graphic representation of the liquid freshwater left on Earth. The smaller dot is the consumable freshwater in lakes and rivers:
Photo caption: The big blue water dot represents the liquid freshwater left on Earth. The smaller blue dot represents the consumable freshwater in lakes and rivers. Source: Earth's Freshwater / water.usgs.gov
Just about 2.5 - 2.75% of all water on earth constitutes as freshwater. Of this 1.75 - 2% water is frozen in glaciers, ice and snow, while 0.5 - 0.75% exists as groundwater and soil moisture. This means that all the surface water in lakes, swamps and rivers constitutes less than 0.01% of the available fresh water.
This means that every flush uses up 6-10 litres of that blue dot - 0.01% of the fresh water that Earth is currently left with. This dirty water is dumped back into our fast-depleting freshwater resources, polluting it beyond measure.
A recent RTI query revealed that a whopping Rs 2,958 crore was spent on cleaning the Ganga, without any visible results.
According to estimates, Rs 6,00,000 crore (approx $100 bn) is needed to clean the holy river. If that sounds like a large amount, remember that the Ganga is but one of the many polluted rivers around the world. Can you try and calculate how much it would cost to clean the water in each of these rivers?
Also Read: Indian-origin MIT scientist and IIT alumnus, solves 150-year-old problem

Here's a short video created by EkamEco to explain how much is at stake at the moment:
"We are dumping waste in whatever little fresh water is available to us now. Right now, states (Also Read: Cauvery row stories TN Karnataka) are at loggerheads with each other over clean water," says Chariar.
"Waste is waste. But segregated waste is valuable and can be monetised. If we separate the two (pee and poop) then value can be generated. Instead of polluting our water bodies, we can use this technology to develop a business model and make money through waste segregation," says Chariar.
Also Read: IIM graduate average salaries among highest in world: FT Ranking 2016
Why the Indian govt, other countries are interested in Green Toilet
The Prime Minister's Office, the ministries of Human Resource Development and Drinking Water & Sanitation have extended their support to implement the Zerodor technology on a large scale. "Our technology has been recoginsed for innovation by Rashtrapati Bhavan," informs Chariar.
The company has also been included in the government's Startup India project - along with brands like Ola and Snapdeal.
"The international response has been great, especially in African countries where there's a massive freshwater issue. We're present in countries like Botswana, other African counties, UK, Ireland and Russia. We've also covered almost all cities in India with maximum numbers in Gujarat & Delhi NCR," says Banerjee.
Ekam Eco has also collaborated with the likes of UNICEF, USAID, Stockholm International Water Institute, Bill and Melinda Gates foundation and others.
"More than 10,000 Zerodor urinals have been sold across the country," IIT Delhi Director Dr V Ramgopal Rao, director of IIT Delhi tells Catch.
Also Read: Check out the lowest salaries offered offered at IIMs & top B-Schools
Ekam Eco is just getting started
Besides working to attain their primary targets of providing an ecological solution and a commercially viable waste management system, the company also aims to employ women to set up the toilets. "With more women administering green toilets, they'll naturally start using it and promoting it," says Chariar. "We want to look at rural areas, where many are defecating in the open. It requires cultural change. The programme is responding slowly," he adds.
"We have successfully introduced it at educational institutes such as schools and colleges, along with software companies, malls. The technology is present in various cities across the world. Soon, in partnership with various ministries, we intend to implement it in a large scale in Delhi and other states," says the IIT-director.
Other products from Ekam Eco - which has a workforce of 19 employees - include the Green Modular Toilets (MOTO) - an eco-friendly. ready-to-assemble, pre-packed modular toilet that is made of waste paper and glue.
Among the awards the revolutionary technology has garnered are the A Hay Group Next Big 100 Company, TIE Silicon Valley Award 2014 and the ABP News Global CSR - Social Impact Awards 2015, to name a few.
The company is exploring joint partnerships and targeting CSR zones. Apart from education institutes, Ekam Eco's clients include McDonalds, NIIT Ltd, BSNL, Ambuja Cements, Essar Oils, Maruti Suzuki India etc.
Edited by Blassy Boben
Also Read: This former IIT Delhi professor has been living and working with tribals since 26 years