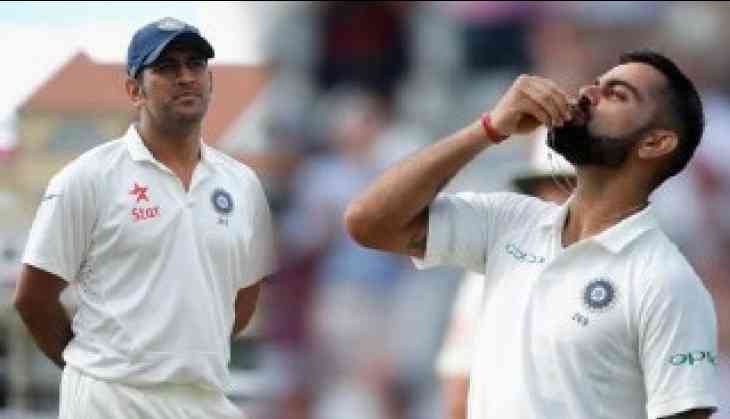 Team India's journey to the top of the pile in Test cricket started under Sourav Ganguly's fierce leadership, which helped the Men in Blue overcome its demons as they started to win Test matches outside the sub-continent. The trend sustained under the leadership of Rahul Dravid as team India won their first Test match in South Africa. India also went on to beat West Indies and England, which was after decades.
AlsoRead:http://www.catchnews.com/cricket-news/bcci-cut-shorts-shantha-sreesanth-life-ban-for-alleged-spot-fixing-170109.html
Then came the MS Dhoni era, where India started winning big at home and also went on to scale the summit of Test ranking for the first time. However, the Indian team went through a spate of losses outside the sub-continent under Dhoni, but team India's excellent home record saw him transform into the most successful Indian Test skipper with 27 Test wins.
The Men in Blue under Virat Kohli has become a formidable side both at home and away. Supported by a brilliant bowling attack and showcasing match winners like Ashwin, Jadeja, Pujara and Virat himself.
AlsoRead:http://www.catchnews.com/cricket-news/ravindra-jadeja-eight-wickets-away-from-achieving-this-feat-170064.html
The result of this can be witnessed in Kohli's Test captaincy record. With 26 wins from 46 matches. Virat Kohli features in the list of captains with the highest win ratio in Test format. When he features at the North Sound on Thursday, Virat Kohli will be looking to equal MS Dhoni's historic milestone and become the most successful Test captain ever for India along side Dhoni.
It is just a matter of time before Virat Kohli surpasses MS Dhoni's record, but more then the record Virat Kohli would want to attain complete global domination, which dosent look impossible with the talent present in the team.
AlsoRead: http://www.catchnews.com/cricket-news/uk-sports-minister-nigel-adams-urges-england-fans-to-stop-jeering-steve-smith-170117.html