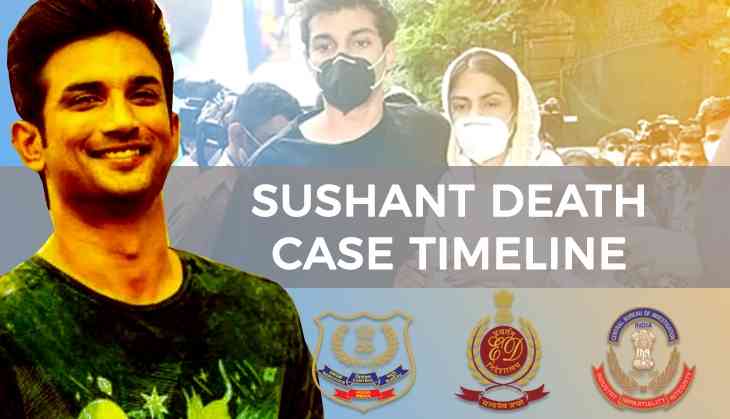 Monday marked 3 months of the demise of Sushant Singh Rajput, his family, friends and fans expressed their grief while continuing to fight for justice for the late actor. On 24 day (14th September) of investigation, NCB and CBI both the agencies are working in full swing to find the truth behind Sushant's death.
Yesterday, NCB cleared the air doing around Sara Ali Khan, Rakul Preet Singh, and Simone Khambatta. They said that they have not issued summon to these people as of now. Apart, from this, it was reported they are also investigating the late actor's farmhouse in Lonavala.
Here have a look at the events that happened yesterday:
11:55 am:- CBI questions Sushant's accountant Rajat Mewati.
12:48 pm:- Rhea Chakraborty's lawyer Satish Maneshinde said that it will take some more time for the bail plea of the Jalebi actress and her brother Showik. As per India TV, he said, "So far, the order copy rejected from the session court has not been received. Hope to get it today. Today the High Court is unlikely to hear the bail plea. Even today, Showik and Rhea have to remain in jail."
Also Read: Kangana Ranaut attacks Sonia Gandhi, Shiv Sena over 'free Kashmir' placard controversy
3:16 pm:- Anuj Keshwani one of the drug peddler arrested by NCB has been sent to judicial custody till 23rd September.
Anuj Keshwani sent to judicial custody till 23rd September.

He was arrested by Narcotics Control Bureau (NCB) for alleged drug peddling. #Mumbai #Maharashtra

— ANI (@ANI) September 14, 2020
Also Read: Sushant Case Saga: Murkier events unfolded in actor's death case; timeline of 80 days
5:35 pm:- As per ANI, Court has sent drug peddlers Karamjeet Singh, Ankush Anreja and Dwayne Fernandes to NCB custody till 16th September. While Aftab Fateh Ansari and Sandeep Gupta to judicial custody till 23rd September. They all were arrested by NCB on Saturday in connection with the drug angle in SSR death case.
Maharashtra: A court in Mumbai sends Karamjeet Singh, Dwayne Fernandes and Ankush Anreja to custody of NCB till Sept 16, and Sandeep Gupta and Aftab Fateh Ansari to judicial custody till Sept 23 in connection with drug angle in Sushant Singh Rajput death case.

— ANI (@ANI) September 14, 2020
The names of Sara Ali Khan, Simone Khambatta and Rakul Preet Singh have surfaced during the investigation. No summons issued to these people as of now: Narcotics Control Bureau on the questioning of actor Rhea Chakraborty, in a drug case, related to Sushant Singh Rajput's death pic.twitter.com/wCznBZ5WbJ

— ANI (@ANI) September 14, 2020
8:17 pm:- The names of Sara Ali Khan, Rakul and Simone that were doing rounds in connection with drug case has come out to be a rumour as NCB told ANI that they have not issued summons to any of the above.
Also Read: From CBI questioning SSR ex-driver to NCB nabbing 6 more drug peddlers; Central Agencies Day 23 Probe in Sushant Death Case