Somi Das
| Updated on: 14 February 2017, 6:07 IST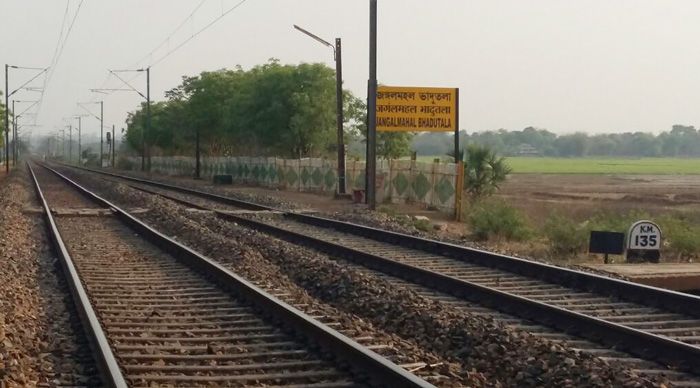 The battleground
Mamata Banerjee seems unstoppable in the Jangalmahal area
Her govt has delivered on some of its promises here, such as providing connectivity
Unemployment and healthcare is still a problem
More in the story
What the voters have to say
Is the Paribartan for real?
About 30 km away from where Prime Minsiter Narendra Modi sounded the poll bugle in West Bengal with wisecracks on Saradha and Narada amid thunderous applause, begins Jangalmahal. As we enter the former Maoist hot-bed comprising parts of West Medinipur, Bankura and Purulia districts, people's response to Narada, Saradha or even Modi, is very different.
Here's what Surojit Chakraborty, a priest from Konnagar, Ghatal living right next to the Jangalmhal Bhatutala railway station - the gateway to Jangalmahal - had to say about Modi's invectives against Mamata Banerjee:
"It was when Mamata Banerjee's TMC ran the railway ministry that we got the Jangalmahal Bhatutala railway station. Now after the Modi government has come to power, there has been no progress. Mamata had promised to extend this railway line to Lalgarh and increase the number of trains that pass through here. Today, despite a railway station, we feel stuck as only two trains pass through here. All rail projects have been stalled because the Centre isn't releasing funds. Before targeting Mamata on fake stings and asking for votes, Modi should remember what he has done for people of Bengal."
It is very rare to see people defending their chief minister so passionately. This also speaks volumes about the sway that Mamata holds over the people of Jangalmahal.
For Banerjee, who has projected herself as the "saviour of Jangalmahal" - development of this area has been a key priority. Right after she won the elections in 2011, she came here and made a host of promises. Infrastructure and connecting this isolated area to nearby towns was one of them.
Also read: Kolkata Uber driver Ashraf: 'Transport sector has suffered under TMC'
That she did. Construction of roads and bridges has reduced the distance between the main town of Medinipur and Kharagpur with the formerly forbidden areas of Jhargram, Binpur, Lalgarh, Ramgarh etc. Buses ply on regular intervals.
Now, young girls from Salboni, Medinipur and Kharagpur come in buses everyday to a teacher's training institute near Bhatutala railway station in Konnagar.
The TMC candidate from Medinipur is Magendranath Maity. People have both good and bad things to say about him. Among his achievements, voters say, is the construction of a water tank, still not functional. But that really doesn't count. "Mamata Banerjee is our candidate. It doesn't' matter who stands from which party," says Nirmal Sarkar, 70, a retired school teacher. He doesn't know about the BJP candidate Tushar Mukherjee. He is also doubtful about CPI(M)'s prospects.
Binpur
Our next stop is Binpur, Block 1 that falls under the Jhargram Assmebly constituency. The candidate from here is sitting TMC MLA Sukumar Hansda. Chunnibala Handsa of Jharkhand Party (Naren) is contesting against him with the support of CPI(M). She had won the 2006 Assembly Elections from Binpur
Interestingly, just like the CPI(M) and Congress share a bloody past and yet have entered into an alliance, Jharkhand Party (Naren) and the Left Front have had a similar rivalry.
But here too, it is Mamata's name that is the talk of the town. "Jangalmahale didi chara amader upay neyi. (We do not have an option without Didi here.)" says 50- year old Sheikh Mohammad Istehad. He walks on one leg.
However, underneath adulation for Banerjee, he nurses a deep sense of hurt for not having benefited from either being a handicapped or for belonging from a minority community. "I have written so many letters to Didi about my condition. I do not have any work. I like the way she says Khoda Hafiz and meets us like a family member. Never did anyone from CPI(M) come to meet us like that. My only complaint is why didn't Didi read my letters? I desperately need a job. People of Jangalmahal need jobs," he says.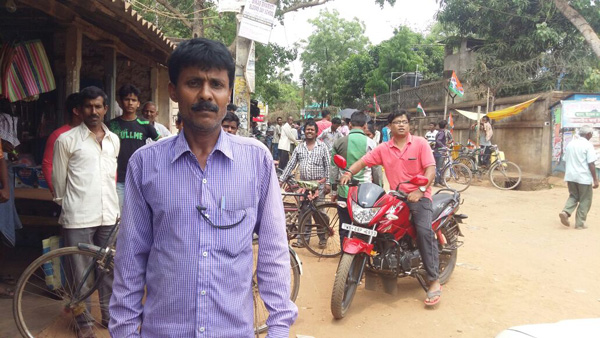 Indeed jobs are a dire necessity in this place. Apart from improved infrastructure and ensuring peace and safety of Jangalmahal, the CM had also promised "no one in Jangalmahal will be jobless". But we hardly meet any person between the age of 19-30 years, who is working. Most of these young men work on farmland or run small shops. .
They while away their time in clubs built on government lands. These clubs have become hubs for unemployed youth to gather, plan community festivals or play carom.
We meet 28-year old Amol Saren at one such club. He tills a small piece of farm land. Recently married, Saren has no ambitions. "I am not educated enough to get a job, what can the government do about it?" he says. He is also against industrialisatioin. He is happy with the Rs 2/kg rice scheme. It seems as if subsidised food has killed all his enterprise.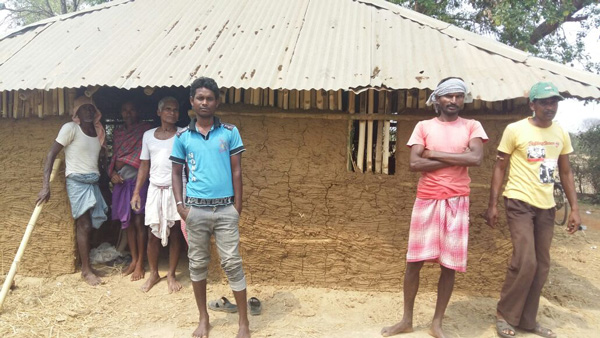 Lalgarh
We further move into Lalgarh - which was one of the areast most affected by Maoists. We are welcomed by the first sign of development here.
This bridge.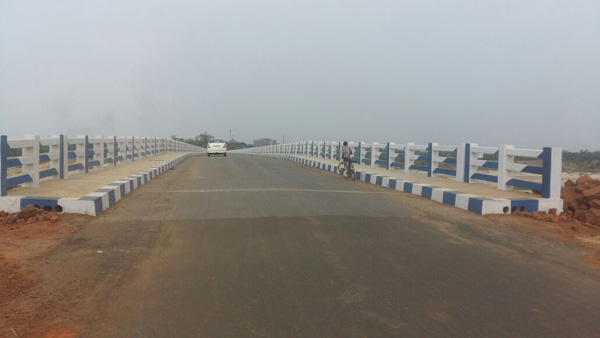 Villagers say the bridge has made their lives easier, connecting them to the outer world.
Even the CRPF personnel guarding Lalgarh are all praise for the bridge and the road construction work done by Mamata. Connectivity they say, has helped in curbing violence in the region.
Apart from this, another structure that draws our attention is Lalgarh College. By the time we reach there, students and the faculty members had apparently left. The caretaker tells us there are 700 boys and girls who come to the arts college and 16 teachers. Another staff member, however, contradicts the figure. He says 400 students study in the college.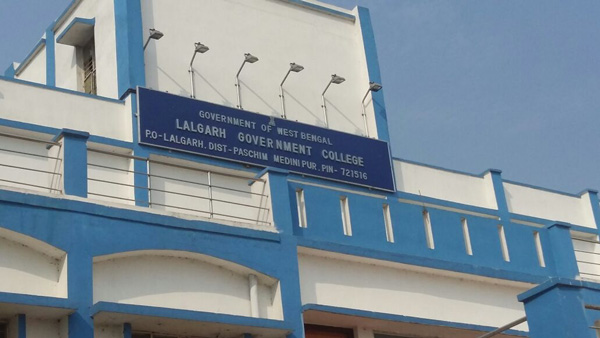 However, having visited several households in the area, even 400 seems to be an exaggerated number, since many youngsters we met had already dropped out of their schools after 10th standard. We couldn't speak to any official to confirm the figure.
Apart from the college, there is a hospital, a model school, a girl's hostel being constructed.
In Bhimpur, under Salboni Assembly constituency too, we came across similar buildings in white and blue. Just like the Lalgarh college, the Salboni college looked deserted.
While trying to make sense of its empty ground and class rooms, we bumped into TMC MLA Srikanta Mahato, without realising who he is. Seeing no one else around and mistaking him for a local, we asked him if the college had started enrolling students.
We became suspicious when he gave us the exact number of students - 412 students - while claiming he is neither a teacher nor a staff member of the college. Later we discovered he was the local MLA and was going around on his bike to take stock of his constituency. But some locals did confirm they had enrolled their children in the college.
We couldn't meet any student though as they had apparently left for their computer classes towards the main market.
While inquiring about the college students we met Tula Namhata. Her younger son is a student of the Salboni college. But he had failed in his first year exams.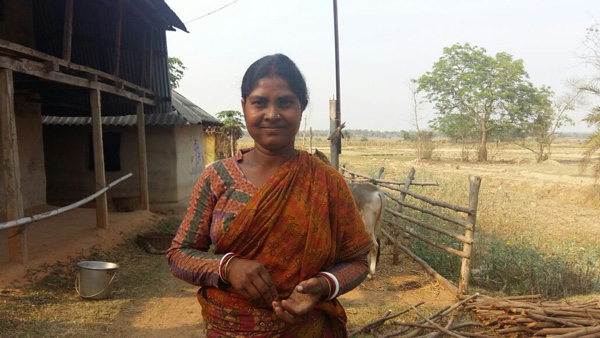 Here are excerpts from our conversation:
Does your son study in the Salboni college?
Yes.
What is his subject?
I am not sure. I don't understand all this.
How much did you pay to get your enrolled here?
I think Rs 700.
And is there a monthly fee you have to pay?
Yes, Rs 50.
We just met your MLA Srikanto Mahato? Did he inaugurate the college?
Yes.
Has he worked well in the past five yearz?
Yes.
What has he done?
He has got roads constructed, this college also came up and there's a stadium.
The stadium is still under construction. How does a stadium help you?
I don't know.
Like Namhata many in Jangalmahal are happy with projects that do not add to their civic facilities but are mere facelift exercise.
One pan stall owner in Binpur, Bhoktipodo Poccha proudly directs us towards a bust of Swami Vivekananda, when asked what developmental work has happened in the past five years.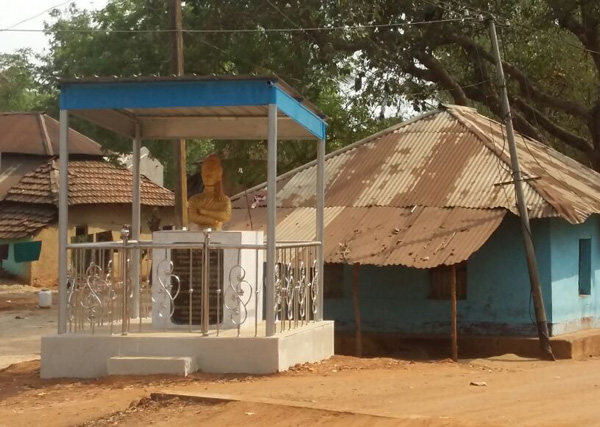 As of now, as Didi often repeats "Jangalmahal is smiling", in the limited sense of the phrase. The promises of electricity, water supply and better roads might have been fulfilled to some extent. But healthcare still remains an area of concern. Add to this fact that many computer literate youngsters would be ready to join the workforce in the next five years. It would be difficult to satisfy their aspirations with mere subsidised rice.
More from West Bengal:
West Bengal: Left-Congress tie-up makes sense at every level. But can they win?
Mamata will win, but with a thinner margin: Partha Pratim Biswas
West Bengal polls: Kharagpur loved Modi, but will it vote for BJP?
Mamata walks 5.5 km non-stop in Medinipur. Will Congress-Left ever catch up?
No party like AAP in West Bengal, so Ziaul Haq is voting NOTA