Somi Das
| Updated on: 14 February 2017, 6:04 IST
Narendra Modi, apparently, is only the second Prime Minister to visit Kharagpur - the town that once boasted of the longest railway platform and still boasts of one of the finest Indian Institute of Technology.
And when Modi came calling to the railway town on Sunday, he wasn't merely a PM. He posed as a challenger to Chief Minister Mamata Banerjee, urging those present at the rally to give him - Narendra Modi - a chance.
The railway town identity of Kharagpur has ensured that the West Midnapore junction hosts several families from outside Bengal. Perhaps this is what makes the Bharatiya Janata Party upbeat about the Assembly constituency. The party has fielded its state President Dilip Ghosh from the seat.
It is a constituency that has elected Gyan Singh Sohanpal - a Sikh Congressman - since 1982. He now, at 92, is the oldest legislator in the state.
Also read: Modi follows rivals on Twitter, and the #Bhakts are crestfallen
The stage for Modi on Sunday was set much before he arrived. The crowd started pouring in at Kharagpur's BNR ground hours before the programme was scheduled to start. Buses with BJP flags brought in people even from nearby Jhargram. Mediapersons were greeted with packets of lunch and sweets.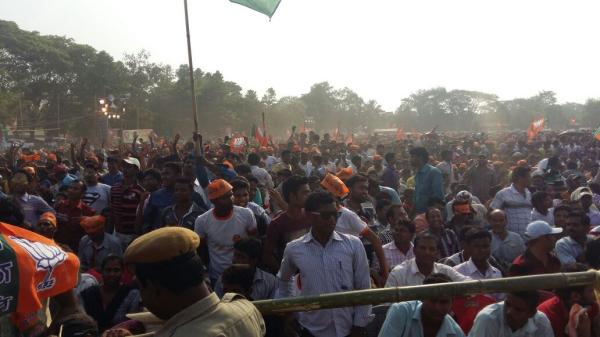 An array of BJP leaders from West Bengal such as Rahul Sinha, the party's National Secretary and candidae from Jorasanko, held the stage before Modi arrived. But the dependence on the PM was clear from slogans like "Modi ekabingsho shotabdir Vivekanda" (Modi is the Vivekanda of the 21st Century).
Union Minister Babul Supriyo lent his star power even as the organisers tried to add a dash of colour and culture to the mega show by inviting bauls to sing customised praised for the Gujarati leader.
The audience, however, didn;t have much patience for the prattle of local leaders and the music. All they wanted was to listen to Modi.
And he came and took them by surprise by addressing them in chaste Bengali: "Amar priyo bhai ebong bonera. Prothom baar Kharagpure esechi, bhishon bhalo lagche". (My dear brothers and sisters, I have come to Kharagpur for the first time. And I am loving it.)
Also read: Ground report: Is AGP trying to ride on PM Modi's popularity in Assam?
The sweetness soon gave way to a bitter tirade towards the CM though. And every time he would pass a chuckle-worthy remark about Didi, the crowd would go berserk with chants of 'Modi Modi' and break into laughter.
One of the crowd's favourite was: "Pichle paanch saalo mein bangal ka to koi parivartan nahi aaya par didi ke vyavhar mein bahut parivartan a gya hai." (In the last five years no change has taken place in Bengal. If anything has changed its Didi's behaviour.)
Every time he mentioned "Pehle sharada ab Narada", pointing fingers at Banerjee's clean image, the crowd would respond with applause.
He targeted the CM also for letting West Bengal become a "bomb-making factory".
"How can a government not be worried about such dangerous activities? How can BJP leave the people of Bengal without any help in such dangerous conditions," he asked.
On Banerjee's popular scheme of selling rice at Rs 2 a kilo, Modi said: "It is from the government coffers in Delhi that we give Rs 27 per kg for rice to make subsidised rice available for the poor. And the state government takes credit for it."
His one-liners targeting the Congress-CPI(M) alliance in West Bengal, though was by far the best in evening: "Bangal mein dosti, Kerala mein kusti". He said by forming such an "alliance of convenience and opportunism", Congress and CPM insulted the intelligence of Bengalis.
Modi marketed his development agenda to the people of Bengal, saying: "I have a three-point agenda for Bengal - 1. Development, 2. Fast paced development, 3. All round development."
Also read: World Sufi Forum: Muslim leaders divided over PM Modi's presence
Amid all the talk of uprooting Trinamool Congress from Bengal, the call of azaan from a nearby mosque added some more drama to the evening: For close to five minutes, the PM stopped his speech, while the azaan was on. At the same time though, several of his supporters tried to drown it with chants of 'Jai Shri Ram'.
When he resumed, Modi said he wanted just one chance from the people of Bengal: "The Left and TMC rule has wasted 40 years of Bengal. Give me one chance. I assure you from debris of this destruction, I will build a new Bengal."
Edited by Joyjeet Das
More in Catch:
'Modi is god's gift to India': why is Venkaiah Naidu being a sycophant?
Modi & Nitish exchange potshots on PM's first visit to Bihar after poll defeat