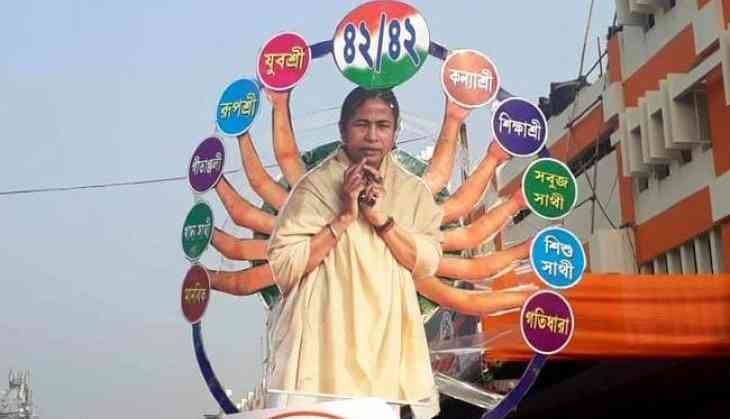 As Mamata Banerjee-led mega opposition rally called-- 'United India rally' has kick started in Kolkata's Brigade Parade Ground, a large cutout poster of Chief Minister as 'Durga' is an eye catcher of the day. The TMC chief and Bengal CM Mamata Banerjee's posters has pulled all stops to send out a message that she is all set to take-off for Delhi's Politics.
TMC's Twitter handle shared grlimpse of rallies and the posters taken out across the state. Well, among them the show stealer was posters of Mamata Banerjee as Goddess Durga with ten hands. The poster claimed 42/42 on the crown-cutout on Didi's head, that indicated TMC's clean sweep win in the Lok Sabha polls by winning all 42 seats of the state.
আজকের ব্রিগেড, দেশের ভবিষ্যত #UnitedIndiaAtBrigade pic.twitter.com/llWm6e9PnI

— JagoBanglaDigital (@jago_bangla) January 19, 2019
The five hands on her left, just like Durga's five weapons, had cutouts that read Kanyashree, Shikhyashree, Shabuj Shathi, Shishu Shathi and Gatidhara. The other five hands on the left had Yuvashree, Rupashree, Gitanjali, Khadya Sathi and Manabik. All of these are names of several ongoing schemes in the state.
Also read: Sidelined BJP MP Shatrughan Sinha goes 'Khamosh' on question over Ram Temple row; joins Mamata's opposition rally