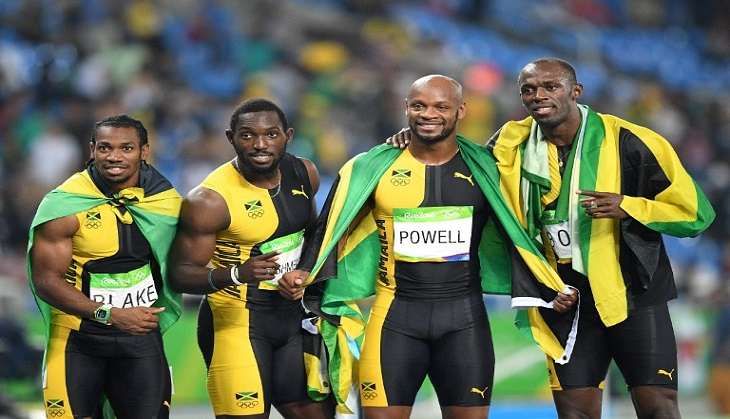 It ended just like it was supposed to. Jamaica took the 4x100m men's relay gold and with that Bolt completed the historic 'triple-triple' - three golds in three consecutive Olympics - just two days before his 30th birthday. Proving his invincibility. He added the relay gold to his 100m and 200m golds earlier in the week. It was his third gold of the week and nith overall. It was a breathtaking run. Usain Bolt isn't just the fastest man alive, he's a very good team player. Bolt, achoring the race like he always does, got Jamaica home in just 37.27 seconds. At the last changeover, Bolt had a slim lead, but he did what he does best and pulled away for a comfortable victory in the end.
The stadium erupted as Bolt exploded ahead of the field.
Olympics  Record

Beijing 2008
100 🏅
200 🏅
4x100 🏅

London 2012
100 🏅
200 🏅
4x100 🏅#Rio2016 
100 🏅
200 🏅
4x100 🏅#Gold

— Usain St. Leo Bolt (@usainbolt) August 20, 2016
Prior to Bolt, Jamaica had never won an Olympic gold medal in the event. Now they have three. Asafa Powell ran the first leg for Jamaica, followed by Yohan Blake. Nickel Ashmeade then handed the baton to Bolt. Japan finished in second to claim a surprise silver medal in a timing of 37.60 seconds. Canada earned the bronze after USA were disqualified for having the first baton exchange happen outisde the takeover zone.
"I've proven to the world I'm the greatest," says Bolt. "I can't prove anything else." Bolts proven he can move his legs faster than no other as he holds the world record in the 100m and 200m as well as the 4x100m relay record with his teammates.
He later told BBC Sports, "I'm going to stay up late and have fun. I never knew this would happen when I started out". He smirked and continued, "My team came through for me tonight. As long as we got the baton round, it was never in doubt."
His nine gold medal haul is joint higherst among Olympic athletics. Equal with USA sprinter and long jumper Carl Lewis and Finnish long-distance runner Paavo Nurmi.
Teammate Blake tried encouraging Bolt to stay on for another four years. He told BBC Sport, "Usain needs to be immortal and he is immortal. I will encourage him to come back for 2020."
My fans you guys never doubted me a min and for that I belong to you guys forever #blessed pic.twitter.com/j5xcwI0wXf

— Usain St. Leo Bolt (@usainbolt) August 20, 2016
Petition for @usainbolt to run the 4x400m Relay to tie Carl Lewis with 10 Medals. RETWEET for YES or LIKE for NO

— David Riley (@davidrileyja) August 20, 2016
How can @usainbolt still be THAT much faster than the fastest men on earth. Mind boggling.

— Joe Posnanski (@JPosnanski) August 20, 2016
What Usain Bolt's career looked likehttps://t.co/OOu99mLg2k

— Bleacher Report (@BleacherReport) August 20, 2016
Never take what you have just seen for granted. Never forget what you have just witnessed. We might not see his like again #UsainBolt

— roger bennett (@rogbennett) August 20, 2016