Catch Team
| Updated on: 10 February 2017, 1:46 IST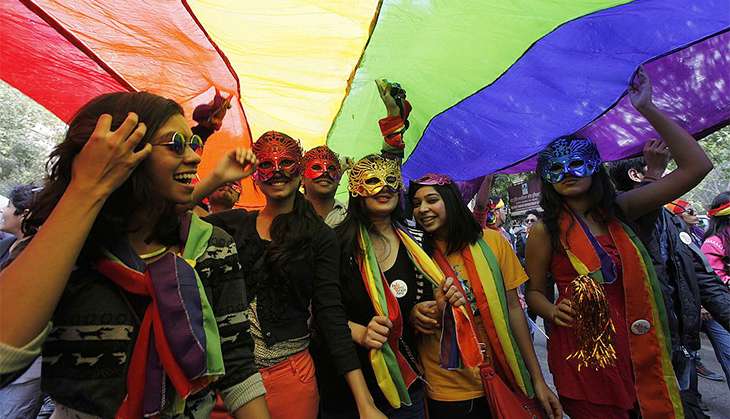 It's powerful to be gay in this world. As powerful as Lord Rama with his brahmastra that could destroy the world at one go.
Except for Lord Rama, his astra was wielded with the intention to destroy. Ah, the gays must learn, for they know not what they do.
Read- Same-sex nikaahs & gay imams: LGBTQ Muslims reconcile faith & sexuality
If you're completely confused or screaming 'BLASPHEMY!' at this point, hold on. It will all make sense, or not, depending on how you see it.
This month we received a great revelation about the gay community and the, quite literally, earth-shattering powers they possess.
Get this: a Muslim cleric in Ghana was so bored that he proposed the mind boggling theory that gay sex causes earthquakes. 'How?' is a good question to ask at this point. Well, according to Mallam Abass Mahmud, "Allah gets annoyed when males engage in sexual encounter and such disgusting encounter causes earthquake."
Now it would be natural for a cleric to assume this has much to do with Allah. But how about the possibility that gay sex is actually so damn good that it can 'shake up' your world? Take it easy, guys. We can't handle your sexiness.
"Should we allow such a shame to continue in our communities against holy teachings?" Mahmud asked, as quoted by Daily Mail. "Certainly no, and we are very happy to chase away such idiots from our Zongo communities."
But earthquakes can happen anywhere. And the epicentre can totally rest outside of the Zongo regions. And Mr Mahmud would still be affected. Because science. In the famous words of Enrique Iglesias, "You can run, you can hide, but you can't escape..."
So good luck trying to eliminate earthquakes by getting rid of gays.
The revelations don't stop here though. Mallam Abass Mahmud's brain fart may have been the most recent proclamation of a gaypocalypse, but it certainly isn't the first. Or the worst. One need only book your tickets for the Vatican and meet Cardinal Robert Sarah, the Prefect of the Congregation for Divine Worship and Discipline of the Sacraments. That's a mouthful.
Also read: India needs gay people to save it. Here's why
Earlier this month, the Cardinal said that that trans people are "demonic" and that gay unions are a danger to society. Also, that this sort of demon sex makes God very angry. Obviously.
"Nowhere is this clearer than in the threat that societies are visiting on the family through a demonic 'gender ideology,' a deadly impulse that is being experienced in a world increasingly cut off from God through ideological colonialism," he says.
For a God that supposedly loves us all equally, the LGBT community sure seems to get an inordinate amount of attention from God. A straight person prays and it goes unanswered, but a gay couple holds hands and boom! God dons his fire and brimstone avtaar.
In fact, God, Allah or almost all the other manifestations of divinity this world worships (minus the Spaghetti Monster), have taken the gay matter so personally that they're willing to end the world they created over it.
Take heavyweight boxing champion Tyson Fury. Now here's a guy who can legitimately cause earthquakes, but no one ever blames him. Fury is the sort of man who could face down a bear without breaking a sweat. But something has him terrified - gay sex. Fury, after all, is the proponent of the theory that it will cause the apocalypse. Straight sex just has an end. Gay sex brings about the end. Clearly straight folk need to up their game.
"I think it'll be perfectly normal in the next 10 years to have sexual relationships with your animals at home - you know, your pets, your cats and dogs, and all that will be legal," he said in an interview, outraged at the notion of gay sex.
See now here's the thing. Equating homosexuality with bestiality conveniently skips over that thing called - say it with me now - 'CONSENT'.
Here's a knock, knock joke to explain it.
"Knock, knock."
"Who's there?"
"Consent."
"Consent, who?"
"Well if you don't know consent, no sex for you."
Boom.
No? Okay.
Moving on. The most amazing part about gay powers though is that everyone seems to have an opinion about its potential. Much like that snazzy new smartphone you bought. Except your phone can't make God hate you. Unless it's an Apple, because we all know how much God hates apples, and he/she absolutely should - Apple is the devil.
Throughout the history of natural disasters there have been bigger disasters that spring out of the misery, and by that we mean the mouths that come up with the daftest explanations for these disasters.
Read more: Gay rights took centre stage worldwide in 2015. What stopped India?
Sample this: the 2011 tsunami hit Japan and other coastal areas in South Asia, including India. It killed 15,870 people and injured thousands more. It was caused by a massive oceanic earthquake. But a certain Cindy Jacobs of Generals International attributed it to the gays.
"We have seen these disasters happen. We need to repent for turning away from God and saying that we can make any laws that we want, it doesn't matter... that God's laws don't count," said Jacobs. Who knew that when scientists said earthquakes were caused by tectonic plates coming together, they were being euphemistic. You naughty, naughty scientists, you!
The other flaw in Jacobs' otherwise watertight argument is that a lot of the countries that were hit by the tsunami don't have laws to support the LGBT community. India surely (and embarrassingly) doesn't.
After Jacobs' God theory, the founder of Defend and Proclaim the Faith ministries, John McTernan, in October 2012, blamed the gays for Hurricane Sandy that hit the US coast that year.
Aren't you getting a bit bored of this? Come on homophobes, where's your imagination? Where are the biblical plagues?
That's where the New Apostolic Reformation (NAR) comes to the rescue. A global network of Christian ministries that work towards Dominionism - taking over public institutions to save the world from, you guessed it, gays! And demons! And demon gays! And gay demons! It's all the same, apparently.
Bruce Wilson, who's reported for these anti-queer crusaders in the past, told Alternet, "for the apostles and prophets of the New Apostolic Reformation, demon powers, and also divine curses - incurred by human unfaithfulness to God's plan, are at the root of virtually any and all conceivable misfortunes, from crime trends, drops in the stock market, and declining SAT scores, to headaches and dandruff. I mean that literally."
Right. So demons cause gays. And gays cause dandruff? Is it because they refuse to share their secret gay anti-dandruff formula?
But wait, we're not done yet. These dandruff-causing, SAT-destroying gays secretly harbour "sodomite demons", if James David Manning of the ATLAH World Missionary Church is to be believed.
Manning warns heterosexual women about this demon that men who have sex with men (MSM) contract.
"If a man injects himself in another man and injects his semen into him, and he's crazy, then that's gonna get in his blood as well," Manning said on his YouTube show Manning Report. "If demons are in him... you're gonna get penetrated by demons." He also believes that Starbucks has an agenda to turn you gay by putting sodomite semen in your coffee.
Of course, none of this beats the ocean of absurd the Westboro Baptist Church(WBC) swims in. Known for being rabidly anti-LGBT, the WBC stooped to a new low in November 2015 after the Paris attacks. Right after the Islamic State claimed responsibility for the terror, the Baptist Church swooped in and blamed gay marriage for it. Because everyone knows there's nothing more integral to Daesh than gay sex. From wars to floods to hurricanes and every disaster in between, it's all the gays fault.
Evidently, you could kill one of God's creations and not bring about the end of the world, but violate an anus and all hell breaks loose, literally. It's this sort of logic that makes one wonder - what if God's favourite creation isn't us, but our assholes?
More in Catch:
Africans ask: what do you feed your kids that they are born to hate us?
By outraging over Tanmay's video, India's the real Bhat of the joke
Harish Rawat in fresh trouble: aide's RS nomination angers ally PDF
Russia's Olympic dream in tatters after athletes flunk dope retests