Africans ask: what do you feed your kids that they are born to hate us?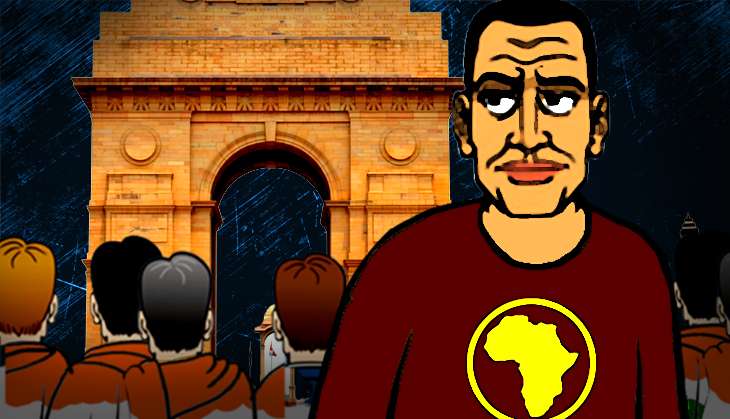 The first time Cruuz Yaddah, a Congolese medical student at Delhi's Amity University, travelled in the city's metro he saw a little kid point at him and ask his father, "What is that?"
His father laughed, and gently corrected his boy, "That's a human being. He can talk just like us. Don't be scared."
For Yaddah, it was the first time he had heard someone reaffirming that he was a human being. Not a what, but a who. Not a strange living species, but a real human being.
Also read:Afrophobia is widespread in Delhi. Let's not pretend otherwise
Since he moved to Delhi from Brazzaville, Congo's capital, the one thing he has learnt about this city is that its people are illiterate. "They have seen too little of the world outside. They don't know there is a world outside India where people can belong to different races and ethnicities. They haven't ever interacted with people who look and sound different from them," Yaddah says, concluding that this cultural ignorance is the root of the problem.
Simmering protest
More than 10,000 Africans live in Delhi. But they mostly live in their own ghettos, keeping minimal contact with the rest of the city.
At South Delhi's Rajpur Khurd, it is 1 pm and the locality wears a deserted look. The narrow lanes are flooded with huge puddles of water from the night before. On some balconies, clothes have been hung out to dry. A few Africans heading out refuse to talk to this reporter, and walk away fast. I feel like I am an unwanted intruder into their private life.
According to an
Economics Times
report, a cab driver was attacked here in the wee hours of the morning by six Africans. The incident is the latest in a series of several attacks on and a few counter-attacks by African students living in the capital.
Last month, Oliver Masund, a Congolese teacher, was beaten to death in neighboring Vasant Kunj.
The Association of African Students in India sent a letter to the Delhi Police on 26 May seeking permission to take out a peaceful protest march from the Ministry of Home Affairs to the Police Headquarters on
Tuesday
. The letter stated:
India and Africa have been in good relationship for years. The African Students want to strengthen it more by creating awareness to some of our Indian brothers that are trying to make the relationship sour to our students.
The act of mob attacks, street aggression, insults, infraction of human rights, racism act towards African descent is not acceptable at any cost.
The police did not approve. They suggested that the students protest at Jantar Mantar.
Yaddah has decided he will go protest. "When I was here in 2012, people would run away seeing me and my friends. But while they don't run away now, the aggression and hatred have only grown," he says.
Taking stock
Calling the Congolese embassy for comment on the ongoing conflict turns out to be a rude wake up call. "This is the Congo Embassy! We are not in that business!" an angry receptionist shouts into the phone before slamming the receiver.
At the foreign policy level, the dislike seems mutual. The visa policy for most African nations requires their citizens to visit the immigration office every six months to get their visas renewed. "If my MBBS course runs for five years, why should they want to see me every six months? Why this humiliation?" asks Yaddah.
Yaddah is making a larger point. "No wonder, people here think we are poor and we come to India and seek refuge here. They think if they let us stay we won't go back to our homes. They don't realise we pay higher than an Indian to avail the most basic services such as education, accommodation and even conveyance. We are always asked to pay more because we are foreigners," he says.
Rotten apples
Bijender Tanwar, 35, is a real estate broker in Rajpur Khurd. "I don't usually help Africans get homes here because I can't understand them," he says, bluntly. His assistant adds, "They are shady. They keep their houses messy and pack themselves in. Also, the women offer sex, and they drink too much. Look its one in the afternoon and they are still sleeping, hung over from
last night
. Do you see?"
Also read:
India is racist. These African students in Bengaluru confirm
Do you know any of them? "No we just hear of their lifestyle," he replies quickly.
Six days ago, Fajumu, a businessman from Benin, was returning home by auto at about 11:00 pm from Rajpur Village when three men in another auto noticed he was black. They pulled over and stopped Fajumu's auto. They dragged out the driver and started punching Fajumu. "It happened just like that. People told me India was turning hostile towards Africans, but this is the first time I have been beaten," says Fajumu, on his way to a local dispensary to get treated for a swollen rib cage.
"We are called Habshi and Kalia all the time. Then, there are other abuses we don't even understand but know they are filthy," says Fajumu, who refused to reveal his age or his last name.
Yaddah explains that the problem lies in mistaking a few rotten apples for the whole bunch. Once he saw his neighbour having a scuffle with his landlord. Perhaps, he didn't pay the rent on time or perhaps he was sub-letting. But the landlord fumed out of his house, went down to the road and created a big scene abusing all the Africans in the building. Soon, a mob gathered, ready to punch and beat up every single black person living in the building. "It was frightening. One defaulter doesn't make him connected to us. Neither does it mean we all act the same way. Good and bad coexist everywhere," Yaddah says.
State response
To protest the growing incidence of racism, African envoys had threatened to boycott Africa Day celebrations, organised by the external affairs ministry, in on 25 May. As a response to the embarrassment, Smriti Irani has announced that her HRD ministry would help organise "sensitisation programmes" in and around colonies where substantial populations of Africans live in Delhi. It might just be what is needed to dispel the notions held by people like Tanwar.
Agboro Micheal is a textile trader from Mali who buys T-shirts from Tirupur to sell back home. When he sees this reporter, he lets out a barrage of angry questions.
"What do you feed your kids, huh? Tell me honestly? What do you tell them about us? Why are they born with hatred for us? Even small children throw stones at us. What have we ever done to you people?" he asks, walking off into the drizzly day wearing dark shades and a black vest.
The "coolness quotient" is just a facade; the shades just a mask. One has to look tough. Delhi is a hard city to break into. "I have never felt more black in my entire life as I have in India," says Yaddah. "Come to Africa. Feel the love of the people there. Then you will be ashamed."
Also read:
African envoys put Modi regime in a spot: we won't attend Africa Day event