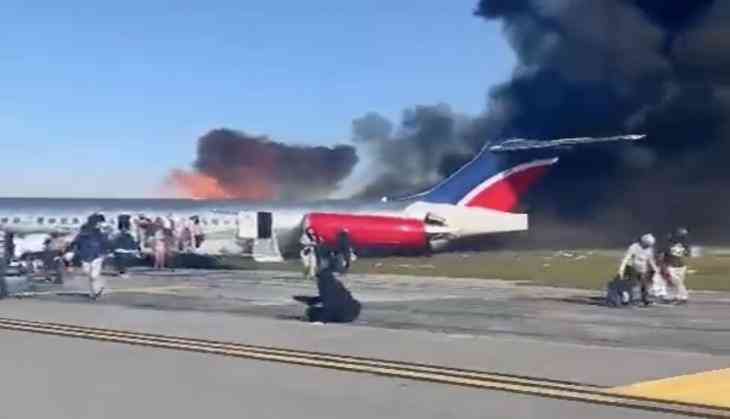 Investigators were headed to Miami on Wednesday after a passenger plane's landing gear collapsed and it caught fire as it landed at the US city's international airport, officials stated.
Three people were taken to a hospital following the crash of Red Air Flight 203 on Tuesday, as maintained by Miami-Dade fire officials, no loss of life or serious injuries have been reported among the 140 passengers on board.
Hair raising footage displayed people being evacuated from the McDonnell Douglas MD-82 plane, lying crooked on the runway with its nose crushed as thick black smoke billows from its body.
Red Air McDonnell Douglas MD-82 crashes on landing at Miami Airport in Florida. Of the 140 people onboard, 4 injuries are reported at this point. https://t.co/D4Lkhsezvt pic.twitter.com/LGkltD41xO

— Breaking Aviation News & Videos (@aviationbrk) June 22, 2022
The National Transportation Safety Board, the US government agency in charge of investigating civil aviation accidents, said the plane's left main landing gear collapsed during landing.
The aircraft then "departed the runway" ahead of coming to halt on a grassy area, it said, with a fire breaking out on its right hand side.
Red Air, a Dominican budget carrier which was launched in November 2021, said the plane was arriving from Santo Domingo when it encountered the "technical difficulties."
"Red Air #203 from Santo Domingo had its landing gear in the nose of the plane collapse, which seems to have caused a fire," said a statement on the Miami International Airport's Twitter handle.
Your worst nightmare, captured on video. Airliner crash lands at Miami Airport, bursts into flames. Passengers flee on to runway. Everyone survived, there were three injuries. pic.twitter.com/sBGAVOeMRz

— Mike Sington (@MikeSington) June 22, 2022
Also Read: Indian cobra swallows Russell's viper; watch epic battle between snakes