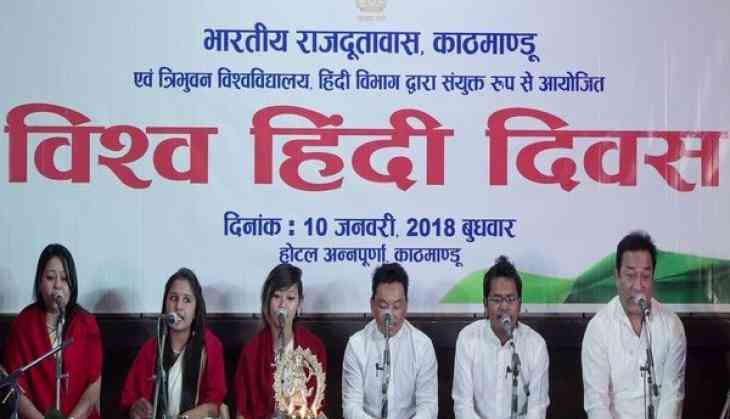 The Indian Mission to Nepal on Wednesday observed "World Hindi Day" with much enthusiasm and fervour by organising a programme in the capital Kathmandu.
Jitendra Narayan Dev, Minister for Culture, Tourism and Civil Aviation, who chaired the function, highlighted Hindi as a treasure of knowledge for the globe.
"So far I understand that Hindi is the treasure of knowledge not only for the Indian-sub continent, but for the whole mankind around the world. I am certain that Hindi is strengthening and promoting the cultural ties between India and Nepal. It unites the two countries. It is a common binding factor of the two nations," Dev said.
The programme, which was held in Hotel Annapurna, Kathmandu, commenced with the recitation of the message from Prime Minister Narendra Modi by the Indian envoy to Nepal, Manjeev Singh Puri.
"The language that we use for the communication and the similarities that exist in between the two, the 'Roti-Beti' relation, the language has been the integral factor amongst them and there cannot be anything more than Hindi. In Nepal, the Maithili, Bhojpuri languages are used; Hindi has its own definition amongst them. As there is the condition like Pan-Indian, the Pan-Nepal is existent here," Puri told ANI.
"We can watch the screening of many Hindi films not only near the Indian territories but in Nepal as a whole. Many people, here, watch Hindi daily soaps. The residents of Nepal understand Hindi and use it," Ambassador Puri added.
The celebration of the World Hindi Day dates back to 1975.
"The Hindi language is the bridge which connects the two nations. In fact, the history of Hindi in Nepal is very old. In scriptures, it is stated that the predecessors of Hindi are from Joshmani Sandh Siddh Mahatma, who resided in Nepal. Sindhi started from here which means the Hindi is the language of Nepal too and has started from Nepal. Hindi is the mother-tongue of the Terai region of Nepal," Department Head of the Hindi language in Tribhuwan University, Nepal Sanjita Verma, told ANI.
--ANI