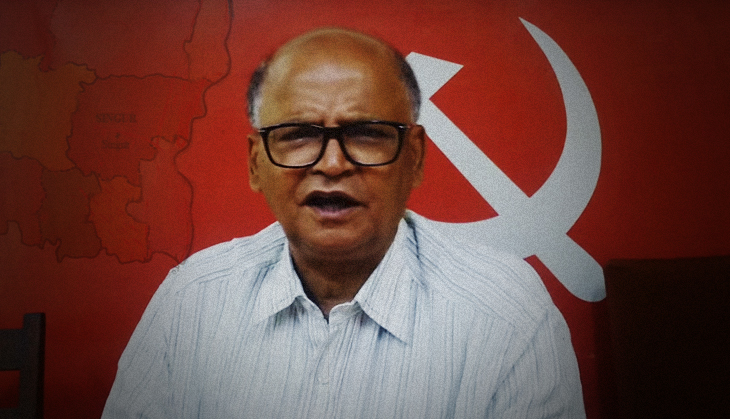 CPI(M) veteran Rabin Deb is an extremely busy man these days. After cancelling and rescheduling an appointment with Catch a day before, he walks into the press room of the CPI(M) head office at Alimuddin Street in Kolkata looking flustered, with a bundle of files and his cell phone buzzing.
"I have had sleepless nights for almost a month now. I am attending calls from leaders of all the parties whom we have joined hands with for the Bengal elections. I am one of the people who decides which party gets which nomination and from where. It's a major responsibility. My phone doesn't stop ringing," he confesses.
The CPI(M) has handed Deb another major responsibility. He is contesting for the party from Singur, the site of one of the most violent agitations against land acquisition in the history of Bengal. Many call it the beginning of the end of the Left's 34-year-long rule in the state.
"Singur is still a very important for the Left movement. We want the people of Bengal to know that. We want to settle all the issues in Singur. Even after five years, Mamata Banerjee has failed to return any land to the farmers as she had promised, and at the same time, no industrialisation projects have been established in the state."
In an attempt to make a comeback in Singur, on 16 January 2016, prominent Left leaders - former Chief Minister Buddhadeb Bhattacharjee, former industries minister Nirupam Sen, Politburo member Biman Bose and Opposition leader in the Legislative Assembly Surjya Kanta Mishra - flagged off a padayatra from Singur to Salboni in West Midnapore. It covered seven South Bengal districts.
It seems the Left Front decided to make the Singur contest harder for the Trinamool government by pitting Deb, CPI(M) state secretariat member, against the TMC's Rabindranath Bhattacharya, who won in 2011 by about 100,000 votes.
Deb was seen campaigning earlier in the month in Singur in a Tata Nano. A symbolic gesture perhaps?
"It was accidental that I was campaigning in a Nano; one of our comrades purchased this car and I had no idea it was a Nano. It was not intentional. But I have said it before and will say it again, if the CPI(M) were to come back to power, we will do our best to bring the Tata Nano factory back to Singur," he said.