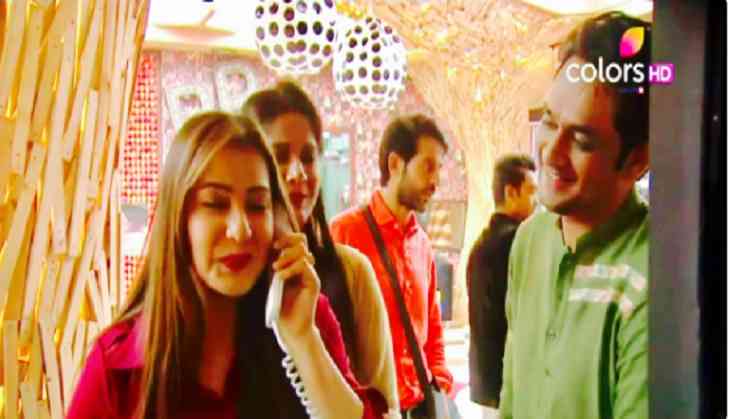 Bigg Boss season 11 has given a lot of spice and drama to its audience. There have been a lot of contestants in this season of the show that have a given a lot of material to spice up things in the house. But the most favourite ones are Shilpa Shinde and Vikas Gupta.
Ever since they have eneterd the show, they have been fighting with each other over petty issues but their fights have always been the reason of our entertainment. But it almost became a torture when a task was given by Bigg Boss in which the house got divided into two parts one headed by Vikas and other headed by Shilpa. Vikas got tortured too much that he even tried to run away from the house.
ALSO READ: Bigg Boss 11: Know who will be the winner of this season
But what the fans saw in the last night's episode of the show came to as a big shock to everyone. Bollywood actress, Vidya Balan came into the house to promote her upcoming film Tumhari Sulu and was seen enjoying with the housemates a lot. But what caught everyone's attention was the chemistry between Vikas and Shilpa.
Not only this after Sabyasachi got evicted from the house, Vikas was seen consoling Shilpa who was crying sitting under the table. But in tonight's episode it will be shown how Akash will spew acusation and will say that the fight between Vikas and Shilpa was all planned.
Not only this, a few days back a South Indian actress, Gehana Vasisth during an interview to a portal about the relationship they shared and said, "Both were "very close" to each other once upon a time and even shared a physical or se*ual relationship, but Vikas chose to love his job more than Shilpa and was responsible for her ouster."
Gehana further said, "Shilpa had got emotionally attached to Gupta, but he was not serious and was only interested in the physical aspect of the relationship. Eventually, things did not work out and Shilpa held Vikas responsible for all her problems as she expected him to stand by her in her problems with the channel."
ALSO READ: Bigg Boss 11: Priyank Sharma of Splitsvilla 10 to get arrested from the house
Everyone is aware about the fight that happened betweek Shilpa and Viaks when she was forced to leave &TV in which she was working as the lead actress in 'Bhabhi Ji Ghar Par Hai'. But everyone was surprised to see the change in behaviour of both of them towards each other.
Check out how the Twitteratis reacted over their patch-up:
Please stop showing us fake couples Puneesh-Bandgi & Benafsha-Priyank.. & show us what we really wanna watch which is #ShiKas (Shilpa-Vikas) moments!#BB11

— Shanayaa Choudhary (@i_Shanayaa) November 9, 2017
Don't know whats wrong with people shipping vikas and shilpa. But I am never going to ship #Shikas ever, I personally can never forget that torturous week of #bb11

— shru🖤🎬 (@TheHonestNRI) November 12, 2017
Now some jealous #ShiKas haters are saying it was all pre planned 😂😂 Jealousy at point #BB11 #BiggBoss11

— Chocolate 💥 (@chocoChip_1_) November 13, 2017
my thoughts too!

Lol that's why i don't support #Shikas

Coz I don't trust #Shilpa ...She's a flip! #BB11 #WeekendKaVaar

— SamGill 🎬 (@JDBtheROCKING6) November 12, 2017
Shilpa-Vikas understand each other the best. They know exactly when the other one is feeling low even though the entire house has no clue about it. #ShiKas #BB11 #BiggBoss11

— Mihrimah Ahmed (@under_the_wraps) November 12, 2017
Look at his smile😍 he is so cute😘#guchipoo
The way he is looking at her😍😍#Shikas pic.twitter.com/nn38OcUNra

— sumera malik (@sumeram601) November 12, 2017
i think i'm in love with #ShiKas..i just love their bonding..shilpa never shows her care for vikas in front of others bt i feel she cares for him or i'm overthing🤔 wen shilpa send tea for vikas thru sabya's hand,i felt smthng gud😂they look so cutee together😻 #BB11

— Ria Sharma (@princes12804806) November 11, 2017
Second #ShiKas pic in 2 days but man, look how cute they look together😭😭❤️❤️

Ngl, Im starting to like #VikasGupta . I feel like hes realised what #ShilpaShinde went through & can relate cos its happening to him now #bb11 #biggboss11 pic.twitter.com/kmM6hgYtuz

— Khan Sahiba (@Khan_Girl1) November 12, 2017
Umm shikas are not romantic vikas wants to clear all matters with shilpa so he can concentrate on game

— Sheezay khan (@KhanSheezay) November 12, 2017
I still don't like Shilpa.
But I don't mind Shikas Friendship.. If it's Genuine.

What I'm not getting is.. Why the hell HMs are going mad over it? Here.. Relationships do change.

#BB11

— •R a s h i • 🎬 (@rashisingh02) November 12, 2017
ALSO READ: Bigg Boss 11: Benafsha Soonawalla's dance video of her college days will make you fall in love with her!
For more news related to Bigg Boss 11, stay tuned!