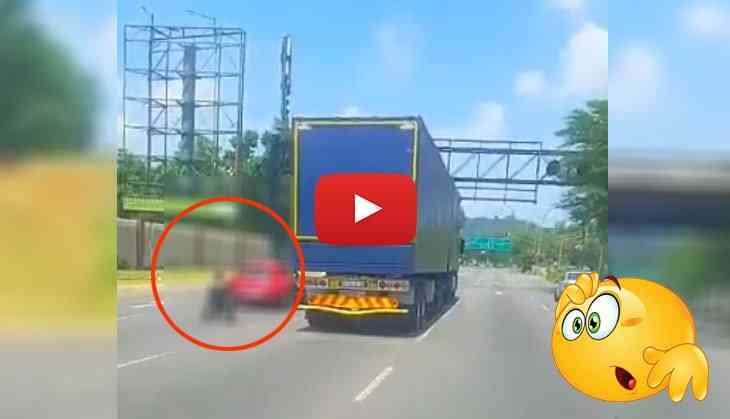 God has given equal strength and power to every human being but it depends on humans how to utilise it. Those use their power in the right direction, definitely, they get what they want in their life.
Recently, a video is doing the round on social media in which a man can be seen in a wheelchair on road and he left onlookers stunned with the amazing stunt that he did.
Well, he hitched a ride on a busy highway by holding onto a truck without getting any fear about his safety. Reportedly, the truck was moving at around 60 to 80 km/hr speed in the busy lane of the highway. The scary twist comes when he left the truck and push himself away from the speedy truck and managed himself to go his destination.
The video has received several likes & comments on social media. This amazing video was captured in South Africa's Pretoria, Fox News reported.
See viral video:
I gave up, this country needs more than lukau's resurrection 😂 😂 pic.twitter.com/Obq4Ve81nE

— Mr T 😃 (@Dzhavhelo1) March 5, 2019
Not only onlookers but social media users also amused after seeing this daring act of this man.
See tweets:
That off ramp 😂! Wow....... no care in the world whatsoever.

— KAMS (@kamoh_M) March 6, 2019
I know this guy from Salvokop pta

— Siyani Ndhlovu (@Siyani23) March 5, 2019
🤣 🤣 🤣 🤣 And this will be code what ? 2 😂 😂 😂 pic.twitter.com/LGHqz5m3jj

— Sbonga Mathobela (@Mathobelasbonga) March 5, 2019
Poverty breeds innovation, determination, creativity and lawlessness. If he had money to pay he would be riding IN the car or in the truck and not BY the truck 🤔🤔😷😷😷

— Hlups (@Hlups3) March 5, 2019

We advise everyone not to attempt this kind of stunts on the road because it might injure you very badly.
Also read: Oh no! Elderly man farts so bad during flight that made airlines to take serious action