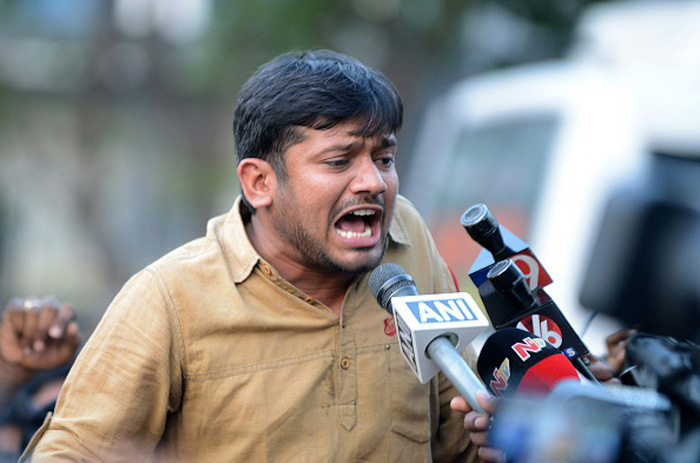 Jawaharlal Nehru University Students Union President Kanhaiya Kumar has apparently said the 2002 Gujarat riots and the 1984 riots in Delhi were different.
He has been quoted as saying that the the massacre of Muslims in Gujarat was carried out with the active collusion of the state machinery while the killing of Sikhs in Delhi was the result of mob frenzy.
Predictably, Kanhaiya has been slammed from all quarters. Even Shehla Rashid, the vice-president of JNUSU has given a statement expressing her disagreement with him.
Also read - Which part of JNUSU president Kanhaiya Kumar's speech is seditious?
From insensitivity to Congress appeasement, Kanhaiya is being accused of a variety of vices.
Let's get a few things straight.
First, 1984 was a pogrom against Delhi's Sikh minority, 2002 was a pogrom against Gujarat's Muslims. There is absolutely no difference in the suffering of the victims and their families. From people being burnt alive to women being raped, there was no difference in the brutality either.
Second, Kanhaiya is right that the Gujarat riots were state sponsored. But in1984, the administration didn't come forward to save the hapless Sikhs. Perhaps the state complicity in Gujarat was higher, but at the most, it is just a difference in degrees.
Third, In terms of providing justice to victims, perhaps the case of Gujarat is marginally better with at least Mayaben Kodnani and Babu Bajrangi being convicted. No leader from the Congress was ever convicted for the '84 riots.
Yet 2002 and 1984 are different. The difference doesn't lie in what happened during the riots but what happened after them.
Modi became PM. Sajjan and Tytler were sidelined
The Gujarat riots made Narendra Modi a hero for BJP's core constituency, who saw him as someone who "taught Muslims a lesson".
Modi revelled in that image for many years. In the 2002 Assembly elections, he actively made dog-whistle communal remarks like "hum paanch hamaray pachees" (we five, our 25) and called relief camps for the riot affected as "baby producing centres".
Let us face it, Modi would have been just one among many BJP leaders had it not been for the 2002 riots. In fact, had the riots not taken place, he would probably have lost the 2002 Assembly elections in Gujarat, given the way his party was trounced in the Panchayat polls the previous year.
Had 2002 riots not happened, Narendra Modi would never have become PM
The riots made Modi a national figure and this eventually paved the way to his ascent as prime minister. For many, Modi is an icon because of the riots not despite them.
Tytler and Sajjan Kumar were never hailed as Hindu Hriday Samrat. They remained sidelined within the Congress for much of their careers.
In comparison, whom did the Congress make PM when it came to power in 2004? Not Tytler, not Sajjan Kumar, but Manmohan Singh, a Sikh.
Will BJP ever project a Muslim as PM?
Rajiv Gandhi versus Modi
Yes, Rajiv Gandhi won the elections that followed soon after the assassination of Indira Gandhi, just as Modi won in 2002. But it was a sympathy wave not an anti-Sikh wave.
And his remarks "when a big tree falls, the earth shakes" are often compared to Modi's comment that "every action has a reaction".
But that wasn't the only statement Rajiv Gandhi made. Here's what he told the people of India in his address on 31 October,1984, the day Indira Gandhi was assassinated
"This is a moment of profound grief. The foremost need now is to maintain our balance. We can and must face this tragic ordeal with fortitude, courage and wisdom. We should remain calm and exercise the maximum restraint. We should not let our emotions get the better of us, because passion would cloud judgment. Nothing would hurt the soul of our beloved Indira Gandhi more than the occurrence of violence in any part of the country."
Did Modi say anything like that?
Similarly, both Sonia Gandhi and Manmohan Singh apologised on a number occasions for what happened in 1984. There was no such apology from the BJP for 2002. On the contrary, the Hindutva brigade often showcases the Gujarat riots as a lesson to minorities on what can happen if they don't 'behave'.
Also read - Did Shilpi Tewari doctor the Kanhaiya video? What are her links with Smriti Irani?
Ideology matters
True, words don't matter as far as the victims' grief is concerned. But they are important as they reflect the intent of the political parties concerned.
The reason that the BJP never apologised for the 2002 riots is that antipathy towards Muslims is integral to the Sangh Parivar. VD Savarkar, for instance, didn't regard Muslims as Indians in the first place. Even now BJP leaders like Yogi Adityanath openly preach hatred against Muslims.
On the other hand, there is nothing ideologically anti-Sikh about the Congress and the party did not run a campaign against Sikhs.
Had Congress been inherently anti-Sikh, would Sikh majority Punjab have elected Congress to power twice - in 1992 and in 2002?
Congress isn't inherently anti-Sikh but antipathy towards Muslim is part of BJP's ideology
In contrast, Muslims in Gujarat and rest of the country still continue distrust the BJP and very few of them vote for the party.
The 1984 and 2002 riots are no different in terms of people's suffering or even, as Kanhaiya claims, in terms of state support. It basically boils down to a difference between the Congress and the BJP, which is the larger point Kanhaiya seems to be trying to make.
Postscript: There is one commonality between the two riots that most people seem to have missed. BJP and RSS cadres were reportedly involved in both of them.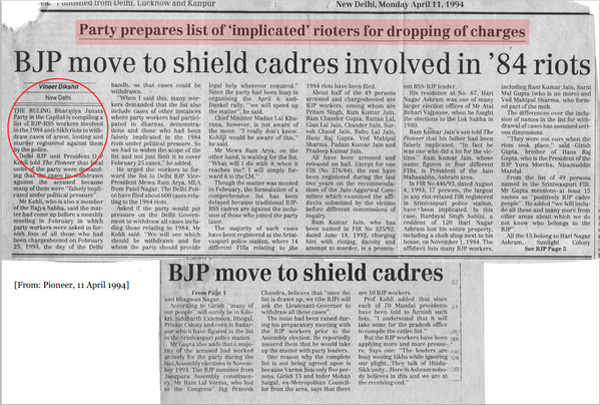 (The views expressed here are personal and do not necessarily reflect those of the organisation.)
More in Catch:
Did you get Ravish Kumar's message, Mr Goswami? The nation wants to know
Meet Kanhaiya; the student icon in jail for the next 14 days