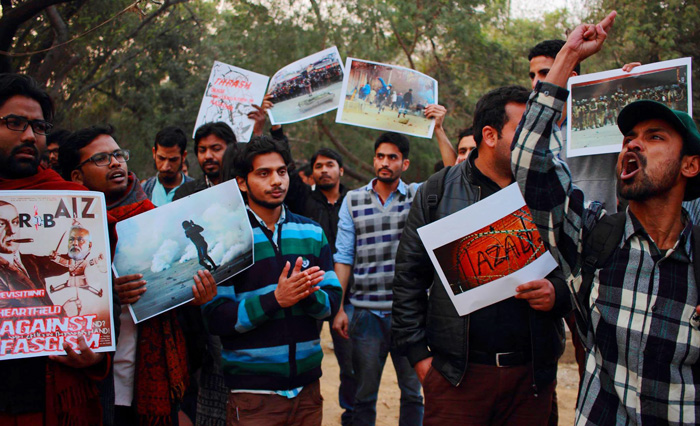 In an ugly turn of events, the Jawaharlal Nehru University Students Union President, Kanhaiya Kumar, has been arrested on charges of sedition, on Friday.
The arrest comes as an aftermath to a speech Kumar made on Thursday, in the University campus. In a 20-minute video doing the rounds on social media, Kumar is heard speaking on a range of issues, right from scholarships and hostel accommodation to Wifi connectivity and discrimination against Dalits.
The speech is laced with criticism towards the RSS and BJP, as well as HRD Minister Smriti Irani.
In the speech, Kumar can be heard condemning the Pro-Pakistan slogans raised at a protest rally held in the University campus on Tuesday, to commemorate Afzal Guru's hanging. He also insists that JNU doesn't support any anti-national or terrorist activities.
His supporters have claimed that the student leader was neither a part of the controversial protest on 9 February and nor did he seek permission from the University authorities for the event.
Listening to the speech, it is only fair to wonder whether someone can be arrested for merely criticizing the government of the day and its political and ideological affiliates. However, the sedition laws of our country are such that any government bashing on a public forum can land one behind bars.
Here's what the law says:
Section 124A in The Indian Penal Code
101 [124A. Sedition.-Whoever, by words, either spoken or written, or by signs, or by visible representation, or otherwise, brings or attempts to bring into hatred or contempt, or excites or attempts to excite disaffection towards, 102 [***] the Government established by law in 103 [India], [***] shall be punished with 104 imprisonment for life], to which fine may be added, or with imprisonment which may extend to three years, to which fine may be added, or with fine. Explanation 1.-The expression "disaffection" includes disloyalty and all feelings of enmity. Explanation 2.-Comments expressing disapprobation of the measures of the Government with a view to obtain their alteration by lawful means, without exciting or attempting to excite hatred, contempt or disaffection, do not constitute an offence under this section. Explanation 3.-Comments expressing disapprobation of the administrative or other action of the Government without exciting or attempting to excite hatred, contempt or disaffection, do not constitute an offence under this section.]
Edited by- Abha Srivastava