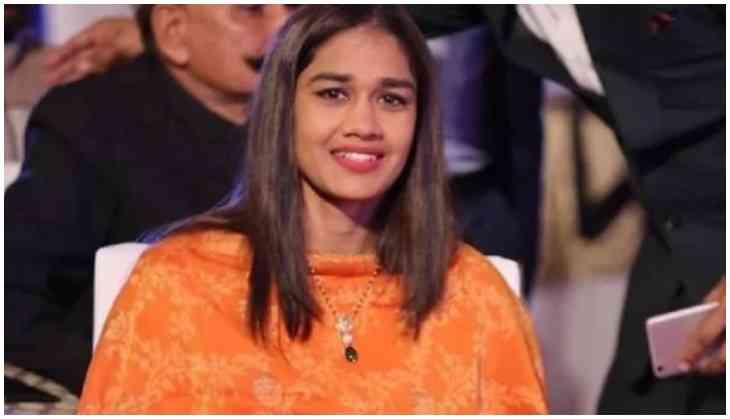 Wrestler Babita Phogat has once again fallen into the controversy and this time for supporting Bollywood actress Kangana Ranaut's sister and manager Rangoli Chandel. From past few days, the wrestler was hitting the headlines for her controversial tweet against the single community. At first, netizens ignored her tweet, however, her recent tweet made her trend on Twitter.
Recently, Rangoli Chandel's Twitter account was suspended by the officials of Twitter as she made a derogatory remark on a single community. As soon as Twitter suspended Rangoli's account Babita took to her Twitter handle and while taking her stand wrote that Twitter doesn't like those who speak the truth on its platform.
Also Read: 'Twitter is biased and anti-India': Rangoli Chandel slams Twitter for suspending her account
आज रंगोली चंदेल दीदी ने किसकी पूँछ पर पैर रख दिया। आजकल ट्विटर भी सच्ची बात लिखने वालों से काफी खफा रहता है।#RangoliChandel

— Babita Phogat (@BabitaPhogat) April 16, 2020
Babita's tweet didn't go down well with netizens and they started trending #SuspendBabitaPhogat. As they believed that her tweet was an attempt to target a single community.
Also Read: India pacer Mohammed Shami reveals he played 2015 World Cup with fractured knee
Someone who got fame through wrestling & also a movie gave a message to people but such hate mongers have no place on Twitter .
Suspend her Account .#SuspendBabitaPhogat

— Dr Jwala Gurunath (@DrJwalaG) April 17, 2020
#SuspendBabitaPhogat trend karo.
Time to shut down this hate machine. https://t.co/AdG0MmDhhs

— Hasiba Amin 🌈 (@HasibaAmin) April 16, 2020
#SuspendBabitaPhogat Suspend Babita Phogat. She is a communal hate generating machine. She is injurious to India's peace.

— RKHuria (@rkhuria) April 16, 2020
#SuspendBabitaPhogat#SuspendPayalRohatgi

Time to shut down these hate machines. Pass it on please.

— Terence (@terence_fdes) April 16, 2020
Earlier, this month, Babita posted a cryptic tweet, referring to the incident that took place in Indore where a mob attacked Healthcare workers and police personnel's after they tried to screen residents of a locality of Coronavirus patient.
However, following #SuspendBabitaPhogat a subsequent hashtag #ISupportBabitaPhogat was also trending parallel across the nation. They lauded the wrestler for having the guts to speak the truth.
Please Note: We have not posted Babita Phogat's tweet as it could incites violence among communities and can also hurt the sentiments of a single community.
Also Read: Mohammed Shami chooses Test cricket as his favourite format due to its 'intensity'