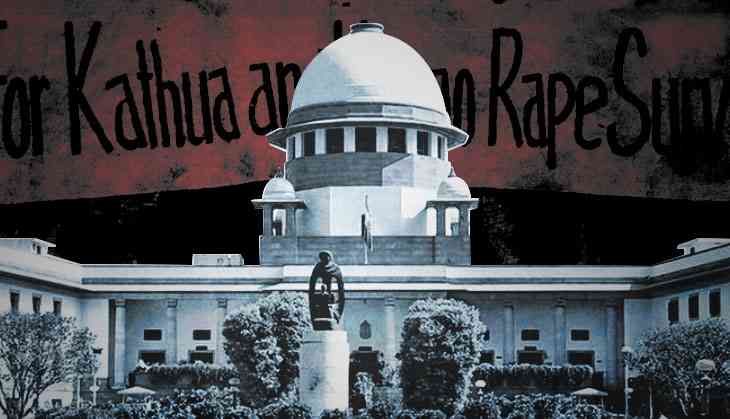 The Supreme court on Monday transferred the Kathua gangrape and murder case from Jammu and Kashmir to Pathankot. The family of the minor had earlier moved to Supreme Court requesting to transfer the case out of the Jammu and Kashmir in Chandigarh amid of threats and security. The eight accused in the rape and murder case of an eight-year-old Kathua girl, including juvenile has approached the top court seeking a CBI probe into the case. The apex court on Monday ruled out CBI inquiry in the case.
The apex court while hearing the plea of the Kathua gang-rape victim's family seeking transfer of the trail of the case out of Jammu and Kashmir, said that fear and fair cannot be allowed to exist together.
After transferring the Kathua case to Pathankot court, the top court also said a day to day hearing would take place in the matter. The court also ordered for in-camera proceedings. As per the report, the top court also allowed Jammu and Kashmir government to appoint a public prosecutor in Pathankot Court and also asked it to provide security to the victim's family, their lawyer and witnesses.
Also read: Karnataka Election 2018: Fan inked PM Narendra Modi's face on his back; here's what PM Modi did
During the hearing on Monday, the Jammu and Kashmir government told the Supreme Court that it was ready for a fair trial of Kathua gang-rape case in the state.
The state government also said it opposed the transfer of the case to another state. The court postponed the hearing for the case involving the juvenile accused in the Kathua rape and murder case. Chief Judicial Magistrate or CJM AS Langeh fixed the hearing for Tuesday, May 22.
According to the Crime Branch charge sheet, the juvenile had allegedly played a key role in the crime. The top court will next hear the case on July 9.
Also read: Rafi Bhat, Kashmir University professor turned 'militant,' killed in Shopian encounter; clashes trigger march protest in the Valley