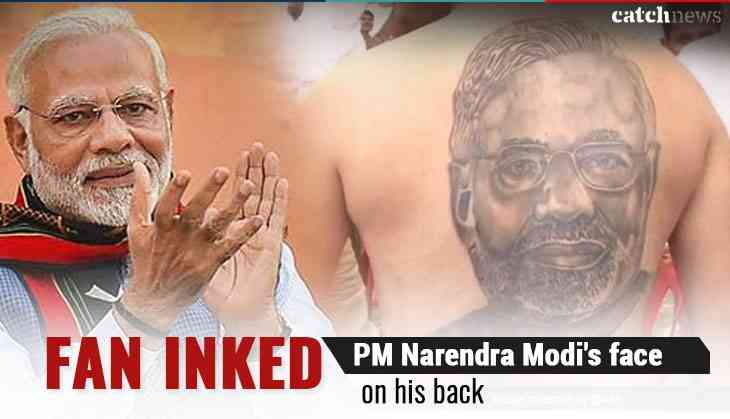 Aiming victory in the Karnataka elections, the BJP in full-fledged promoting its candidates and campaigning in the state. PM Narendra Modi is also fiercely rallying in the state in a move to hoist the lotus flag in the state. But, this rally of the PM Modi was seen to be something that left everyone stunned. At the Raichur rally in Karnataka, the man named Basavaraj, a fan of PM Modi reached rally with Prime Minister Narendra Modi tattoo inked on his back. This tattoo was made in 15 hours. He wanted to show how big supporter of the Bharatiya Janata Party is in the state by inking a tattoo of PM Modi.
Basavaraj inked a big tattoo of PM Modi on his back
In Modi's tattoo, PM Modi is wearing glasses and densely bearded. One side of the canopy is also seen. The collar knife is also worn. Basavaraj said, "I took 15 hours to make this tattoo. I have made it because our Prime Minister has done a good job in a period of four years of his rule. "
Also read: CJI Impeachment motion: Congress MPs move Supreme Court, challenging the rejection of CJI Dipak Misra's impeachment by Vice-President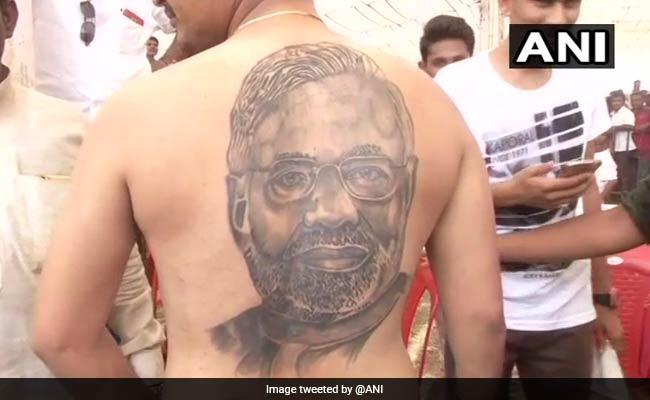 PM Modi took the name of Basavaraj during the speech and encouraged him to help the party in the Karnataka elections. After that Basavraj said: "In today's rally, PM Modi took my name. I will never forget this day. "
Let me tell you, Basavaraj has also inked the Karnataka BJP MLA Shivnagoda Nayak's tattoo, well it is not clear it is permanent, or temporary. Voting will be held in Karnataka on May 12. Counting will take place on May 15.
Also read: Blackbuck Poaching Case: Race 3 star Salman Khan's bail plea to be heard in July by Jodhpur Court