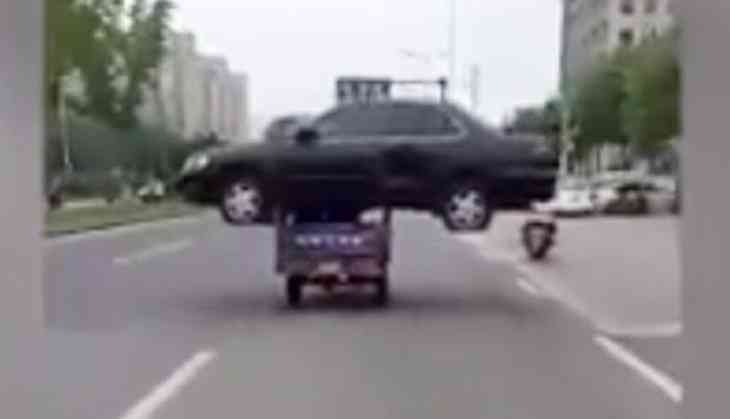 A unique video is trending all over social media. In the video, a rickshaw is travelling by a loaded sedan car on its top and its tickling the funny bone of the people. Whoever watched the video was amazed and the video was shared multiple times on social media. This video was uploaded by the People's daily China on Twitter. In which a rickshaw is travelling on road with a loaded sedan car on top.
According to the Shanghaiist, the owner of the rickshaw bought this sedan car in 800 Yuan ( around five thousand three hundred rupees) and he was going to sell the parts of the car in the junkyard. But soon his decision turns into a loss when the local police fined him of 1300 yuan ( approx. thirteen thousand five hundred). This incident occurred in Zhejiang province of China.
Reckless driver on road! A man carries a car on his tricycle in southeast China's Zhejiang Province pic.twitter.com/NcVyFLgLl5

— People's Daily,China (@PDChina) June 1, 2018
People find this video hilarious, this video was posted with a caption stating ' careless people are driving on road. A man was driving a rickshaw with his loaded sedan car in the Zhejiang province of south-east China. In the video, it can be seen that a black sedan car has been loaded at the top of a small auto rickshaw.
This is not the first time when such daring stunts have been performed on the China road, in the past time many other videos have also appeared and gone viral. Hope this driver has learned a lesson of riving safe on roads after Rs 13500 fine was imposed on him.