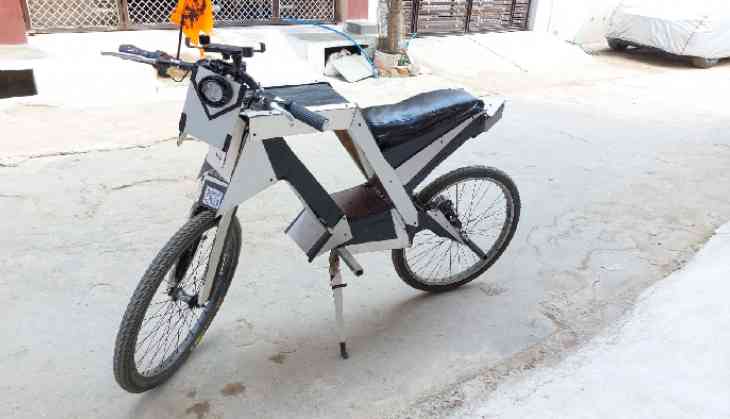 A 20-year-old youth of Madhya Pradesh's Chhatarpur district has made an electric bicycle and it is able to carry a load of one quintal. The youth, Aditya Shivhare has built the e-bicycle after the hard work of a month and the cost of it is Rs 20,000. The bicycle is able to travel up to 30 kms once it gets fully charged.
The e-cycle is equipped with all the modern facilities like a bike which includes accelerator, brake, light, horn and even it has a mobile stand for the sake of viewing location. This e-cycle has been in the discussion among the people of the nearby area.
Speaking to ANI, Aditya said, "A poor person cannot afford to buy a bike these days, which is being sold for thousands and lakhs of rupees, so an idea came in my mind and as a result of which I have prepared a bicycle that every person can buy. If this model gets launched in the market then it will bring a revolution. The name of this e-bicycle model is A1.""Besides, I would like to say that before this, at the age of 16, I had prepared electricity without wires, which was appreciated not only in the state but also by our Prime Minister Narendra Modi. Whatever I have learned in life till today, my source of inspiration is Thomas Alva Edison, who invented the electric bulb," he said.
Aditya further said that Edison always thought for the welfare of the poor, just like him, considering him as a source of inspiration, he also used to think like him and made the e-bicycle.
"It is my dream that the government should extend their help so that I can take this project forward," he added.
On the other hand, Aditya's mother Vimla Shivhare said, "Aditya was naughty since childhood. Whenever the boring machine used to come for boring anywhere around the house, Aditya used to reach near the spot and used to see the functioning of the machine. Even if someone brought a toy for Aditya, he used to open it and see its parts. He engaged in research from childhood and he started doing great feats at an early age. If the government would help then surely Aditya's dream will come true."
Also Read: Helmet Kaha Hai Bhaiya': Watch mother-daughter chases cops riding bike without helmet