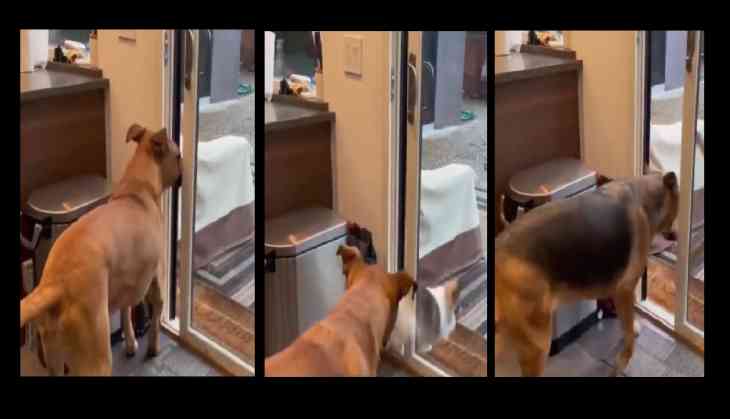 Our pet animals always find a way to surprise us, sometimes with their cute antics, and sometimes with their intelligence. They usually develop a habit of reacting to specific sounds and special words. However, some showcase their IQ by learning new things just to observe us.
Similarly, a video clip of a cat who wants to play outside with its buddy pooches has been doing rounds on the internet, receiving praise for its super IQ.
In the clip, a furry feline and dogs of different sizes can be seen eagerly watching the mirrored door, desperately wanting to go outside. Suddenly, the cat takes charge and showcases its IQ by opening a sliding door. The feline first climbs the table beside the door and then pushes the mirrored door with its paw. When the door opens slightly, the cat goes down and squeezes itself out from it. The dogs also follow the feline and go outside to play.
Watch here.
Who let the dogs out? 😂 pic.twitter.com/DNstUurkMw

— Buitengebieden (@buitengebieden) April 28, 2023
The amazing video clip was shared on Twitter by an account named @Buitengebieden with the caption, "Who let the dogs out?"
Since being shared the clip has accumulated over 2.7 million views and more than 35,000 likes. Twitter users have praised the cat for its intelligence and jokingly commented that they now know 'who let the dogs out'.
Also Read: Monkeys have 'pool party' in jungle; this rare video is a fascinating watch
Here are some interesting tweets.
who let the dogs out:
woof, woof
meow, meow 🐱

— golđen991🤍 🐕 (@golden991) April 28, 2023
cats.

— finicky 🐇 frankie (@LaFemmeFrank) April 28, 2023
😂😂😂

— Jennifer Ridgway (@Wxgal3Ridgw15) April 28, 2023
🤣

— Mr Kinetic Vision (@MrKineticVision) April 28, 2023